h. explain the content and importance of different types of documentation at different stages in the system life cycle, including the technical and user manuals.
作者:Jayram Mann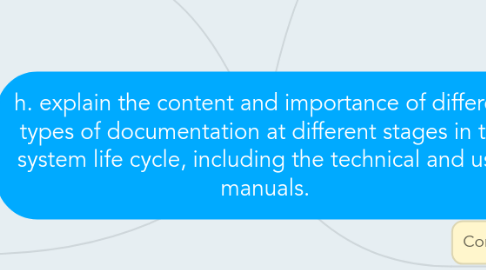 1. User manual
1.1. The user manual is used to inform the user of the system, mainly the details of the system that are needed to make it operate as it should
2. Technical guide
2.1. The technical documentation will include the program specifications, the coded program itself, details of hardware configurations. Generally, anything that will aid a technician in maintaining or updating a system. Technical documentation can be known as the maintenance documentation/guide.
3. Content of the user manual
3.1. How to install the system onto specific hardware,methods of input of data, examples of valid input, examples of output screens, error messages and what to do when they appear
4. Content of the technical guide
4.1. 1. Corrective maintenance is when an error is found in the normal running of the system which needs to be corrected. 2. Perfective maintenance is when the system is running and is working properly but it is found that something could be done better 3. Adaptive maintenance is when the system is working perfectly well, but there is some external change which means that the system has to be altered.