Creative Presentation
создатель Chris Eve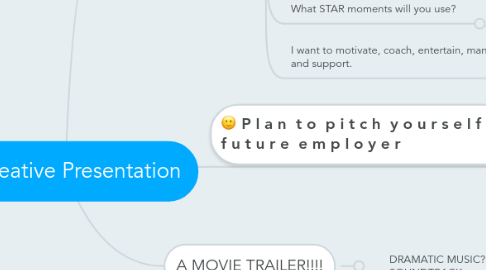 1. P l a n t o p i t c h y o u r s e l f t o a f u t u r e e m p l o y e r
1.1. Who is your Target Audience?
1.1.1. The Buzzfeed
1.1.1.1. TV Show?
1.1.1.1.1. The White Rabbit Project
1.2. What is your True Message/Big Idea?
1.2.1. You need me! lol, Hire Me
1.3. Your Future Self:
1.3.1. What are my skills
1.3.1.1. storytelling,script writing, production
2. Presentation Flow:
2.1. Beginning
2.1.1. Introduce myself, I am a Navy Veteran and it's time for me to stop listening to everyone else and listen to my heart...
2.1.1.1. What if I speak my presentation as a poem? Like a song but read not sung......
2.2. Middle
2.2.1. Present/show my projects
2.3. End
2.3.1. Why I would be an asset to the team?
2.4. What STAR moments will you use?
2.4.1. Be sure to plan the important takeaways for your audience.
2.5. I want to motivate, coach, entertain, manifest and support.
3. A MOVIE TRAILER!!!!
3.1. DRAMATIC MUSIC? LIKE SUPERHERO SOUNDTRACK
3.1.1. 'In a world where Who the F am I is asked on a daily bases?
3.1.1.1. SIDE NOTE: Im so corny! and I love that about myself