QUESTIONS TO ASK YOUR MENTOR
создатель KIRSTY MCLAREN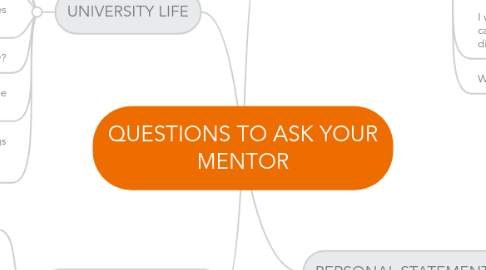 1. UNIVERSITY LIFE
1.1. What Clubs & Societies can I join?
1.2. What is a typical workload in first year?
1.3. Can I study extra subjects other than my degree?
1.4. How does the work compare to College?
1.5. What academic/career services are available to students?
1.6. How much does it cost to live at University?
1.7. Is there financial aid available during University?
1.8. What are the best/Worst things about University in your opinion?
2. COLLEGE CHOICES
2.1. Which Colleges are self-catered?
2.2. Which College is right for me?
2.3. What should I think about when choosing a College?
2.4. Which College do you go to?
2.5. Which Colleges are near my Department?
2.6. I want a more traditional College, can you point me in the right direction?
2.7. Which Colleges are good at sport?
3. PERSONAL STATEMENTS
3.1. Can someone look over my personal statement for me?
3.2. Should I include extra-curricular activities in my personal statement?
3.3. Should I include the Summer School in my personal statement?
3.4. Do you have any advice on how to write a good personal statement?
3.5. Can I submit more than 1 personal statement for medicine?
4. UNIVERSITY CHOICES
4.1. Which Russell Group Universities are near me?
4.2. What considerations should I take into account when choosing a University?
4.3. Does it cost extra to go to certain University?
4.4. Does the size of a University matter?
4.5. Which Universities are good at sport?