Robb Campbell RE/MAX Elite in TN 250 Agents
создатель Dane Maxwell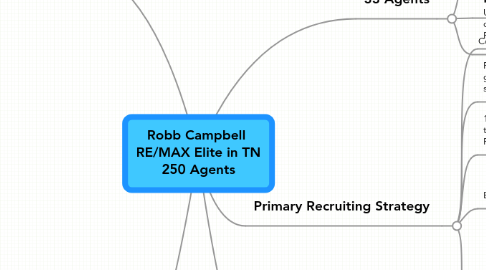 1. 33 Agents
1.1. Most come from warm referral lead from an agent
1.2. 1 agent
1.2.1. came because he heard about Robb's PaperlessPipeline
1.3. Couple agents
1.3.1. Came because of the address of the office being in Nashville
2. Primary Recruiting Strategy
2.1. Uses his agents to spread word of mouth, and bring names to Robb
2.2. Robbs agent: "Hey Robb call this agent I had a great closing with another agent and you should call him"
2.3. 15 of 33 were former RE/MAX agents that came back after leaving a RE/MAX
2.3.1. 14 were my office
2.4. Enjoy recruiting Teams
2.4.1. Robb tells team leaders
2.4.1.1. "Make as much money as you can with that team member before they learn enough to go out on their own, because they will want to branch out on their own eventually, and they will probably want to stay with RE/MAX Elite... So I just want you to know that."
2.5. If I were to design a perfect recruiting system
2.5.1. Would be completely hands off
2.5.1.1. Tracks all closed properties in the MLS
2.5.1.1.1. Sends email to outside agent
2.5.1.1.2. Sends email to office agent
3. First approach
3.1. Robb calls warm referral lead and says: "Hey Agent Bob was saying he had a great closing with you, and that you are a great agent, and that you had some questions about RE/MAX"
4. Questions asked
4.1. Greg Vinnola asks "How large is your market?"
4.1.1. 1 million people in Nashville
4.1.2. 5000 to 6000 agents in the MLS
4.1.3. MLS agent count down 15% this year (Robb thought should have been more)
4.2. Do you always make sure that they pay the pass thru costs - or do you ever float them?
4.2.1. As far as monthly fee's go, I've got the 95/5 plan, and lower fee's with a split. If they are behind, we see if they have potential to catch them up... If they are dead doing nothing, we kick em off to our holding company.
4.3. Do you give price breaks for team members?
4.3.1. I do give team leader a price break for bringing on the team leader.
4.3.2. Put in safegaurds
4.3.2.1. If team leader is not sharing X percentage, then I step in.
4.3.3. Some TL's will pay monthly fee for the team in exchange for taking a higher commission.
4.4. What is a paperless pipeline?
4.4.1. Paperless system for listing transactions to closed. Agents can access transaction files from ANYWHERE.
4.4.2. Been a HUGE savings in our office. Been able to cut staff, and make current staff more productive, and make agents do some of the TX work.
4.4.3. 9 offices, 250 tx's per month, and only need 1 tx coordinator
4.4.4. Allows 90% of my agents to work at home, increases my profit.
4.4.5. Recruited an agent immediately after starting PaperlessPipeline
4.4.6. If agents are using this system, it doubles as a RETENTION Tool because agents won't lose their paperwork.
4.5. What do you feel is the number one reason agent join you?
4.5.1. Because of culture and name brand. Perception in the marketplace that RE/MAX is expensive. Some agents look at this as a negative, but Robb LIKES it. It creates an elite producer threshold.
4.5.2. The RE/MAX national name brand
4.5.2.1. Right now consumers are wanting every advantage possible when they buy/sell their home.
4.5.3. Have 5, 6, or even 7 or more DIFFERENTIATORS over other RE/MAX offices, that create your powerful position.
4.6. Is there a service or product agents always look for
4.6.1. I don't know if it's 1 service or product.
4.6.2. They are looking for a culture, they are looking for an office who UNDERSTANDS them. To give them the "warm fuzzy" feeling.
4.7. Do you give your existing agents any compensation for bringing in new recruits (other than team members)?
4.7.1. Over the years I have tried different programs. But really and truly... giving them some type of incentive doesn't work in the long run. They have to feel comfortable promoting you.
4.8. The agent that came back...what was missing that you provided
4.8.1. The 15 agents that came back, were sucked into the 'grass is greener' ... so they came back
4.8.2. Had 1 agent tell me, "When I left your company, agents would ask me, why did you go to THAT company?" ... I'm tired of these questions so can I please come back?
4.9. Do all these profit centers lease space in your office?
4.9.1. YES, they are either in my office, or near one of my offices.
4.10. does Rob make any $ with his RE/MAX company (the real estate company vs all the other companies)?
4.10.1. We do make money with RE/MAX.
4.10.2. But we make more profits off the ancillary services, we can offer a more attractive fee for agents.
4.10.3. For 95/5 split, we charge $600 / month for AT HOME AGENT.
4.10.3.1. includes RE/MAX fees
4.10.4. Charge transaction fee $31 / tx
4.10.5. Charge technology fee $29 / month
4.10.6. 80/20 at $250 AT HOME AGENTS
4.10.7. 90/10 at $450 AT HOME AGENTS
4.11. Does RE/MAX Elite have more than one owner - or is Robb the sole owner of all offices?
4.11.1. I am SOLE owner.
4.12. Do those fees include your pass through fees? Can you tell us your fees for shared offices and private offices?
4.12.1. Private office is $1200 / month
4.12.2. Shared is less than $1200 / month
4.13. what if they cannot pay off the cap
4.13.1. Some companies offer a Guarantee, but I do not.
5. Profit Centers (Companies)
5.1. Mortage Company
5.1.1. Over 50% Of Home sales are from outside companies
5.1.2. Most profitable over all
5.2. Signs Printing Company
5.2.1. Over 50% printing business is for outside agents
5.3. Travel Company (MLM)
5.3.1. Most surprisingly profitable
5.4. Title Company
5.5. Homeowners/Health/Life Insurance
5.5.1. Pays to lease space, and a small portion of residuals
5.6. Appointment Center
5.6.1. Book appointments for 150 firms in TN
5.7. License holding company (referral company)
5.7.1. Move agents here who's businesses have gone down, to keep cost down for agents that didn't pay the fees
5.7.2. Outside agents have put their license in the holding company.