breathe.in Site map
создатель Nathan Curry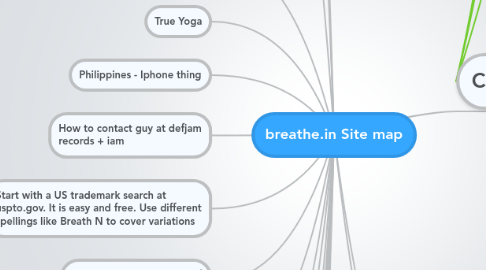 1. Categories (to add to)
1.1. Awareness & Growth
1.2. Motivation & Inspiration
1.3. Passion & Dreams
1.4. People Skills
1.5. Communications
1.6. Relationships
1.6.1. Marriage
1.6.2. Divorce
1.6.3. Tips for Relationships
1.7. Skills Building
1.8. Purpose, Goals & Success
1.9. Family & Friends
1.10. Psychology and Comparative Mythology
1.11. Karma Sutra and the Schools of Tantra
1.12. Technology Yoga
1.12.1. Quantified Self - Behavior Modification born of Quantified Self Devices
1.13. Sexuality
1.14. Career and Finance
1.15. Parenting
1.16. Death and Dying
1.17. Low Self-Esteem
1.18. Advice on Life Change
1.19. Seeing the Positive
2. Video Channel
2.1. Nathan's Tour of the Mind
2.1.1. Topics
2.2. Breathe.in Interview Series
2.2.1. Featuring
2.3. Guruji Puppet
2.3.1. gurujipuppet.com - is available
2.3.1.1. Yogi Fluppet Mehpit Puppetanjali Panji How to copyright Fluppets? Could u be sued for fluppets? Fluppets to teach enneagram and yoga
2.3.1.1.1. Humorous take on yoga – using character from muppets – but what about the copyrights? Cover basic stuff
2.4. Donate
2.5. http://www.theconversation.tv/videos/
3. Store
3.1. Books
3.2. Downloads
3.3. Guruji Doll and Merchandise
4. Community
4.1. Suggest a topic or Person to Interview or Theme to Explore
5. Core - Breathe.in – the world as a Projection of Mind – The Mind as a Healing Journey
5.1. Blog
5.2. Speakers and Retreats
5.2.1. Host an Event
5.2.2. Schedule in Specific Location
5.3. Investors
5.4. About Us
5.4.1. – www.Dreamstarcash.com/about-us/team
5.5. Contact
5.6. Links
5.7. Resources
5.8. Subscribe
5.9. Biography
5.10. Mind Map Sections - 8
5.10.1. Eastern Psychology
5.10.1.1. Yoga Sutras
5.10.1.1.1. What is Yoga? - The Goal - A Clear Mind - Yoga Sutra Chapter 1
5.10.1.1.2. Practice - How do you reach the state of attention that is yoga? Yoga Sutra Chapter 2
5.10.1.1.3. Extraordinary Powers - Yoga Sutra Chapter 3
5.10.1.1.4. Freedom - Yoga Sutra Chapter 4
5.10.1.2. The Story of the Bull
5.10.2. Western Psychology
5.10.2.1. 4 Stages to Psychology of Man
5.10.2.1.1. Stage 1 - Heaven Uninterrupted
5.10.2.1.2. Stage 2 - Pandora's Box
5.10.2.1.3. Stage 3 - Ego Exhaustion and the Hunt for Meaning
5.10.2.1.4. Stage 4 - The Awakened Dream
5.10.2.2. Other Forms of Psychotherapy
5.10.2.3. ACIM
5.10.2.4. The Personality and Character
5.10.2.4.1. Enneagram
5.10.3. Hungrygowhere model/Lifehacker model – allows other people to feature their content from their websites/blogs – add to the conversation.
6. Dreamsninja.com
6.1. Dream Dictionary
7. www.breathe.in/tv
8. List of links on google bookmarks pertaining to breathe.in
8.1. Go through Pocket!
9. True Yoga
10. Philippines - Iphone thing
11. How to contact guy at defjam records + iam
12. Start with a US trademark search at uspto.gov. It is easy and free. Use different spellings like Breath N to cover variations
13. International Association of Yoga Therapists
14. Dear Nathan, Thanks for your email. For further contacts please feel free to write me. Which type of designs are you thinking about? My Best, Elisa Elisa Ricco Communication & Marketing Manager ULUWATU HANDMADE BALINESE LACE PT ULUWATU Jalan Danau Tondano no. 59 Sanur 80228, Bali Indonesia tel +62361287638 mobile +62 821 47 262913 www.uluwatu.co.id
15. https://boisebarbara.clarify-it.com/d/62kpct - How to Embed a Prezi on a WordPress.com Blog
16. Hi Marjam and Nathan, @Marjam: Nathan is establishing himself in the online space with Yoga content. He's been a trainer for many years in India and lived all around the world. More info about him: @Nathan: Marjam is a true wonderwoman and a great friend. Her recent doings, as I mentioned, in the UK market, here: http://radicalhealingjourney.com/application/ More about Marjam herself: ee.linkedin.com/in/marjam
17. We once discussed the ease and the benefits of setting up an offshore company for Ecommerce businesses I would like to have a refresher conversation (either by email or on skype if that is ok about all of that). Basically, I am going forward with my original plan - the one I was working on before meeting you (while still hustling on a number of other fronts). ie: I am making a yoga puppet (well a friend who trained in London to make puppet is actually) to teach the yoga sutras and yoga online (youtube)I envisage this puppet being a living character in books too. I want to be able to make him into a fluffy toy for sale. I have a graphic illustrator who can make him into a cartoon character (hero of stories). The goal is that the yoga character will help bring in traffic and wlll be used to teach yoga to children and adults - different levels and approaches using the same character. All of this will live at www.breathe.in - the website is being developed offline right now. My goal is to build a yoga clothing and products brand around that name ie breathe in - the below image of a pillow case is the kind of branding logic I hope to aim for - My question for you is this: 1. I have my company in India and would like to use it for some things at some point - ie paying a personal assistant etc. 2. I think however most of the payments will happen online in Europe, Australia and the USA and Canada (and other countries down the line). So I would prefer to have paypals and cash flows in places where I don't get taxed at the rates that India does. Makes sense. Singapore is one option - you pay taxes there - but lower than most places. Hong Kong is another (and probably better for a drop-shipping business)..but then there is the whole offshore model we discussed - would be grateful for your input please... Can take skype call on this. I know you understand the logic well for ecommerce businesses- so wanted to hear your thoughts. And any idea where would be best - Marshall Islands is a place where you can be anonymous, then there is Isle of Man, British Virgin Islands, Mauritius etc- if I am going to based in India - Mauritius might be good because of the free trade agreement between India and Mauritius - but then Singapore might be good too - if I have to pay taxes on income I think it's best to pay it somewhere like Singapore.... Looking forward to hearing your input please Thanks Nathan
18. I'd love to be part of it. I was really thinking of just organizing trips man, that's super easy and requires no investment. Like the trip we wanted to do together to mount kailash with a yoga dude. Spiritual trips. Let me know how it all goes. Yatan
19. 1. Clear mind 2. Practice 3.power 4. Focus
20. You're receiving this email because you signed up for one of the authors published by Mindvalley. >>> Click this link to manage your subscription if you don't want to receive any emails from Mindvalley Nathan Curry, we're starting a revolution - and you're invited. But instead of placards and molotov cocktails, we're using our minds :-) You see modern society has been designed to keep us where we are, to box our creativity, to limit our dreams, to keep us in a straight line. But we say "NO MORE" . Mindvalley is one of the world's biggest online publishing companies in the personal growth field. We want to change the way people think. Learn. Love. Play. Grow. We believe life should be a breathtaking adventure. You deserve that high-flying career. That epic Romeo & Juliet romance. That private island in Southeast Asia. That humanitarian award hanging in your study. And Mindvalley's going to help you get there. So watch your inbox every Sunday morning at 10am and night at 7pm. Because we'll be sending you some of the world's most powerful personal growth ideas, tools, and tips for living YOUR epic life. But first, can you help us help you? Just send a Reply to this email. Say "Hello" . This will put us on your email client's White List, which means our emails won't end up in your Spam folder. Deal? Deal. Talk soon Nathan Curry, and stay awesome :-) Cheers, The Mindvalley Team P.S. We've got a big hairy goal, and that's to change 1 billion lives by 2050. Can you help us get there? Join our tribe on Facebook and invite your friends: >>> The Mindvalley Facebook Page Click here to manage your subscription . . . . . . If you wish to stop receiving our emails or change your subscription options, please Manage Your Subscription MindValley LC, 14525 South West Millikan Way
21. I am about to launch a new business and it will have a lot of content related to psychology and human culture. Basically, it is an overview and a journey through the labyrinth of the human mind and covers the yoga sutras and Western psychology. The website will be live within and I will start the business by doing 3 channels on youtube 1. a documentary series on the human mind 2. a yoga puppet who teaches the yoga sutras and does funny things 3. interviews with people of interest and note I think the best way we could get started is 3 - once we have some good interviews and a live traffic flow from around the world I am going to set up seminars and retreats. I would love to interview you about the things you are passionate about and have a huge respect for your knowledge base and the depth of your love and reverence for India's very rich heritage. Perhaps you could think of different interview topics we could cover. I am not sure when I will be back in Chennai - but I must get the site done in Singapore and the first video edits finished here in a high quality studio. Would love to hear your thoughts. We can do a skype call to discuss further if you like. You will be featured among many luminaries from around the world doing groundbreaking work in valuable streams of human knowledge. For a reference point for what the site will LOOK like - please have a look at: The tag line for the site is: Breathe.in – the world as a Projection of Mind – The Mind as a Healing Journey Dedicated to the production of enlightened media that is both extremely informative and fun. Sincerely, Nathan
22. 1. Do you make your clothes in Singapore but sell in the USA? 2. I see you have a 1800 number in your signatures - it looks like it is US based 3. Curious to figure out your model for shipping and production and market 4. My priority is to get an e-shop live making a yoga brand around breathe.in (something I have to trademark). I am doing extensive work on youtube videos around a yoga character (puppet I am making online) 6. I have some very specific ideas about the kind of clothing I want to sell online - some stuff can be done by cafepress - but I would like to find a partnership with someone who can make the clothes - I can promise large volumes of traffic to the site. 1. No. Retail in Singapore as well. 2. Yes it is, for the US side of things. But with Skype, where really are the boundaries these days? 3. We can discuss this when we meet. 4. Ok, that is possible, as with anything, but what will your USP be? Who are your competitors and where is your starting market? 5. Neat! Show me. 6. Cafepress? Will you be covering cost of production? Good starting point!
23. Nike fuelband: I see a potential problem with fuel band. The LED display area is actually very short, only a few inches because all this product does is to display numbers: the time and "fuel" , a gimmick metric by Nike that supposedly reads how many calories the user burns. I suspect if you wish to have users read from your yoga bracelet, you will need to increase the LED display area length to curve around the bracelet for readable sentences. You have to find a way to simulate that idea. We'll talk more tmw and I'll share with you about how to calculate the volume of units you wish to sell because all manufacturers regardless of country will ask you primarily for that data. We need to calculate how much you'd be able to sell - that's the primary problem to solve right