FORMWORK AND FALSEWORK
создатель M A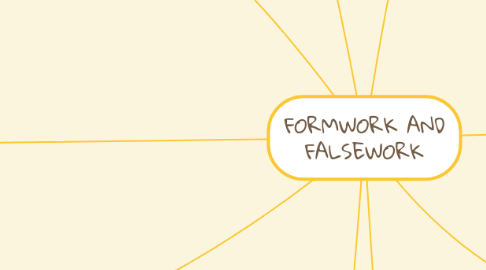 1. Scaffolds
1.1. Temporary structure that is usually constructed of timber & steel / aluminium alloy tubes which enables materials to be transported too any places that performs such work
1.2. Any working platform, gangway, rung, ladders or step-ladder together with any guardrail, toe board or other safeguards and all fixings
1.3. Cater for a safe working platform for workers to carry out the works and to support the formwork during concreting
1.4. WORKING PLATFORM
1.4.1. Platform used to support workmen or materials and includes a working stage
1.4.2. Should be either closely boarded, planked or constructed of metal decking
1.4.3. Should be at least 500mm wide
1.5. Bracing
1.5.1. All scaffold should be braced to its full height to ensure stability in all directions
1.6. Approved Code of Practice
1.6.1. CP 14: Code of Practice for Scaffolds,1996
1.6.2. SS598: Code of Practice for Suspended scaffolds, 2014
1.6.3. SS280: Specification for Metal Scaffoldings
1.6.3.1. Part 1: Frame Scaffoldings, 2006
1.6.3.2. Part 2: Modular Scaffoldings, 2006
1.6.4. SS311: Specifications for Steel tubes and fittings used in tubular scaffolding
1.7. Frame or Modular Scaffold
1.7.1. Definition
1.7.1.1. Scaffold manufactured in a way that the geometry of scaffold is pre-determined and relative spacing of the principal members are fixed
1.7.2. Metal Scaffold frames & accessories
1.7.2.1. Armlock
1.7.2.1.1. Locking device from lower to upper frame
1.7.2.2. Cross Brace
1.7.2.2.1. For installation between 2 frames and ensure stability in lateral direction
1.7.2.3. Jack Base
1.7.2.3.1. To allow for minor adjustment of height of slabs and beams formwork
1.7.2.3.2. Base plate for distribution of load to the ground
1.7.2.4. U-Head Jack
1.7.2.4.1. U-Head for placement of joists for slabs & beams formwork
1.7.2.4.2. Jack also allows for minor adjustment of vertical height for slabs and beams formwork
1.7.3. Frame Scaffold
1.7.4. Tubular Scaffold
1.7.4.1. Scaffold constructed from tubes and couplers
1.7.5. Single Row Scaffold
1.7.5.1. Boarded Working Platform
1.7.5.1.1. The deck from which the building operations are carried out
1.7.5.2. Putlog
1.7.5.2.1. A horizontal member projecting from the wall on which the working platform lies
1.7.5.3. Transom
1.7.5.3.1. A tube spanning across ledgers to form the support for boards or units forming the working platform or to connect the outer standards to the inner standards
1.7.5.4. Base Plate
1.7.5.4.1. A metal plate with a spigot for distributing the load from a standard or racker or other load bearing tubes
1.7.5.5. Sole Plate
1.7.5.5.1. A timber, concrete or metal spreader used to distribute the load from a standard or base plate to the ground
1.7.5.6. Guard Rail
1.7.5.6.1. A member incorporated in a structure to prevent fall of a person from a platform or access way
1.7.5.6.2. Normally at least 1 to 1.2 m from base of working platform
1.7.5.7. Immediate Guard Rail
1.7.5.7.1. A member incorporated in a structure to prevent fall of a person from a platform or access way
1.7.5.7.2. Normally at least 0.5 to 0.6 m from base of working platform
1.7.5.8. Toe board
1.7.5.8.1. An upstand at the edge of a platform, intended to prevent materials or operatives feet from slipping off the platform
1.7.5.9. Standards at 2.00c/c
1.7.5.9.1. A vertical or near vertical tube that transfer the weight of the scaffolds to the sole plate
1.7.5.10. Ledger
1.7.5.10.1. A longitudinal tube normally fixed parallel to the face of a building in the direction of the larger dimensions of the scaffold
1.7.5.10.2. Acts as a support for the putlogs and transoms and frequently tie tubes and ledgers brace and is usually joint to the adjacent standards
1.7.5.11. Longitudinal Diagonal Brce
1.7.5.11.1. A tube placed diagonally to the vertical members to ensure stability in the longitudinal directions
1.7.6. Double Row Scaffold
1.7.6.1. Ties
1.7.6.1.1. The components attached to an anchorage or the building or framed around a part of it or wedged or screwed it with a tie tube
1.7.6.1.2. Used to secure the scaffold to the structure
1.7.6.2. Longitudinal Brace
1.7.6.2.1. A brace generally in the plane of the longer dimension of the scaffold for stability in the longitudinal direction
1.7.6.3. Traverse Brace
1.7.6.3.1. A brace generally in the plane of the shorter dimension of the scaffold for lateral stability
1.7.6.4. Cross Brace
1.7.6.4.1. Similar to traverse brace
1.7.6.5. Rackers
1.7.6.5.1. An inclined load bearing tube
2. DEFINITION
2.1. FORMWORK
2.1.1. Mould where fresh concrete can be poured into it and harden into its intended shape
2.1.2. Collection of containers that receives concrete (or mortar) mix and serves as a mould for wet concrete, enabling it to harden to the desired shape and size and shape of the finished reinforce concrete structure or component.
2.2. FALSEWORK
2.2.1. Supporting system for formwork mould of a structure which is cast above ground level.
2.2.2. The system of supports that locates and retains the formwork in the desired position in a stable and safe manner until such time as the formwork is required to stay in place.
3. CHARACTERISTICS OF GOOD FORMWORK
3.1. STRONG
3.1.1. TO CARRY THE WEIGHT OF
3.1.1.1. Wet Concrete
3.1.1.2. Self-weight of formwork materials
3.1.1.2.1. Vibration loads while compacting concrete
3.1.1.2.2. Weight of people and equipment during placement of concrete
3.1.1.2.3. Hydrostatic pressure of wet concrete
3.2. DESIGN
3.2.1. Flexible enough to facilitate minor changes
3.3. SIMPLE
3.3.1. ERECTION PROCESS
3.3.1.1. Formwork Installation Process
3.3.2. STRIPPING PROCESS
3.3.2.1. Formwork Dismantling Process
3.4. TIGHT
3.4.1. Prevent loss of Grout (water + cement, critical element for binding concrete)
4. DETERMINING FACTORS FOR TYPE OF MATERIALS USED FOR FORMWORK
4.1. Speed of Construction
4.2. Structural Form
4.3. Availability of Skilled Workers
4.4. Cost of Materials
4.5. Number of Reuses
4.6. Rigidity
4.7. Accuracy
4.8. Construction Tolerances
4.9. Finishes Required
5. COMMON TYPE OF MATERIALS USED
5.1. TIMBER
5.1.1. PROS
5.1.1.1. Easily Obtained
5.1.1.2. Cheapest in first cost
5.1.1.3. Easily handled & transported
5.1.1.4. Able to take on considerable load
5.1.2. CONS
5.1.2.1. Highest deflection of 3 materials
5.1.2.2. Timber absorbed water weakens strength of concrete
5.1.2.3. Low lifespan
5.1.2.4. Requires skilled workers
5.1.2.5. Surface affected by concrete after few reuses
5.1.2.6. Gives rough texture to concrete unless well finished
5.2. STEEL
5.2.1. PROS
5.2.1.1. STRONGEST
5.2.1.2. Most Durable
5.2.1.3. Produces good fair finish
5.2.1.4. Easily assembled
5.2.2. CONS
5.2.2.1. Requires maintenance to prevent rusting
5.2.2.2. Heavier
5.2.2.3. High initial cost
5.2.2.4. Difficult to form curves
5.2.2.5. High thermal expansion and contraction
5.3. PLASTIC
5.3.1. PROS
5.3.1.1. Light & easily handled
5.3.1.2. Durable
5.3.1.3. Easily repaired
5.3.1.4. Able to form many different shapes
5.3.2. CONS
5.3.2.1. Unable to withstand high temperature
5.3.2.2. High production cost
6. TYPES OF FORMWORK
6.1. FOUNDATION FORMWORK
6.1.1. Formwork for footing and pile cap
6.1.2. Typical details
6.1.2.1. 4H10 & 4H16 used
6.2. COLUMN FORMWORK
6.2.1. Side & end planks are secured by yoke (horizontal clamps) & bolts
6.3. SLABS & BEAMS FORMWORK
6.3.1. CONSISTS OF
6.3.1.1. Sole Plates
6.3.1.2. Wedges
6.3.1.3. Props
6.3.1.4. Sheeting
6.3.1.5. Head Tree
6.3.1.6. Batten
6.3.1.7. Ledgers
6.3.2. Beam formwork rests on head tree
6.3.3. Slab formwork rests on battens and joists
6.3.4. Provide horizontal braces if prop height >8'
6.4. WALL FORMWORK
6.4.1. CONSISTS OF
6.4.1.1. Boarding
6.4.1.2. Struts
6.4.1.3. Bracing / Rakers
6.4.1.4. Stakes
6.4.1.5. Wedges
6.4.1.6. Sole Plate
6.4.1.7. Bolts & Nuts
6.5. STAIRCASE FORMWORK
6.5.1. Timber joists
6.5.2. Timber joists
6.5.3. Metal Prop (Tubular Frame)
6.5.4. Formwork for soffit of concrete stairs built up similarly to floors but with slopping soffit
6.5.5. Transverse or longitudinal beam soffits propped from floor or stairs below
6.5.6. Stringer boards supports riser board to each step at both ends
6.6. MODERN DAY FORMWORK
6.6.1. Main Types Used
6.6.1.1. Table form / Flying formwork
6.6.1.2. System Formwork
6.6.1.2.1. Types
6.6.1.3. Slip Formwork
6.6.1.4. Tunnel Formwork
6.6.1.5. Peri Slab Formwork
7. STRIKING OF FORMWORK
7.1. DEFINITION
7.1.1. Process of removing the formwork from the surface of the hardened concrete once the concrete has achieved the initial recommended strength to support both their dead and live load
7.2. SOFFIT FORMS
7.2.1. Refers to the underside of slabs, beams and similar structural component
7.2.2. Usually left in place for a longer period as compared to side forms and is removed last in the case for beam and slab
7.3. Minimum Period Before Striking
7.3.1. 1 DAY
7.3.1.1. Vertical Formwork to columns, wall & sides of large beam
7.3.2. 3 DAYS
7.3.2.1. Soffit of slab and beams < 500mm thick
7.3.2.2. Soffit of beams
7.3.3. 7 DAYS
7.3.3.1. Soffit of cantilever beams and slabs
7.3.4. 14 DAYS
7.3.4.1. Props to slabs and beams
7.3.5. 21 DAYS
7.3.5.1. Props to cantilever beams and slabs
7.3.6. DEPENDS ON CONCRETE MATERIAL
7.3.6.1. Soffit of slab ≥ 500mm thick
8. CAUSES OF FORMWORK FAILURE
8.1. Inadequate Design
8.2. Improper Stripping & shore removal
8.3. Inadequate Bracing
8.4. Vibration Loads
8.5. Unstable soil under mudsills
8.6. Shoring not plumbed / levelled
8.7. Inadequate control during concrete placement
8.8. Lack of attention to formwork details
9. Temporary support systems
9.1. DEFINITION
9.1.1. Temporary structure exceeded to provide support to a structure that is under construction or to an existing structure which shows signs of instability
9.2. EXAMPLES
9.2.1. Scaffold
9.2.2. Shoring systems
9.2.3. Formworks