DC COLLECTIVE
создатель Tasnim Oladejo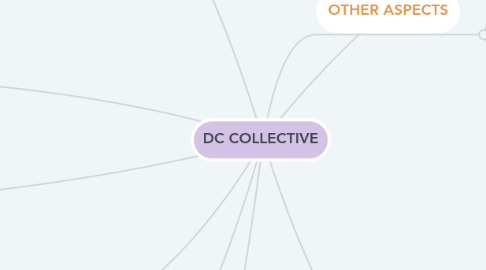 1. The use of Instrgram will Allow DC to market to the younger generation who have more online presence and also allows the church to communicate with members more effectively. more regular stores/events/ updates
2. Students Group - For University and College Students
3. EMPLOYMENT & CAREERS SERVICE
3.1. A DC Employment & Careers Ambassador
3.1.1. Provides CV Screening Workshops "secrets to success Panel with professional in church" "biblical Finance" - God Plan for your Finances.
4. GROUPS
4.1. An opportuntiy for different Groups in the Church to get together and grow together
4.2. EXAMPLE: . Women's Group "sisterhood" "women United"
4.3. Mens Group "Brothers United" etc..
4.4. Raise Money for External Group Activities through Bake Sales in Church on Sunday & Wednesday Services!
5. HANG OUTS IN THE CITY
5.1. "How about that Nando's you owe me?"
5.2. Casual Hang outs in different places like Nandos or local cafes etc..
6. HOMELESS
6.1. " DC IS WHERE THE HOMELESS FEEL AT HOME"
6.2. Open up Food Hub once a week to provide Food to the Homeless.
6.3. Food Ideas - Bread
6.4. Soup
6.5. Pasta
6.6. Rice + Veg
6.7. Open Food hub on strategic days such as a Tuesday (so they can attend wed service) or sat (so they can attend Sunday service)
6.8. Provide Homeless with clearer information of the services available to them in the area.
6.9. Once a month (or a few months) have different organisations Visit the church to provide more information of the services available for the homeless. eg. Shelters/ Mental Health/ Medical Assistance etc..
7. YOUTH
7.1. MINI DC
7.1.1. The creation of a space for the younger (or rather 'Mini') DC generation.
7.1.2. Ideas
7.1.3. Interactive/Education Kids Groups
7.1.4. Sunday School
7.1.5. Kids Choir - (Kids renditions on Sunday services)
7.1.6. Arts & crafts/ Creative Clubs
7.1.7. Trips to places like the Zoo or Trampolining @ Stratford
7.2. YOUTH CHURCH
7.2.1. A space for DC Youth Church for Youth between the ages of 13-19 Years.
7.2.1.1. "Never Leave Youth on Idle"
7.2.2. Ideas
7.2.2.1. Youth performing Arts
7.2.2.1.1. Youth Church will dicuss and answer important Adolescent Topics through a discussion/service each week.
7.2.2.2. Music Studio
7.2.2.3. Content Creation
7.2.2.4. Videography/ Photography creation for DC platforms such as Intagram
7.2.3. Youth Bonding through External activites such as Bowling, Ice-Skating, Cinema Trips, Christmas/ Easter Parties etc..
8. COMMUNITY BUILDING
8.1. MAIN AIM: To Build The DC Community into a Family.
8.2. DC SPORTS
8.2.1. Min of x1 Sporting Event every 30 days.
8.2.2. eg. Table Tennis, Swimming, Tag Rugby.
8.2.3. Every Quarter Year Local Fundraising through Public Community Sports, Promote the Church and raise money at the same time.
8.3. FOOD
8.3.1. FOOD IN FOOD HUB AFTER x2 SUNDAY SERVICES A MONTH (AIM IS TO HAVE THIS AFTER EVERY SUNDAY SERVICE)
8.3.1.1. Utilise the Food Hub areas by having Fresh Homemade food x2 a month on Sundays for DC members to enjoy and socialise together.
9. OTHER ASPECTS
9.1. MEDIA
9.1.1. Aim: To improve the use of Digital Media and Online Presence for DC London through Social Media Promotion.
9.1.1.1. Other Aspects of media include: Videography of courses such as DCA. Footage of inspirational moments/ Testimonies like Baptisms/ Experiences/ Revelations bought through the church ( essentially a digital testimony)
9.1.2. Creation Of Instagram Page : @DCLondon
9.2. SignPosting & Accessibility
9.2.1. Signs outside the Church on Sunday to encourage members of the public to walk into the Hub on Sunday and Wednesday services.
9.2.2. Clear Signposting of Team members through T-shirts that read Ushers or DC Team.