Personalized Learning as a Path Forward for Media Literacy: Integrating with K-12 Reform
создатель The Media Spot, LLC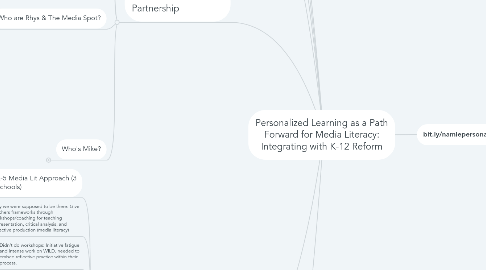 1. Why are we hitching to existing initiatives (i.e. personalization) instead of leading with Media LIteracy?
2. Our Goals for the Partnership
2.1. Provide Multiple Pathways to Transferrable Skills
2.2. Survey three K-5 and one MHS and take some first steps towards strengthening CIP goals with media literacy
2.2.1. Merge PLPs, tech focus, and media literacy Kids in grades 3+ (i.e. documenting by taking pictures of stuff and making it part of their learning i.e. SeeSaw.me)
2.2.2. MHS - integrate with the successful WILD project (project-based learning)
2.2.2.1. do what you're doing now, but do the work to extract the parts that make it work so that it can be inquiry driven in the future?
2.2.2.2. what did kids gravitate towards?
2.2.2.3. making relationships with people that are doing well?
2.2.2.4. Post-performance
2.2.2.5. Create a model of something -- document
3. Take-Aways & Next Steps
3.1. We activated Media Literacy on design/administrative, teacher, and student levels.
3.1.1. Digital student reflection as part of the learning process
3.1.2. Collaborative documentation with teachers of their evolving practices; Dynamic Landscapes presentation, faculty presentations to come
3.1.3. Created Administrative structures with embedded media literacy practices, and a framework and PD vidoes for next steps. (Classroom, Scope and Sequence)
3.2. The leap from this ML-informed process of developing project based personalized learning, to more deeply integrating overt media literacy inquiry within teaching and learning at the project level, has become a much smaller gap. We're ready in the next iteration to move a pilot group to deeper ML pedagogy.
4. Presentation Framework
4.1. FYI - To pull back the curtain, we built this mind map around our actual notes used to manage the project and interact with teachers.
4.2. Overview: Mike's long-term work, BI Grant, Partnership (Mike 2 mins)
4.2.1. Frame that this is K-12 and see who is in the room
4.3. Who's in the room (3 mins)
4.4. Who we are, and where we find ourselves in the context of Media Literacy Movement at the moment. (15 mins total)
4.5. Open Question: Why not lead with a big media literacy push when leading or consulting with any K-12 school? (5 mins)
4.5.1. On a small scale, you may push for media literacy class(es), or target certain specific areas and practices, but on a schoolwide or school systems level -- do you lead with media literacy or build it into other initiatives?
4.6. Survey of Schools and Initial Interventions (S&S, WILD) (15 mins - Includes walkthrough of videos)
4.6.1. Listen: Where were their heads, what were their goals?
4.6.2. What we observed: K-5 "tech", MS/HS: Wild & Personalization
4.6.3. Actions: K-5 tech audit with the aim of building a pathway to media literacy using a scope and sequence (2019-20); MS/HS create a WILD framework to serve current need, find authentic places where ML can serve current needs and larger goals
4.6.4. Our move at this point
4.6.4.1. We chose to embed media literacy in support of Personalization.
4.6.4.2. We did not do a review of key concepts, or talk about the need for media literacy in the school.
4.6.4.3. Our Rational: Initiative Fatigue; Building structures that support growth of media literacy that supports other initiatives. When they have authentic positive experiences we will show the larger context they are working in -- when they have the capacity.
4.7. Take Aways & Next Steps (5 mins)
4.8. Discuss: Want to call this out as NOT media literacy? In an age where media literacy language is showing up in ELA, SS, Tech/ISTE, etc. Why struggle to make space in folks' heads for "Media Literacy"? (5-10 mins)
5. Best Innovation Grant Partnership
5.1. Overview of Big Ideas
5.2. What's your interest or role in media literacy in K-12?
5.2.1. Tech integration lens
5.2.1.1. Tech coordinator from Rio (Google Innovator, Working on schoolwide/NATIONWIDE media literacy strategy)
5.2.2. Teacher Eduction
5.2.2.1. via dual enrollment
5.2.3. Ed of Library Media Specialists
5.2.4. SPED teacher (working within)
5.2.5. Librarians working within (PD: STEM & Media Literacy)
5.2.6. Non-profit youth media programs (K-12 & Faith community)
5.2.7. Statewide (CA - large state with local control) (working within content areas) (created a website of ML resources)
5.3. Who are Rhys & The Media Spot?
5.3.1. Mindful media production within the curriculum
5.3.1.1. real world action + reflection while making
5.3.2. Streamlining the use of tech, interactive tools and spaces (G Suite Focus)
5.3.2.1. Fave of 2019: Muttigrees SEL Google Classroom (built-in media literacy and SEL lessons)
5.3.3. Curating and spreading ML resources
5.3.4. Collaborative (teacher/student/TMS) video documentation
5.3.4.1. Examples: PS130 Makerspace, MS88 Muttigrees, TVMHS
5.3.5. Media Literacy Tied to School Vision
5.3.5.1. Scope and Sequence Work in Progress (the early stages tied to schoolwide initiative)
5.3.5.2. Workshop with NYCDOE Div of Informational & Instructional Tech and New School Development
5.3.5.3. CS4all Comparison
5.3.6. Read more about how we work at themediaspot.org
5.3.6.1. videos, notes, history @themediaspot.org
5.4. Who's Mike?
5.4.1. History with Media Literacy
5.4.1.1. Media Literacy Educator and Scholar
5.4.2. K-12 Administrator
5.4.2.1. Director of Tech and Curriculum WSWSU in Vermont
5.4.2.1.1. WSWSU Continuous Improvement Goal 2
6. Stage 1: 6 Day Consultancy
6.1. K-5 Media Lit Approach (3 Schools)
6.1.1. State tests tech prep
6.1.1.1. Trisha leading
6.1.1.2. Identify test prep skills in the ISTE Standards
6.1.1.2.1. click, drag... etc.
6.1.1.2.2. reading on screens
6.1.1.2.3. fine motor
6.1.1.3. Tricia leads this during library time
6.1.2. PLP
6.1.2.1. They are working on an ISTE Tech Skills Continuum
6.1.2.2. Grades 4-5 -- Organizational Challenges
6.1.2.2.1. logistics
6.1.2.2.2. need to be sold that it's making life easier
6.1.2.2.3. "not time"
6.1.2.3. Teacher PLPs are happening in different modes, but they aren't sold on the purpose
6.1.2.3.1. Documenting what they are trying for Fundamental 5 goals. They should be uploading reports to the Teacher PLP. Prepping them for the
6.1.2.4. Opening up small group collaboration, self-direction, etc.
6.1.2.5. Embed ISTE tech skills & media literacy concepts into 1 map that tracks where students are developing the fundamental 5, PLP goals activities & projects (start with grades 2-5)
6.1.2.5.1. Tie into Goal setting
6.1.2.5.2. Reflection but also Self-Expression for kids
6.1.2.6. Framework for K-5 PLP: Student Portfolio Google Site is the Curated Space/Classroom-Drive is capturing throughout
6.1.3. Logistics
6.1.3.1. Tech Time with Trish Each Week
6.1.3.2. Meet with teachers on road blocks
6.1.3.3. Meet with Trish to make a scope and sequence
6.1.3.3.1. PLP Practices
6.1.3.4. FRIDAYS
6.1.3.4.1. 4-5 grades meet on Fridays
6.1.4. Initiative: Library Media & Curriculum Map Review
6.1.4.1. Goal: see where her program can extend and support core curriculum, PLPs & test prep.
6.1.4.2. Goal: note where technology is or can potentially be used to support these initiatives, and work backwards to map them using this (linked) curriculum planning template:
6.1.4.3. Goal: once the map is sketched out, backwards map in the ISTE tech standards -- prioritizing those that support computer-based testing skills
6.2. Why we were supposed to be there: Give teachers frameworks through workshops/coaching for teaching representation, critical analysis, and reflective production (media literacy)
6.3. Didn't do workshops: Initiative fatigue and intense work on WILD, needed to embed reflective practice within their process.
6.4. Helped them be reflective practitioners: we had them document, reflect, and present using digital artifacts they collected.
6.5. 6-12 Media Lit Approach
6.5.1. WILD Resource Development
6.5.1.1. Google Classrooms for J-Term Structure & Student Collaboration and Reflection
6.5.1.1.1. FOR NEXT YEAR: Create a Replicable Google Classroom TEMPLATE with baked-in best practices for the J-Term process
6.5.1.1.2. Build-in Student Reflection Prompts that are seamless with practical elements of the project to gather evidence of personalization and reflection
6.5.1.1.3. Use Classroom as a way to manage collaboration between kids, and to manage and keep various small groups coherent as the project takes shape.
6.5.1.2. Teachers Document Emerging J-Term/PLP promising tools and strategies & stories of student engagement
6.5.1.2.1. Record interviews with or capture artifacts from students that will help unpack what they find engaging with this process
6.5.1.2.2. Have students briefly/serially interview each other as 'behind the scenes' updates on their progress and goals for their target audience.
6.5.1.2.3. Have them use a format that exposes what's been done, who's done/learned what, what's next, and what they hold to accomplish.
6.5.1.2.4. Make this part of the WILD group reflection process: recruit a team member to edit the behind the scenes movie on their team's story using reflection screencasts as the foundation.
6.5.1.3. Tools to Experiment with for the ideas above
6.5.1.3.1. Screencastify
6.5.1.3.2. Loom Screencasts
6.5.1.3.3. Adobe Spark Video
6.5.1.3.4. Google Classroom
6.5.1.3.5. WeVideo
6.5.1.3.6. EdPuzzle
6.5.1.3.7. MindMeister Mind Maps
6.5.1.3.8. Padlet
6.5.2. Examples of teacher and student reflection
6.5.2.1. Unexpected Personal... 1:07-2:04
6.5.2.2. Real World Impact... 1:32
6.5.2.3. All of Reflection
6.5.2.4. https://vimeo.com/showcase/5993180 Collection of documentary-style student-teacher reflective conversation on process and impact.
6.5.2.4.1. Evidence of a student reflecting on research process, involving media analysis, and finding a personalized pathway.
6.5.2.4.2. 1:35 Importance of reflecting and sharing
6.5.3. WILD Event Photos
6.5.4. WILD Feedback & Debrief
6.5.4.1. Target: Voice and Choice
6.5.4.1.1. Defining Choice for our students
6.5.4.1.2. Gave kids choice within boundary of the 60s
6.5.4.1.3. Teacher goal: tying the "choice" to a project relevant to a real world audience.
6.5.4.2. Take-away
6.5.4.2.1. Exposed a schoolwide need to expose students to tools and processes that develop commitment and exploration of interests within learning. Focus on deepening that through ML pedagogies.
6.5.4.3. Target INI
6.5.4.3.1. Students went for tri-fold or research papers as the focus through 2/3 of the WILD sessions. Ws not tied into real world with exceptions such as the Car Show: a past/present mix with interaction with real car owners, a live event (not science fair report on tri-fold).
6.5.4.4. Introduced Personalization Frameworks
6.5.4.4.1. Screencast Confessionals throughout
6.5.4.4.2. Google Classroom for individual back and forth with teacher and small group shares
6.5.4.4.3. Mash-up or final summary reflection after re-visiting the process.
6.5.4.4.4. Teachers model the practice through their own confessional screencasts & documentary-style interviews with students -- expose their own learning process.
6.5.4.5. Establishing a Framework for WILD that supports personalization and bakes in media literacy
6.5.4.5.1. Replicable Google Classroom
6.5.4.5.2. Build in suggested structure & scaffolds
6.5.4.6. Take-away
6.5.4.6.1. Using 'Ed Tech' integration as a means to do project-based learning -- when this is done with an awareness, analysis, reflection, and action progression, it is media literacy.
7. In an age where media literacy language is showing up in ELA, SS, Tech/ISTE, Transferable/21st Century skills, etc. Why struggle to make space in folks' heads for "Media Literacy" as such?
7.1. When do we make the ML frameworks explicit on a school wide level to how teachers and school admins are organizing teaching and learning for themselves?
7.2. Not either/or...
7.3. Make it tangible for teachers (curate the resources so it makes sense out of the gate)
7.4. Tie ML to the teaching of explicit existing goals
7.5. Similar to the open classroom movement ("by the end of the year you have to:... ") -- maybe ID a set of inquiry skills that you have to master, and build towards that.
8. bit.ly/namlepersonalization