INSUFFICIENT PARKING ON CAMPUS
создатель Sazmiera Fauzi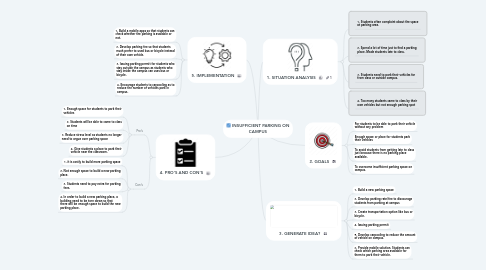 1. 1. SITUATION ANALYSIS
1.1. 1. Students often complaint about the space at parking area.
1.2. 2. Spend a lot of time just to find a parking place. Made students late to class.
1.3. 3. Students need to park their vehicles far from class or outside campus.
1.4. 4. Too many students came to class by their own vehicles but not enough parking spot
2. 3. GENERATE IDEA?
2.1. 1. Build a new parking space
2.2. 2. Develop parking rate/fee to discourage students from parking at campus
2.3. 3. Create transportation option like bus or bicycle.
2.4. 4. Issuing parking permit
2.5. 5. Develop carpooling to reduce the amount of vehicle on campus.
2.6. 6. Provide mobile solution. Students can check which parking area available for them to park their vehicle.
3. 2. GOALS
3.1. For students to be able to park their vehicle without any problem
3.2. Enough space or place for students park their vehicles
3.3. To avoid students from getting late to class just because there is no parking place available.
3.4. To overcome insufficient parking space on campus.
4. 4. PRO'S AND CON'S
4.1. Pro's
4.1.1. 1. Enough space for students to park their vehicles
4.1.2. 2. Students will be able to came to class on time
4.1.3. 3. Reduce stress level as students no longer need to argue over parking space
4.1.4. 4. Give students a place to park their vehicle near the classroom.
4.2. Con's
4.2.1. 1. it is costly to build more parking space
4.2.2. 2. Not enough space to build a new parking place.
4.2.3. 3. Students need to pay extra for parking fees.
4.2.4. 4. In order to build a new parking place, a building need to be torn down so that there will be enough space to build the new parking place.
5. 5. IMPLEMENTATION
5.1. 1. Build a mobile apps so that students can check whether the parking is available or not.
5.2. 2. Develop parking fee so that students much prefer to used bus or bicycle instead of their own vehicle.
5.3. 3. Issuing parking permit for students who stay outside the campus as students who stay inside the campus can uses bus or bicycle.
5.4. 4. Encourage students to carpooling as to reduce the number of vehicles park in campus.