Unique Moving
создатель Rob Boitano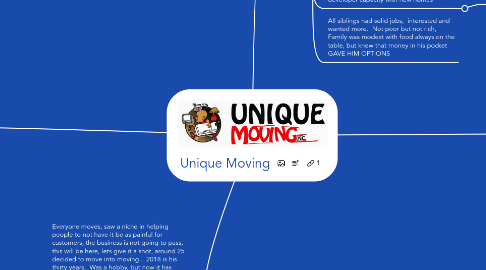 1. Why?
1.1. Desire to create more business through junk removal, storage and mobile storage, expansion. potential with the base providing trade services
1.2. Liver and Meatloaf Money gives you choices
1.3. working since 13, would love to take more than a week of vacation
1.4. Grow the company to a point of running itself, to provide more freedom for owner
1.5. wants to creat time to work with his wife in developer capacity with new homes
1.5.1. wants more freedom
1.6. All siblings had solid jobs, interested and wanted more. Not poor but not rich, Family was modest with food always on the table, but knew that money in his pocket GAVE HIM OPTIONS
2. Story
2.1. Everyone moves, saw a niche in helping people to not have it be as painful for customers, the business is not going to pass, this will be here, lets give it a shot, around 25 decided to move into moving . 2018 is his thirty years. Was a hobby, but now it has evolved, more dependent on the business success and financially was working
2.2. Started at 24 moving, started driving bus youngest driver at the time, encountered some 1.5 years of work with greyhound and decided he did not want to do it anymore
2.3. Started working for Coors, roommate was a mover, asked him to join him on a move job. Started working with company worked for them for a year
3. Current State
3.1. People
3.1.1. PEOPLE: teach proper communication topics
3.1.2. PEOPLE: working with outside company Luis Maeari, training, systems , he currently has week systems that need to be updated
3.1.3. Need to elevate bench
3.2. Culture
3.2.1. CULTURE: Rodney believes his culture is impacted by the training of his staff and the value that is extended to the clients. Working with the clients. Creating value with his clients. Rodney belief system he has, he instills his value through stories and sharing examples, setting the culture through the experiences they have with clients. Believes that his current staff have the sensitivity and politeness
3.2.1.1. CULTURE: 2 week of month vacation what happens: is it where it needs to be..No
3.2.1.2. COMPANY: Recognizes that the company is at an inflection point in a number of different areas, Once reach a plauteau there is always another opportunity to go up or down..... Rodney is anticipating now what will break him at his inflection points in effort to elevate
3.2.2. Rodney shares insights with his staff 3 times a year and reviews with staff the mindset of the client People would rather have root canal then move, get into the clients mindset in effort to be more understanding and sensitive to the process , take pride in what they are doing. Customer walks into final project of how they left the environment, be mindful that it looks perfect
3.3. Finance
3.3.1. FINANCIAL: Company is doing well, could be more comfortable if they were doing better. This year is better over last year Interested in making changes to take to the next level
3.4. Systems/Processes
3.4.1. SYSTEMS-PROCESS -TECH inflection at a 2 has been at 3. recognizes at a moving point. Looking to streamline 'MOVE PRO" program for integration purposes. Really between 3-4. Process of making changes of infrastructure
3.4.2. PEOPLE: Rodney was doing it all driving dispatch, moving, got to the point of where he was making lots of money and realized he needed to start delegating...fell asleep wake-up light, wake up call Wants to do great not just good
3.5. Pipeline
3.5.1. PIPELINE MARKETING SALES The best plan is the one that is making him money and if you moniter the numbers and it is working. You have to monitor locality, internet, yelp, research what is the best means for pursuing. Watch the numbers carefully
3.5.1.1. PIPELINE moving to bigger facility, create more storage opportunties, like a self storage, mobile storage like pods, and junk removal
3.5.2. business is spread alot by word of mouth
3.6. Product
3.6.1. Works with clients in providing costs prior to jobs in effort to minimize issues when job is complete
3.6.2. Moving is like pulling teeth. Goal is to make process more pleasurable for clients
4. Future State
4.1. Very passionate about staying busy and keeping money in his pocket
4.2. People
4.2.1. PEOPLE: inflection point of 2, he is losing Kim in a month, does not have the proper training, more structure into training.. , interviewing applicants now and interviewing to replace Kim, make a little Kim. Kim to stay and transition new person into role
4.2.2. PEOPLE: Hire operations manager, quality control manager, to include networking and going to functions to promote marketing aspect and generate more business, also looking to hire more sales people
4.2.3. Focus on customer service capabilities during hiring
4.2.3.1. consider customer service training for existing employees
4.2.4. SUCCESSION PLANNING: not options for the girls his daughters to join the business, will look at his staff for potential growth ops in his expansion of the business
4.2.5. VEGAS 2019/2020 Big hire, and Rodney infrastructure implemented, Once secured building, bring staff on board
4.3. Product
4.3.1. Is brand promise "Unique"
4.3.2. PODS AND WAREOUSE : coordinate with foreign entities, staff have similar skill sets, forklift certification, Procedures on how they are handled. Pickup, load and deliver to drop off space in the UNIQUE storage space. Pick and drop off dates, more flexibility
4.3.3. Residential is only more profitable than commercial because of the volume Rodney would get rid of all residential and have only schools but only because it is not as customer driven not option at this time, not enough work to sustain
4.3.4. STORAGE Storage will be occurring with the following . Locate the right storage unit, Implementing the system, structured training , Hiring continues until the move is ready to happen
4.4. Pipeline
4.4.1. does marketing articulate value prop
4.4.2. 5 YEARS OUT; Tripile in revenues, multiple locations (out of state as well like vegas) Owner to oversee businesses, possible the OPs manager
4.5. System/Processes
4.5.1. VEGAS: once system up can take it with him, location, money to secure, sales and market through the chamber and networking before opening doors
4.6. Culture
4.6.1. Risk of splintering culture with Vegas operation
4.7. Finance
4.7.1. Financing storage expansion needs to be considered
4.7.2. Vegas expansion is longer term