Vision for 2014 ICT
por Kübra Şener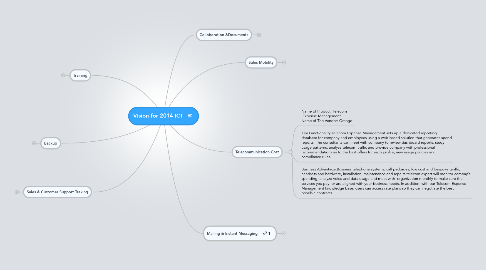 1. Colloboration &Documents
1.1. Product and Provider Name of Product: Colloboration Solutions Name of The Vendor: Cisco Webex
1.2. Key Functionality: It provides web conferencing combines dynamic online meetings with integrated collaboration tools. Everyone in the organization can present, share, and collaborate anywhere, any time.
1.3. Business Advatage: It's secure sharing and manage conferencing in your data center, behind your firewall.The company can share knowledge and ideas across geographic and organizational boundaries so brunches and hearquarters can reach all documents easily.
2. Sales Mobility
2.1. Name of Product: Mobile Express for Microsoft Dynamics CRM 4.0 Name of The Vendor: Microsoft,Inc
2.2. Key Functionalities;Enterprise mobility enables a workforce to have instant access to information through mobile applications anywhere, anytime with cloud co,puting solutions People are fundamentally changing the way they work, and in order to remain competitive, organizations are making enterprise applications accessible through mobile devices.instant communication and access to important information to a workforce, enterprise mobility improves productivity through providing the information the moment it is needed.
2.3. Business Advantage; Get the information that is needed to close more sales more quickly from anywhere, anytime Off-site and in-the-field team members can get the organization they need for scheduling and workflow. Save money on the cost of inventory and order processing Having access to the right information at the right time helps the sales team make informed decisions and save time. Mobile CRM access can mean the difference between a satisfied customer verses having to make mulitple subsequent follow-ups due to lack of sufficient information or errors from misinformation.
3. Telecommunication Cost
3.1. Name of Product: Telecom Expense Management Name of The Vendor: Orange
3.2. Key Functionality;Telecom Expense Management sets up a dedicated reporting database for company and employees using a web-based solution that generates spend reports. The consultants can meet with company to review dashboard reports, study usage patterns, analyze telecom traffic and provide company with professional recommendations as to the best offers for each profile, new usage policies and compliance rules.
3.3. Business Advantage;Business telephone systems, call packages, low cost and bespoke tariffs, handsets and hardware, installation, maintenance and repairs.telecom expert will monitor compay's spending, analyze voice and data usage and meet with organization monthly to make sure the services you pay for are aligned with your business needs. In addition, with our Telecom Expense Management knowledge base, users can access rate plans so they can negotiate the best possible contracts.
4. Training
4.1. product and provider;IBM Cloud Computing Training
4.2. Key functionalities; Cloud Computing training can help company as an administrator, cloud user or architect with virtualization skills, become your organization's go-to expert in basic to advanced implementation of clouds for your systems
4.3. Business Advantage;Their cloud computing training of regional offices can offer specialist knowledge of local economies and local needs. The most impoartant advantage is that they provide cost-effective packages.There is no need huge budgets for training.
5. Sales & Customer Support Traking
5.1. Name of Product:Sales Tracking Solutions Name of The Vendor: Base cloud solutions
5.2. Key Functionality; It might have a multitude of features that enable you to capture data about quoting and about sales activities. With this cloud computing solution tracking sales that have already occurred, tracking leads, tracking quotes that are in progress, and extracting historical information about clients and every processed order and unprocessed quote from start to finish.
5.3. Business Advantages; sales,production,order all process can be followed easily. Sales managers can do reliable predictions about sales , they can decide delivery dates with this solution also they can get a better grasp on their business.
6. Backup
6.1. product and provider; Cloud storage-IBM
6.2. Key functionalities ; It can help you build your own Cloud Agile environment with IBM's SmartCloud Storage. The SmartCloud Storage is a family of cross-brand software, services and storage to help clients implement their cloud storage strategy.if you want to build it, want IBM to run it or simply want access to IBM's public cloud storage service, IBM has the solutions to help company get started.
6.3. Business Functionalities; It's easy-to-deploy, simple-to-use software offers self-service storage provisioning, monitoring and reporting,faster than others
7. Mailing & Instant Messaging
7.1. Name of Product:IBM Smart Cloud Name of The Vendor:IBM
7.2. Key Functionality It's more secure than others Mails and messages sent to and from the enterprise IM client will boast encryption based on SSL--e The corporate client will offer security--users are authenticated against a corporate directory--plus the ability to block other IM clients and force the use of virus protection software. Stay up-to-date with a consolidated view of company's social business network.See who is online and instantly start text-based, encrypted conversations with other registered users.
7.3. Business Advantage Centralize, manage, and share documents, bookmarks, and discussion forums to keep a team or community of users organized. also integrates with logging and archiving tools, allowing companies to comply with auditing regulations.Connect with other users to view their business profile, exchange and share files, invite them to communities, see their online status, and track their updates on dashboard.