IDENTIFY 9/10/08
Door Katarina Petronijevic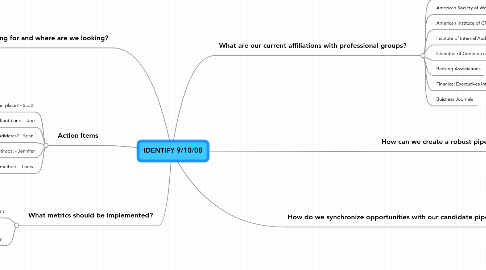 1. What are we looking for and where are we looking?
1.1. What?
1.1.1. Accounting and Finance
1.1.2. Tax, Audit, Accounting Operations
1.1.3. *Candidate should be open to location and open to travel.
1.2. Remaining flexible with what the market allows.
1.3. Where?
1.3.1. EVERYWHERE!
1.3.2. Networking Groups.
1.3.3. Active Recruiting
1.3.3.1. Communication with Client - who is on site? (Build loyalty)
1.3.4. Referrals
2. What are our current affiliations with professional groups?
2.1. Houston / Texas Society of CPA's
2.2. American Society of Woman Accts.
2.3. American Institute of CPA's
2.4. Institute of Internal Auditors
2.5. Chamber of Commerce
2.6. Banking Associations
2.7. Finanical Exectutives International (FEI) - National Org.
2.8. Buisness Journals
3. How can we create a robust pipeline of candidates?
3.1. Obtain project consultants from competitors
3.2. Referrals
3.3. Developing and maintaining a loyal relationship with candidate and clients.
3.3.1. Birthday cards? Incentives?
3.4. Build a pipeline through HR department from a candidates former employer.
3.4.1. Layoffs - Companies will pay an out-placement service.
3.5. Out-placement services
3.6. Networking
4. How do we synchronize opportunities with our candidate pipeline so we stay ahead of the curve?
4.1. Including Recruiter and Resource Manager in Pipeline Meetings and all Discussions.
4.1.1. Open communication = Better understanding from both ends (sales and recruiting)
4.1.2. "Push and Pull"
5. What metrics should be implemented?
5.1. Timeline Continuum Each office will be different
5.1.1. Target what the number is of candidates that we want to contact every week?
5.1.2. How many will you speak with live? - Weekly
5.1.3. Number of live interviews per month (Face to Face meeting)
5.2. Project Consultants vs Salary
6. Action Items
6.1. What communication mechanisms need to be in place? - Scott
6.2. Develop base profile for each flexible consultant band. - Joe
6.3. Identify the communites of practice - what is the best way to source those candidates? - Sean
6.4. Optimizing our interviewing methods. - Jennifer
6.5. Creating a universal method. - Louis