Open Access re: Tenure & Promotion Open Access Week 2014 lib.unm.edu/9oaw14 [email protected]
Door Steve Koch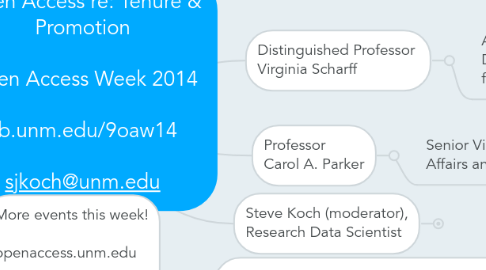 1. UNM Faculty Handbook B1: Professional Activities of Faculty and Criteria for Evaluation
1.1. To qualify as scholarship or creative work, the results of the endeavor must be disseminated and subject to critical peer evaluation in a manner appropriate to the field in question.
1.2. The term Scholarly Work, as used in this Policy, comprises scholarship, research, or creative work. Scholarship embodies the critical and accurate synthesis and dissemination of knowledge.
2. More events this week! openaccess.unm.edu #openaccessunm
3. Steve Koch (moderator), Research Data Scientist
3.1. Perspective from the sciences
3.2. Peer-reviewed "high impact" publications remain tenure gold.
3.2.1. Science, Nature, Cell, PRL, ...
3.2.2. Public Library of Science (PLoS) journals
3.2.2.1. PLoS ONE
3.2.3. PeerJ
4. Professor Carol A. Parker
4.1. Senior Vice Provost for Academic Affairs and Professor of Law
5. Distinguished Professor Virginia Scharff
5.1. Associate Provost for Faculty Development and Distinguished Professor of History and Director of the Center for the Southwest at the University of New Mexico
6. Some possible questions
6.1. What is the value of open access publishing in various discipline(s)?
6.2. Could anything be done to encourage OA publishing from tenure-track faculty?
6.3. Should anything be done? Would the upper administration like to see more OA publishing from the University as a whole?
6.4. Are there negative consequences that OA advocates tend to ignore?