Chapter 5
Door vũ nguyễn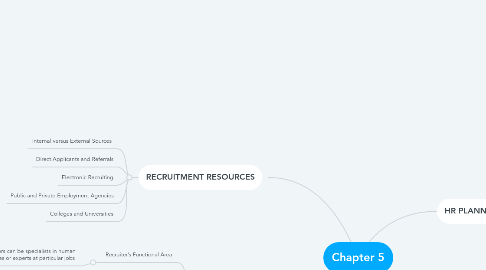 1. HR PLANNING PROCESS
1.1. 1. FORECASTING
1.1.1. predict areas within the organization where there will be future labor shortages or surpluses.
1.1.2. can use either statistical methods or judgmental methods.
1.1.3. Determine Labor Demand
1.1.4. Determine Labor Supply
1.1.5. Determine Labor Surplus or Shortage
1.2. 2. GOAL SETTING AND STRATEGIC PLANNING
1.2.1. The purpose is to focus attention on the problem and provide a benchmark for determining the relative success
1.2.2. choose different strategies for redressing labor shortages and surpluses.
2. PERSONNEL POLICIES
2.1. Internal versus External Recruiting: Job Security
2.2. Extrinsic and Intrinsic Rewards
2.3. Image Advertising
3. RECRUITMENT RESOURCES
3.1. Internal versus External Sources
3.2. Direct Applicants and Referrals
3.3. Electronic Recruiting
3.4. Public and Private Employment Agencies
3.5. Colleges and Universities
4. RECRUITERS
4.1. Recruiter's Functional Area
4.1.1. Recruiters can be specialists in human resources or experts at particular jobs
4.2. Recruiter's Traits
4.2.1. WARMTH
4.2.1.1. the recruiter seems to care about the applicant
4.2.1.2. enthusiastic about her potential to contribute.
4.2.2. INFORMATIVE
4.3. Recruiter's Realism
4.3.1. realistic job previews do lower expectations and can help reduce future turnover in the workforce
4.4. Enhancing Recruiter Impact.
4.4.1. provide timely feedback
4.4.2. recruiting can be done in teams