St. Brigid
Door Emma Black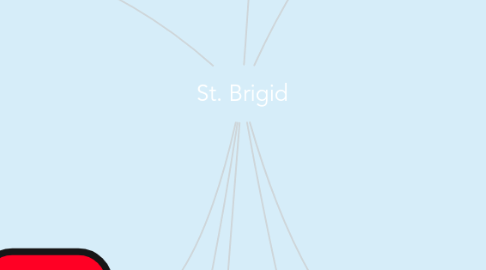 1. Mother
1.1. Brigid's mother Broicsech was a slave that was brought into Ireland from Portugal.
1.2. Brigid's mother was considered his subordinate wife.
1.3. Broicsech was banished to an area in Dundalk. Modern research would identify this as the birthplace of Brigid.
2. Biography
2.1. Born in AD 450 in Faughart near Dundalk in Co. Louth.
2.2. Brigid and her mother were held as slaves under her fathers captivity until Brigid was 18 years old.
2.3. Brigid opposed her fathers wish to marry a wealthy man and instead proceeded to join a convent.
2.4. St Brigid founded the first convent in Ireland in County Westmeath. She founded many more monasteries, the most famous one in County Kildare.
2.5. Brigid shares her name with an important Celtic Goddess
3. Father
3.1. Her father Dubtach was a noble Pagan and chieftain of Leinster who conceived Brigid through unmartial relations.
4. Veneration
4.1. Patron Saint of Ireland alongside St. Patrick and St. Columcille.
4.2. Feast Day
4.2.1. St. Brigid is celebrated on the 1st of February. Traditionally, St. Brigid's crosses were made on the 31st of January and placed around the house for protection
5. Her Life
5.1. St. Brigid along with St. Patrick both aided in the initiation of Christianity into Ireland
5.2. St Brigid is also known as Mary of the Gael or Muire na nGael.
5.3. Brigid established many monasteries across Ireland. She became the abbess of the revered monastery in Kildare which housed both men and women.
5.3.1. This monastery was acclaimed as a center of education, pilgrimage, worship and hospitality
5.4. As Abbess of this foundation she wielded considerable power, but was a very wise and prudent superior. The Abbey of Kildare became one of the most prestigious monasteries in Ireland, and was famous throughout Christian Europe.
5.5. Brigid spent much of her life aiding the poor. Brigid was strongly renowned as being a generous individual who gave to the poor and needy. She sourced basic necessities including food, clothing and livestock. Her resourcefulness and determination to help those less fortunate was admirable. Her remarkable character is portrayed in the many folklore legends associated with her.
6. Folklore and Legends
6.1. It is important to appreciate that legends and folklore of St. Brigid may not necessarily be entirely accurate but they portray stories that represent her importance and influence.
6.2. Beauty
6.2.1. According to legend, Brigid was a young beautiful girl. In order avoid getting married, it is thought that she prayed to God to take away her beauty. Soon after she joined the convent, her beauty returned more so than before.
6.3. Cloak
6.3.1. When seeking land for her community, she asked the King of Leinster only for as much as her cloak would cover. The cloak miraculously spread over the whole of the Curragh, an area of grassland famous then and now for horse racing.
6.4. St. Brigid's cross
6.4.1. St Brigid was by the sick bed of a dying pagan chieftain.
6.4.2. She began making a cross from the rushes soothing him with stories about her faith and her unwavering trust in God. From this the pagan was enlightened and asked to be baptised.
6.4.3. The distinctive cross became iconic and is now associated with St. Brigid.
6.5. The fox and St. Brigid
6.6. The ever living fire
7. Influence
7.1. Model of equality
7.2. Inspiration for women
7.3. Philanthropist
7.4. Pioneered monastic life in Ireland
8. Female Bishop
8.1. Brigid was ordained a Bishop by Bishop Mél
8.2. Some sources deem Brigid's ordination to be accidental, with one stating that Mél was intoxicated.
8.3. However, accounts show that there was indeed a line of succession after Brigid, of female Bishops.
8.3.1. 1st successor- Darlugdach
8.4. This episcopal status was removed in 1152 during the Synod of Kells-Mellifont.