Chapter 4
Yi Joeにより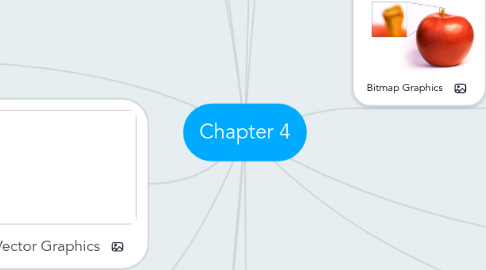 1. Vector-drawn images are used in the following areas: -Computer-aided design(CAD) -Graphic artists designing for the print media. -3-D animation programs
2. Disadvantages
2.1. Object/ drawings cannot have texture.
2.2. cannot be used for photo realistic images
3. Disadvantages
4. -Large file size -Hard to edit -Graphics become"blocky" when the size is increased
5. Bitmap Graphics
5.1. Bitmaps is a simple matrix of the tiny dots that form an image and are displayed on a screen or printed.
5.2. Bitmapped images can have varying bit and color depths.
5.3. Advantages
5.4. Can have different textures on the drawings
6. Where do bitmaps come from?
6.1. Capture a bitmap using a camera.
6.2. Using a scanner to digitize the image.
6.3. Make a bitmap from scratch with a paint or drawing program.
6.4. Get from the suppliers of clip arts, and from photograph suppliers.
7. Legal rights protecting use of images
7.1. Public domain images
7.1.1. were either never protected by a copyright or their copyright has ended (freely used without obtain permission/ license fee )
7.2. Royalty-free images
7.2.1. are purchased and then used without paying addition license fees.
7.3. Right-managed images
7.3.1. require you negotiate with the right holder regarding terms for using the image and how much you will pay for that use.
8. Vector Graphics
8.1. Advantages
8.1.1. Vector images use less memory space.
8.1.2. Easily scalable without loss of resolution or image quality.
8.1.3. Easy to edit the drawings
9. Features of a 3-D application
9.1. Modeling
9.1.1. Placing all the elements into 3-D space.
9.2. Extrusion
9.2.1. The shape of a plane surface extends some distance.
9.3. Lathing
9.3.1. A profile of the shape is rotated around a defined axis.
9.4. Rendering
9.4.1. Use of intricate algorithms to apply user-specified effects.
10. Additive Color
10.1. Combining colored light sources in three primary colors-red, green, and blue (RGB).
11. Subtractive color
11.1. use for printing purpose
11.2. Three primary colors: cyan, magenta, and yellow
12. Image File Compression
12.1. lossless compression
12.1.1. No matter what you edit and save, the quality still the same. (GIF)
12.2. Lossy compression
12.2.1. If you save and edit the image, the quality of the image or information will loss. (JPEG)
13. PNG (Portable Network Graphic)
13.1. Image can have transparent portion
13.2. No animation