GET CRITICAL: EXPLORE THE RELATIONSHIP BETWEEN NARRATIVE AND PRODUCTION
Maddie Seamerにより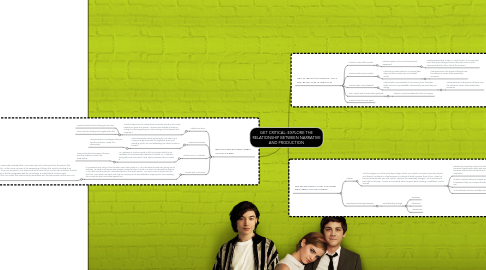 1. KEY EVENTS/MOMENTS THAT DEVELOP THE NARRATIVE
1.1. Charlie's Friend kills himself
1.1.1. Charlie explains to his new friends what happened
1.1.1.1. Charlie explains this to Sam in a dull lit room to convey how much this event changed his and the dark room kind of represents what his life is like at the moment
1.2. Charlie meets Sam & Patrick
1.2.1. Charlie first meets Patrick in his wood work class and then meets Sam at a football match
1.2.1.1. How production techniques influence how the audience 'views' these events/key moments
1.3. Charlie dates Mary Elizabeth
1.3.1. Charlie take Mary Elizabeth to her senior prom, they then make out and Mary Elizabeth automatically assumes they are dating
1.3.1.1. How production techniques influence how the audience 'views' these events/key moments
1.4. Sam, Patrick and Charlie sister graduate
1.4.1. Charlie is now friendless at school once again
1.5. Charlie hits a low once again
2. DEVELOPMENT AND CHANGE BETWEEN CHARACTERS
2.1. Charlie
2.1.1. The film begins on Charlie's first day of high school. For a while, he doesn't have any friends and doesn't contribute in class because he is afraid of what his peers think of him. When he becomes friends with Sam and Patrick, Charlie's life completely changes - he is noticed and feels like he belongs. As soon as his friends leave, he goes back to being a 'wallflower' and an outcast.
2.1.1.1. Decides to sit next to Patrick at a football game, consequently becomes friends with Patrick and Sam and the rest of their group, becomes attached to his friends and as a result 'gets bad again' when they leave.
2.1.1.2. Charlie is influenced by his friends and will often agree to whatever they say in hopes that they will accept him.
2.1.1.3. To find friends and have a better school year
2.2. Development/change exmaple
2.2.1. How/why they change
2.2.1.1. Decisions
2.2.1.2. Influences
2.2.1.3. Motivations
3. RELATIONSHIPS BETWEEN CHARACTERS
3.1. Charlie and Sam
3.1.1. Charlie helped Sam to realize what she wants and who she is and helped her grow as a person. Whereas Sam helped Charlie by loving him and supporting him and making him feel special and important
3.1.1.1. Camera shows Charlie looking at Sam alot
3.1.1.2. Have romantic dialogue throughout the film
3.2. Charlie and Patrick
3.2.1. Charlie supports Patrick by being for him when he is having a tough time with his boyfriend, Brad, and standing up for him and defending him when he was in trouble.
3.2.1.1. How production techniques influence how the audience 'views' this relationship
3.3. Charlie and Mr Anderson
3.3.1. Mr Anderson is Charlie's guide in life, he pushes charlie to be confident in his decisions and believe in himself. Mr Anderson, along with Sam and Patrick, help Charlie discover who he really is.
3.3.1.1. How production techniques influence how the audience 'views' this relationship
3.4. Charlie and Aunt Helen
3.4.1. It is revealed very early on that Charlie's aunt Helen died in a car crash when he was very young on his birthday. He never had anyone who played a parental role in his life, not even his own parents, before Aunt Helen and she was his "favourite person in the whole world". He never came to terms with the fact that Aunt Helen had died, and thus his memory of her was distorted, stopping him from realising the crimes she had committed against him.
3.4.1.1. At the beginning of the film, it is continually reiterated that Aunt Helen was, and continues to be, the person that Charlie loves the most in the world. As the movie is shown in the perspective of letters that Charlie is writing to an unknown 'friend' (the audience), all we can see about Aunt Helen is what he thinks of her, and so we too believe that she was a wonderful person. However, as the film progresses and the clues begin to unfold about Charlie's past, flashbacks are used to show that the Aunt Helen that Charlie fondly remembers isn't the same person as the real Aunt Helen.