Palais des thés-CRM (GRM) Loyal Clients
Anna davidsonにより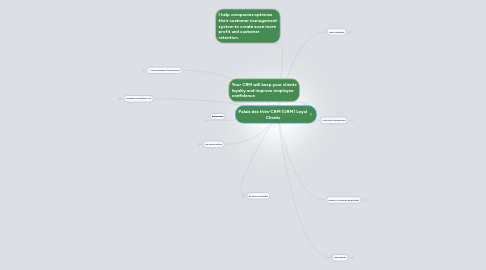 1. Your CRM will keep your clients loyalty and improve employee confidence
2. UpTown Consultancy OÜ
2.1. Registered Eu Company
2.2. 0650234467
3. Experience
3.1. Digital Marketing
3.2. Insurance Assessments
3.3. Project Management
4. As your consultant
4.1. Meet with the right people.
4.2. Identify the five types of clients.
4.3. Help you set up your CRM in house.
4.4. Coordinate it with your autoresponder.
4.5. Discuss the needs of different types of newsletters.
4.6. Have meetings with round tables how to create loyal clients.
4.7. This is just an introduction.
5. Today's Customer Acquisition
5.1. Comes into store
5.1.1. She buys.
5.1.2. You ask for her email and name.
5.1.3. You list what she buys.
5.2. Sees name and looks for site.
5.2.1. She goes to the site and looks around.
5.2.2. She sets up an account to buy.
5.2.3. You send her e-commerce newsletter.
5.3. Sees a google adword.
5.3.1. send you to the newsletter?
5.3.1.1. what makes her want to buy or go forward?
5.4. Comes into store buys tea and then goes to site to buy the same tea.
5.4.1. she sets up an account to buy
5.4.2. you send him ecomerce newsletter
6. Anna Davidson (Belooussov)
6.1. Solution Finder
6.1.1. CRM
6.1.2. EMail Campaigns
6.1.3. In House Problem Solver
6.2. What this is.
6.2.1. It is not marketing
6.2.2. It is not sales
6.2.3. Think of it as the interior of a clock
7. I help companies optimize their customer management system to create even more profit and customer retention.
8. Customer Satisfaction
8.1. When she leaves the store after having bought tea, what does she want?
8.1.1. To feel as though she is special.
8.1.2. To have her own list of teas she has purchased.
8.1.3. To have a 'theophile 'card knowing that she will have easy access buying on line.
8.1.3.1. not to have to sign up online
8.1.3.2. be a member
8.1.3.3. you getting the credit that what she buys online comes from you
8.1.4. When she signs up online and makes a purchase, does her choice add to her list of teas?
8.1.5. There is more to add to the list.
8.2. When she gets to your site.
8.2.1. She finds the most intriguing beautiful site about tea on the market.
8.2.2. She signs up for the newsletter because she is interested in tea.
8.2.3. She signs up for the account to buy tea.
8.2.4. When she gets the first newsletter, she just is disappointed as it is a simple e-commerce photo from your site. She learns nothing about tea. It is impossible to read on her smartphone and she is asked if she wants to buy tea for her teacher when her children are already 30 years old.
8.3. When she sees google adwords.
8.3.1. They go buy so fast that they are obnoxious.
8.3.2. When you do click on one it doesn't really solve a customer's problem as it is just a cut picture from the newsletter.
8.3.3. You are paying too much and using too many cookies.
8.3.4. Your site is to be read and studied by those who are truly interested in tea and infusions.
9. My observations
9.1. I haven't spoken to anyone
9.2. I love tea
9.3. I have had a franchise and know that loyal customers are vital.
10. New Customer
10.1. is looking for a new experience
10.2. walk into a store
10.3. she often doesn't want to feel ignorant
10.4. she doesn't know what she wants
10.5. she might not buy anything but you can turn her into a customer.
10.5.1. making sure she signs up by being available to answer her questions.
10.6. what are you doing to make sure she returns???
10.6.1. This is basically missing in the organization>
10.6.2. You do not know if she will return.
10.6.3. Fill a need which is more than just offering a drink of tea.
11. Franchisees
11.1. What they need?
11.1.1. They will have street traffic.
11.1.2. They will need to quickly make their clients loyal to the product.
11.1.2.1. Identify what type of client
11.1.2.1.1. Theophile?
11.1.2.1.2. Knows what she wants?
11.1.2.1.3. Drinks coffee?
11.1.2.1.4. Occasional?
11.1.2.2. Account should be billateral
11.1.2.2.1. You have access to her data
11.1.2.2.2. but she has access to the teas she drinks and online
11.1.3. Most clients will have done their research before and after making a purchase.
11.1.4. Yes you do have competition to the non-informed client.