Bridging Different Generation in Understanding Technology for Better Health Communication
Annisaa Zahraにより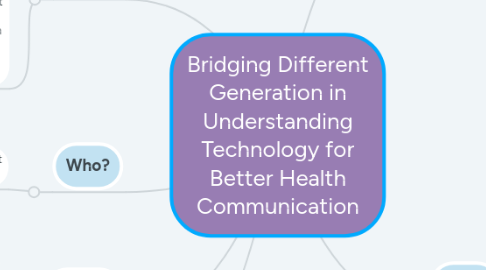 1. What?
1.1. To maintain the quality of health services during a pandemic, which has experienced a slight shift towards the use of the internet and technology, it is necessary to adjust the communication methods for handling health problems between different generations.
1.2. We aim to minimize the differences between generations when it comes to communication. So that the exchange of information related to health service can go well even though there are limitations to getting a treatment at the hospital or clinic.
2. How?
2.1. The differences between generations in terms of habits, mindsets, opinions, educational backgrounds, and beliefs can be overcome by a 2-way communication system. Each party from different generations needs to have an open mindset and also be tolerant of existing differences. The younger generation (gen Z or iGeneration) needs to respect what the previous generations believed. Vice versa, the older generation needs to be open to the innovations invented by the younger generation and learn to embrace them.
2.2. The exchange of information related to health services, which is usually carried out directly in the hospital, can be replaced by the use of health service applications or platforms provided by certain institutions. The younger generation who are more knowledgeable about technology needs to accompany and also guide the previous generation regarding the use of these services.
2.3. We choose cross-sectional study design to conduct the research.
3. Why?
3.1. During this pandemic, the function of technology has turned into a primary tool for fulfilling human needs. It becomes difficult for earlier generations to obtain information related to health services because mostly the health service system has changed to be online based. The earlier generations are not used to retrieving information from the internet and there is a lack of trust in its truth. So that, it is necessary to pay attention to how to communicate with them related to internet-based health services.
4. Who?
4.1. Future patients from different generations.
4.1.1. -Baby Boomers: were born between 1946 and 1964. -Gen X: was born between 1965 and 1980. -Gen Y: or Millennials, were born between 1980 and 1994. -Gen Z: the newest generation to be named and were born between 1996 and 2015.
5. When?
5.1. This current time
5.2. The next era when technology more advance
6. Where?
6.1. In the community where every generation coexists