What are innovative and effective ways for promoting mental health and wellbeing?
Euodia Leungにより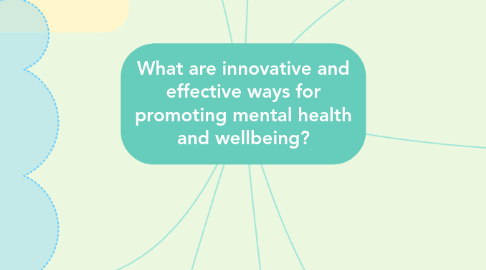 1. 4. PUBLIC EDUCATION
1.1. Mandatory Mental Health Education
1.1.1. History of mental health
1.1.2. Researched and Evidence-Based Practices
1.1.3. Diverse and multicultural practices
1.1.4. Assignment and project-based learning
1.2. On-site health professionals
1.3. Parent/Guardian Seminars
2. 1. ISSUE
2.1. Economic Cost
2.1.1. $51,000,000,000 estimated economic burden of mental illness in Canada (Smetanin et al., 2011).
2.2. Accessibility to Care
2.2.1. Ontarians commonly wait 6-12 months for counselling and therapy, especially children and youth (Office of the Auditor General of Ontario, 2016)
2.2.2. Lack of options for those experiencing mild to moderate levels of mental health problems within the public healthcare
2.3. Lack of Education
2.3.1. Internalization and isolation
2.3.1.1. 49% of those who feel they have suffered from depression or anxiety have never gone to see a doctor about this problem (Mental Health Commission of Canada, 2013).
2.3.2. Perpetuation of myths and stigma
3. 3. GOVERNMENT
3.1. Fund research
3.1.1. Include diverse representation
3.1.2. Publish a national mental health guide
3.2. Policies
3.2.1. Recommendations and standards (Ministry of Education, Labour, Health)
3.2.1.1. Support implementation
3.2.1.2. Enforcement
3.2.2. Amalgamate medical and mental healthcare
4. 5. WORKPLACES
4.1. Mental Health and Safety Committees
4.1.1. Regular site meetings
4.1.2. Workplace inspections
4.2. Human Resources - Mental Health Advisor
4.2.1. Mandated Occupational Mental Health & Safety training
4.2.2. Increase accessibility to workplace accommodations
4.2.3. Employee Mental Health Rights
4.3. Standardized benefits
4.3.1. Employee Assistance Programs
4.3.2. Paid wellness days
5. 7. MEDIA
5.1. Broadcast educational segments
5.1.1. Animated children shows
5.1.2. Advertisements
5.1.3. News stories
5.2. National Anti-Stigma Campaign
5.2.1. Monitor and restrict how the media portrays mental health
5.3. Newspaper and magazines
5.3.1. Short interactive mind exercises (like Sudoku)
6. 8. HEALTH CLINICS/HOSPITALS
6.1. Posters/Brochures
6.1.1. 24 hour support phone numbers
6.1.2. Providing mental health FAQs
6.1.2.1. Informing public on what/who to ask
6.1.3. Symptom recognition
6.2. Mental Health Screening
6.2.1. Perform annual mental health check-ups
6.2.2. Mandatory mental health screening with every hospital or clinic visit
6.3. Advance technology
6.3.1. Online apps
6.3.1.1. Self-rater assessments
6.3.1.1.1. Information shared with circle of care
6.3.1.2. Live chat feature with professionals
6.3.1.3. Practice feature
6.3.1.4. Educational feature
6.3.1.5. Reward system
6.3.2. Redesign medical patient information systems to become inclusive of mental health
6.4. Health Professionals
6.4.1. Emergency Department to include psychologists and social workers
6.4.2. Handouts for prescribed medication
6.4.3. Build awareness of alternative programs
7. 6. COMMUNITIES
7.1. Zen Room
7.2. 24 Hour mind gyms or hubs
7.3. Educational Courses
7.3.1. Faith-based or spiritual practices
7.4. Drop-In Programming
7.5. Peer Support Groups
7.6. Mind warm-ups and exercises
7.6.1. Standardized for all sports training
8. 2. RATIONALE
8.1. Prevalence across humanity
8.2. Illness prevention and reduction
8.2.1. Long-term benefits
8.2.2. Cost effective
8.3. Enhances all areas of life