Empowerment Technology
KUJI CSにより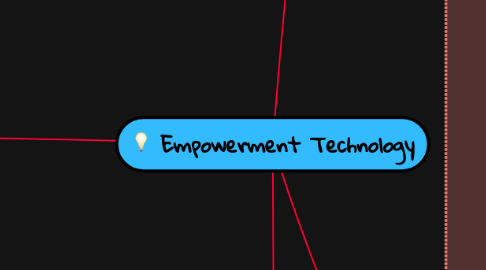 1. Lesson 7: Online Platforms for ICT Content Development
1.1. 1. Social Media Platforms
1.1.1. Examples of Social Media: Facebook
1.2. 2. Blogging Platforms
1.2.1. Examples of Blogging Platforms: WordPress, Tumblr, and Blogger
1.3. *Content Management System (CMS) - is a software application that can be used to manage the creation and modification of digital content. CMSs are typically used for enterprise content management and web content management
1.4. Steps on creating your own WordPress
1.4.1. 1. If you do not have a WordPress account yet, sign up by visiting https://wordpress.com/.
1.4.2. 2. Simply click "REGISTER ANOTHER BLOG" under "MY BLOGS" in the dashboard.
1.4.3. 3. Pick a blog address. Name your vlog then click "CREATE BLOG" (choose the free option)
1.4.4. 4. Click on "CHANGE YOUR BLOG DESCRIPTION" or Permission
1.4.5. 5. On the left menu, choose APPEARANCE > THEMES.
1.4.6. 6. On the THEMES page, select FREE to filter out the paid themes.
1.4.7. 7. Select any theme you want by hovering the mouse pointer over it when click "ACTIVATE"
1.4.8. 8. On this dialog box appears , click CUSTOMIZE YOUR SITE.
1.4.9. 9. You will be directed to a page where you can edit your website.
1.4.10. 10. customize the theme to your liking. Once done, click on SAVE on the bottom of the customization tools.
1.5. Steps on Posting your WordPress Blog
1.5.1. 1. On the dashboard, go to POSTS > ADD NEW
1.5.2. 2. Costumize the URL(optional), then post in editor
1.5.3. 3. Compose a welcome message for your future readers with a minimum of 100 words.
1.5.4. 4. You may replace the format of your post to a standard post, image,video,aside,quote,or link.for now keep it on STANDARD.
1.5.5. 5. You may also add a category so that your posts are organized. Add tags so that others can easily search your posts using the tags you specified.
1.5.6. 6. Click on PUBLISH to post it on your website.
1.5.7. 7. Submit the URL of your website to your teacher.
1.6. Cloud Computing -is the on-demand availability of computer system resources, especially data storage and computing power, without direct active management by the user. The term is generally used to describe data centers available to many users over the Internet.
1.6.1. *ADVANTAGES
1.6.2. 1. No need to install
1.6.3. 2. Saves hard disk space
1.6.4. 3. Easy acces to your software/files; can be ran anywhere as long as there is internet connection
1.6.5. 4. Saves you money from buying software licenses and additional hard disk space
1.6.6. 5. No need to update because it updates automatically
1.6.7. 6. Minimum system requirements
1.6.8. 7. Back up and data recovery are relatively easier than on a physical device
1.6.9. *DISADVANTAGES
1.6.10. 1. Can be hampered down by slow internet speed; no connection, co cloud computing
1.6.11. 2. May still require compatible software like a browser
1.6.12. 3.You do not own the software ; you are simply renting it.
1.6.13. 4. Security risk of doing things over the internet as opposed to your personal computer alone
1.6.14. 5. More prone to hacking
1.6.15. 6. Limited control over the infrastructure itself
2. Lesson 8: Basic Web Page Creation
2.1. WYSIWYG-an editor that allows you to create and design web pages without any coding knowledge
2.2. HTML-stands for Hypertext Markup Language
2.3. CSS-stands for Cascading Style Sheets
2.4. Jimdo-a free website provider with WYSIWYG editor
2.5. Template-a ready-made design for a website
2.6. SEO-stands for Search Engine Optimization; a feature that maximizes the search engine optimization feature so visitors can easily locate your website.
2.7. I. Header- if it is a header, clicking the text will allow you to edit the text and changes its font size
2.8. II. Image- If it is an image ,several options would also appear. It also allows you to upload an image directly from your computer or a Dropbox account.
2.8.1. *TOOLS
2.8.2. Sizing Tools
2.8.3. Align Tools
2.8.4. Rotate Tools
2.8.5. View Tools
2.8.6. Other Tools
2.9. III. Paragraph- If it is a paragraph, you will be treated to even more options similar to using a word processor
2.9.1. *ADDING ELEMENTS
2.9.1.1. *SITE SETTINGS
2.9.1.1.1. Templates
2.9.1.1.2. Style
2.9.1.1.3. Blog
2.9.1.1.4. Upgrade
2.9.1.1.5. Settings
2.9.1.1.6. SEO
2.9.1.1.7. Store
2.9.1.1.8. Statistics
2.9.1.1.9. Help
2.9.2. a.Headings
2.9.3. b.Text
2.9.4. c.Photo
2.9.5. d. Text with Photo
2.9.6. e. Photo Gallery
2.9.7. f. Horizontal Line
2.9.8. g. Spacing
2.9.9. h. Columns
2.9.10. i. Video
2.9.11. j. Form
2.9.12. k. Store Item
2.9.13. l. Share Buttons
2.9.14. m. Additional Elements
3. Lesson 9: Collaborative ICT Development
3.1. Web Portal- a website that contains information from different sources and places them on one location in a uniform way
3.2. Trello - a free tool used for online collaboration
3.3. Yammer - another free tool that can be used for online collaboration
3.4. *Online Collaborative Tool
3.4.1. FACEBOOK
3.4.2. WORDPRESS
3.4.3. GOOGLE DRIVE
3.4.4. Microsoft's Yammers
3.4.5. Trello
4. Lesson 10: Interactive Multimedia
4.1. Multimedia-uses multiple media contents like,videos,sounds,online games,online tests,courseware,podcasts,vodcasts
4.1.1. VIDEOS
4.1.1.1. YOUTUBE
4.1.2. SOUNDS
4.1.2.1. SPOTIFY
4.1.2.2. SOUNDCLOUD
4.1.3. ONLINES GAMES
4.1.3.1. ADVENTURE QUEST
4.1.3.2. FARMVILLE
4.1.4. ONLINE TEST
4.1.4.1. ONLINE IQ
4.1.4.2. PERSONALITY TESTS
4.1.5. COURSEWARE
4.1.5.1. E-LEARNING COURSES USING A LEARNING MANAGEMENT SYSTEM
4.1.6. PODCAST
4.1.6.1. STUFF YOU KNOW
4.1.6.2. TED TALKS
4.1.6.3. THE STARTERS
4.1.6.4. EAR BISCUITS
4.1.7. VODCAST
4.1.7.1. YOUTUBE SERIES/ SHOWS LIKE VIDEO GAME HIGH SCHOOL, MYTHICAL MORNING
4.2. Courseware-online courses that stimulate the classroom online
4.3. Vodcast-an episodic series of videos streamed online
4.4. Embeded-to place an object one site to another