IDEA Categories of Disabilities
da Shafawn Wiley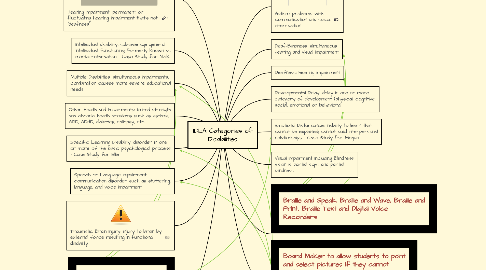 1. Autism: problems with communication and social interraction
2. Deaf-Blindness: simultaneous hearing and visual impairment
3. Deafness: hearing impairment
4. Developmental Delay: delay in one or more category of development (physical, cognitive, social, emotional or behavioral
5. Emotional Disturbance: inability to learn that cannot be explained; cannot build interpersonal relationships - Case Study for Megan
6. Hearing Impairment: permanent or fluctuating hearing impairment that's not "deafness"
7. Intellectual disability: sub-average general intellectual functioning; formerly known as mental retardation - Case Study for Nick
8. Multiple Disabilities: simultaneous impairments; combination causes more severe educational needs
9. Other Health and Impairments: limited strength and chronic health problems such as asthma, ADD, ADHD, diabetes, epilepsy, etc.
10. Specific Learning Disability: disorder in one or more of the basic psychological process - Case Study for Ellie
11. Speech or Language Impairment: communication disorder such as stuttering, language, and voice impairment
12. Traumatic Brain Injury: injury to brain by external force resulting in functional disability
13. Visual Impairment Including Blindness: vision is partial sight and partial blindness
14. Braille and Speak, Braille and Wave, Braille and Print, Braille Text and Digital Voice Recorders
15. Board Maker to allow students to point and select pictures if they cannot verbally express themselves.
16. Mobile Tablets equipped with games and educational tools