There Are Two Ways to Deal With The Unfairness of Life — Only One is Right
da Danny Forest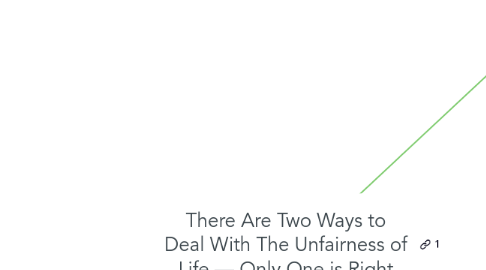 1. Get Bitter. Or Get Better.
1.1. When you're a child, you're the exact opposite of bitter — open, expressive, totally free.
1.2. As you grow older, you slowly you lose your idealism and get bitter with the unfairness
1.3. Society as a whole is mostly jaded, cynical, and bitter.
1.4. People want to feel like they matter, and when they don't, cynicism is right around the corner.
1.5. People get into trivial fights at grocery stores. It's as if they don't have control over anything else
1.6. Better to….get better.
2. How to Avoid a Life of Regret Using Self-Improvement
2.1. Simply getting what you want won't make you feel that much better.
2.1.1. Give the same jaded and cynical person a bunch of money and they still won't be happy in the long-run.
2.1.2. Because they didn't earn it. Because they didn't get better.
2.2. As a human being, you're wired to accomplish. You can't replace the euphoria that comes from overcoming challenges.
2.3. The bitter person wants other people to feel bad, too. They want revenge.
2.4. But there's a way to get revenge in a non-malicious way. Just be awesome.
2.5. Follow through with your goals and dreams. Let everyone else look in from the outside while you win.
2.6. Then, over time, you'll lose that chip on your shoulder and focus on getting better for the sake of it.
2.6.1. Because it's fun. Because it's simply the right thing to do and the best option you have.