Sections of a Newspaper
da Odaia Baclaan Ranido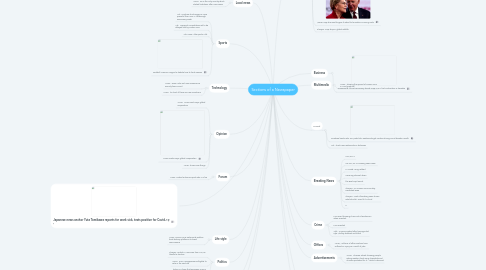 1. Japanese news anchor Yuta Tomikawa reports for work sick, tests positive for Covid-19 ,
2. Global news
2.1. Coronavirus' relentless march in Europe clouds reopening plans
2.2. Local Political News
2.2.1. PAP bans all ground engaged meetings
2.2.2. Shreyas:
2.3. Warren says she would agree if asked to be Biden's running mate
2.4. Shreyas: 60% drop in global wildlife
3. Local news
3.1. Aman: SG is the only country which started lockdown after 1000 cases
4. Sports
4.1. Adi: Kindness to strangers is more powerful than ever in Hillsbrough anniversary week
4.2. Adi: Liverpool competitions set to be delayed laid by corona virus
4.3. Adi: cause I like sports a lot
4.4. Football: Premier League to debate how to finish season
5. Technology
5.1. Aman: Zoom rules out new measures as security fears mount
5.2. Aman: to check if there are new inventions
6. Multimedia
6.1. Aman: Slowing the spread of corona virus in Asia (graphics)
7. Opinion
7.1. Aman: Crisis need major global cooperation
7.2. Crisis needs major global cooperation
7.3. Aman: to see new things
8. Business
8.1. Coronavirus: China's economy shrank 6.8% in Q1, first contraction in decades
9. Forum
9.1. Aman: Locked entrances post risks in a fire
10. Food
10.1. Omakase bento sets, DIY pasta kits: Restaurants get creative during circuit breaker month
10.2. Adi: check new restaurants or deliveries
11. Life style
11.1. Aman: Corona virus restaurants petition food delivery platforms to lower commissions
12. Breaking News
12.1. COVID-19
12.2. SG COVID-19 crossing 4000 cases
12.3. 5 Arrests- Drug related
12.4. Samsung internet down
12.5. the Best Kept secret
12.6. Shreyas: US Corona virus one day exceeded 5000
12.7. Shreyas: Look at breaking news to see what should I avoid if it is local
12.8. K
13. Politics
13.1. Shreyas: British PM recovers from COVID thanks to doctors
13.2. Aman: 2.65M Singaporeans elligible to vote in the next GE
13.3. Italian PM fears that Eurupean union's future at risk
14. Crime
14.1. Man seen throwing chairs out of window on video arrested.
14.2. Man arrested
14.3. Adit: 2 more arrested after teenage dad Kyle Whitley stabbed and killed
15. Education
15.1. PAP pays for professional virtual classes for PSLE students.
16. Offices
16.1. Aman; millions of office workers have suffered an injury as a result of jobs
17. Housing
17.1. Aman: HDB becomes dirty after virus
18. Advertisements
18.1. Aman: Chinese advert showing people eating western food using chopsticks and Chinese protested for it - Advert is banned
19. Video
19.1. Hangout with ST: Golden Horse winner Yeo Yann Yann, and Brazilian jiu-jitsu brothers set for SEA Games 2019
20. Shopping
20.1. Adi: TESCO, Asda, RDALDI, MORRSONS, Saintsbury intruduce new stricter measures across stores