COMM391 Section 202 Phase 2
da Kafui Monu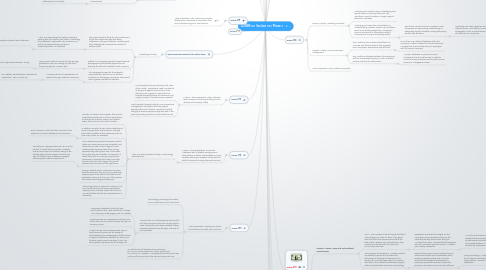 1. most important activity in the value chain:
1.1. Marketing and Sales
1.1.1. The most important thing for City WorkForce is to get their applicants jobs with other companies. Having an effective Marketing and Sales strategy will maximize the number of workers hired
1.1.1.1. In turn, by maximizing the number of workers getting jobs, this has the dual effect of attracting more people to apply with City WorkForce, as well as companies forging long-term relationships with our company
1.1.1.1.1. Which then strengthens Inbound and Outbound Logistics
1.1.2. Different Ad campaigns geared towards specific demographics will increase applicants and diversify the skill sets available to the company
1.1.2.1. Using Social Media to connect to the younger generations, who are looking for part-time, temporary jobs (Ex. summer job)
1.1.2.1.1. University Students, High school students, Young Adults
1.1.3. Ad campaigns focused on the potential companies who would hire our workers. Emphasis on the bigger companies, who would have a greater demand for workers
1.1.3.1. Increases chance of redistribution of workers through umbrella companies
1.1.3.1.1. Ex. Loblaws. Redistribution of workers to SuperStore, T&T, No Frills, etc.
2. Group 205
2.1. Customer service is the most important activity
2.1.1. Since most moving companies do essentially the same thing, moveIT can differentiate themselves with superior customer service
2.1.2. They are still a small start-up and word of mouth referrals are a great way to get new customers. If their current customers are satisfied, they can gain more business
2.1.3. Linked to this is operations, if trucks don't deliver on time, customers will be unhappy
2.1.3.1. If they start using technology to book appointments, they can make sure the have the supplies available (trucks, movers)
2.1.3.2. They can use GPS system to make sure they get to the customers' old and new house in a timely manner
2.2. Value Proposition: MoveIT is a moving company that provides a stress free, comprehensive service targeted at students and immigrants.
3. Choose the most important activity in the value chain for your business. Explain why.
4. Group 206
4.1. Support Activity: HRM and Technological Development
4.1.1. HRM: Value creation is done through the talent of employees. In order for them to do good work and fulfill their job requirements to the best of their abilities and competencies, they need to be satisfied with their jobs and continually motivated.
4.1.1.1. Employees and financial analysts are the company's service providers; they are the ones who actually do the work and give VAnalyst their value. Without skilled employees who are motivated and well trained, VAnalyst's job is nearly impossible.
4.1.1.1.1. As much as financial analysis relies heavily on statistical data and analysis that can be done by information technologies, the interpretation and implementation of this information has to be done by employees.
4.1.2. Technological development: VAnalyst needs to consistently improve and contribute to technological development because their industry is so heavily dependent on complex information that cannot be efficiently analyzed without sophisticated information technology.
4.1.2.1. Because there are so many complex financial instruments to take into consideration when analyzing capital markets and corporate finances, technological development is extremely important because it makes the process much easier and much more efficient.
4.1.2.1.1. Using technology, VAnalyst can better serve their customers and deliver results in a more timely fashion. This will contribute to customer satisfaction.
4.2. Primary Activity: Inbound Logistics
4.2.1. Information about financial and capital markets are vital to VAnalyst's industry because the company has to be up to date on daily happenings in the markets to be able to respond accordingly and appropriately to serve their clients.
4.2.1.1. Everything VAnalyst does is conditional upon the state of the economy. Information is the single most important input for the company because it is basically an advisory body for other companies. Its job is to take information, analyze it and manipulate it to their clients' advantage.
4.2.1.1.1. Information changes every day in stock and capital markets, so the flow of information has to be very fluid and immediate in order to be useful.
5. Group 207
5.1. PRIMARY ACTIVITY FOR DATAMED: Customer Service
5.1.1. DataMed's business revolves around offering competitive services that are attentive and timely when compared to Government Health Care. Customer Service is most important because our health professionals offer the same services provided elsewhere
5.1.1.1. Customer Service is our primary competitive advantage. It is the focus of our business and differentiates us from the competition. Time and resources should be put on customer comments and complaints to improve the core of the business. After the initial services are provided, it is in Data Med's best interests to offer support and care to develop a strong client base. Development of customer relationships is the key to creating a prospering business, quality customer service will help us accomplish this.
5.1.1.1.1. We can use information attained from customer services to improve the medical products offered after check-up. This will better serve our clients and promote continuing use.
5.2. SUPPORT ACTIVITY FOR DATAMED: Technology Development
5.2.1. Design a system that allows DataMed to have a better information system about their clients, to allow them to provide a better service.
5.2.2. It is also necessary to ensure accurate information is available for proper medical service to be provided.
5.2.3. The medical industry requires updated technology to better treat problems
5.3. SUPPORT ACTIVITY FOR DATAMED: HRM
5.3.1. It is important for employees to be trained on how to use equipment to maintain safety in the clinic, and also, to train employees to be attentive to customer demands.
5.3.2. Reward employees for outstanding performance to motivate them to do an even better job of assisting our clients. This is especially important as this is a service based industry.
5.3.3. In the medical field, professionally trained doctors and technicians are required to ensure quality service. As such, personnel hired must be carefully screened to satisfy the necessary qualifications.
6. Group 217
7. Group 218
7.1. MoveIT: Value Proposition: Help customers save money and time by providing on time delivery and Property Safety
7.1.1. Most important primary activity in the value chain model - Operations: need to schedule moving and logistics to provide on time delivery, have a system in place that can forecast demand(number of customers) and supply (number of trucks/movers required)
7.1.2. Most important support activity: Human Resource Management: we need to train the people executing the move (drivers, movers) to uphold integrity to ensure property safety and also in the areas of providing customer value-added service
8. Group 219
8.1. MoveIT: Value proposition: to provide customers with a reliable moving service where they can obtain live feedback on truck location and service updates, as they will be able to access all moving information online.
8.1.1. Thus, our most important activity is Technology Development.
8.1.1.1. We plan to create a online system that can be accessed by customers on phone applications or through the internet, using a GPS system within each truck to track truck locations.
8.1.1.2. In addition, we plan to use online scheduling to place moving orders of the service, and give information updates to the customers (such as how many trucks are available)
8.1.1.2.1. Each customer could have their account on the website and receive feedback and comments
8.1.1.3. This is extremely important, because it would make our moving service very accessible, and customers can see current usage of trucks, enabling them to personalize their moving experience by letting them see a time when the most trucks are available, for example. It would help both our moving company and customers to forecast which days have high demand and from then, figure out how to provide optimal service at the right times.
8.1.1.3.1. Currently, our company does not use IT in this context. This will help us provide a reliable online service that is innovative. Being at the leading edge of technology in this day and age is critical to keep customers engaged, enhancing the customer experience.
8.1.1.4. Having a website where customers can place orders has become the norm for any business. People expect to be able to do these kind of operations online so that is one of the reasons we choose Technology Development.
8.1.1.5. Technology helps us forecast in advance: If at any time the amount of orders exceeds the capacity of the available trucks then the firm can rent additional truck per day/week from a subsidiary
9. Group 220
9.1. Value proposition: finding your dream house/dream land with just one touch
9.1.1. Technology: providing information to our customers on just "one-click"
9.1.2. Connect with our clients (people who want to sell land and people who want to buy land) in order to keep the data base updated, letting interested people know the type and kind of land available
9.1.2.1. Customers interested to buy the land will be able to find "land availability" through our company just by logging into our website
9.1.2.2. Customers who are interested to sell their land will be able to find potential buyers through our company online.
9.1.2.3. IT will also help us to categorize the type of land/houses for which we are acting as intermediaries; this categorization will be based on type of land/house available for sale, price, location, government incentives (if any), any other specific requirements of the buyer etc
9.1.3. We didn't pick HR because we are planning to run our company based on online system and our reliance on "people" or employees are likely to be less, as they will be involved in the administration part only.
10. Group 201
10.1. Value Proposition: To provide convenient, high quality medical services in a patient-centric environment - with efficiency, discretion and care.
10.2. Most important step for DataMed
10.2.1. Operations
10.2.1.1. Because of the nature of our business (which is to provide general medical services) our goal is to be as organized and efficient as possible in order to get the maximum amount of business by seeing the most patients (and fostering the most return patients). We will optimize our operations by utilizing IT to see the maximum amount of patients in the most convenient way possible for the patients. This includes making sure our information and communications are fast, efficient, and up to date to ensure no appointments are missed and every opportunity for business is taken.
10.2.1.1.1. Aside from improving the efficiency of our operations, the implementation of an integrated data management system will allow us to provide greater quality of service. As providing patient focused medical service is the core of our value proposition, both the efficiency, as discussed, and the actual quality delivered to clients would fall under this aspect of the value chain model. By giving clients greater access to their own medical data, as well as information such as wait times, online bookings, and other IT related services, we can improve the customer experience and ensure return patients. Building relationships is what brings patients back to a general clinic, and by implementing IT to maximize the information we can assist a client with (such as automatic appointment booking reminders and messages about current health concerns) we can foster a stronger relationship without a substantial time commitment.
11. Group 214
11.1. Value Proposition - VAnalyst is a reputable investment company that provides innovative investment strategies that maximize returns with minimal risk through incomparable customer service practices
11.1.1. Primary Activity: Customer Service
11.1.1.1. As VAnalyst is a service by nature, top quality customer service is important to maintain loyalty from our client base and ensure customers are happy with their investments
11.1.1.2. As the market fluctuates, offering 360 degree customer service will provide us with a competitive advantage that will help maintain our current customer base while attracting new investors
11.1.2. supporting Activity: Firm Infastructure
11.1.2.1. Timely and accurate information on the financial markets is critical to the functioning of our business and is an extremely competitive environment.
11.1.2.1.1. Therefore, VAnalyst is reliant on its financial modeling and information systems technology in order for business to run effectively and smoothly.
12. Group 213
12.1. Value Proposition: Good Foods Canada provides high quality organic foods to the Vancouver region, in order to help promote healthy, sustainable and active lifestyles.
12.1.1. Most Important Primary Activity
12.1.1.1. Customer Service
12.1.1.1.1. Good Foods Canada would like to establish an online platform that provides consumers with an opportunity to share their experiences and ideas, as well as post questions regarding organic and healthy lifestyles.
12.1.1.1.2. Good Foods Canada's website will provide a portal for education on healthy lifestyles, and the importance of eating well as well as fitness.
12.1.1.2. Marketing And Sales
12.1.1.2.1. Marketing and Sales are incredibly important for Good Foods Canada as they help promote sales (one of our primary goals) as well as provide information to our consumers about the products we are providing, and help distinguish us from our competitors
12.1.1.3. Inbound Logistics
12.1.1.3.1. As an organic grocer, consumers expect high quality foods that are fresh. In order to provide these products we must have solidified our inbound logistics.
13. Group 211
13.1. Procurement of Resources
13.1.1. Deals with suppliers mostly, and developing and maintaining relationships with suppliers
13.1.1.1. New node
13.1.2. Having a good relationship with suppliers is probably the most important aspect of our company. We need a reliable source to deliver us products quickly and on time so we can deliver the goods to the customer
13.1.2.1. Having an open chain of communication allows the producer to let us know first when there is a new product or new technology that can help us have an advantage over our competitors
13.1.3. Machinery does not really apply to our company, because we purchase the goods from the 'farmer', sow e don't need a lot of machinery
13.1.4. HRM would not be very significant for our firm because it is very limited to how you can deliver an 'experience' in a grocery store. There is a limited amount of safety requirements. Due to the job requirements, HRM would not be significant
13.1.4.1. R&D is not really what our firm does. We aren't in the business of researching how to buy things 'faster' or new ways of buying things. We are mostly concerned about getting the product and selling to the consumers
13.2. Primary Activity: Inbound Logistics
13.2.1. Our biggest Primary Activity is Inbound logistics. This is because our biggest challenge is to keep all of our goods fresh because they all have expiry dates to them. Demand for our products (organic materials) is already very stable and we do not need to focus in on it.
13.2.2. As well, we need to focus on how we handle all of our products and materials coming in from our suppliers as it is essential that all of the goods are quarantined and preserved to ensure that it does not have any health after-effects
13.2.3. Inventory Control is a must for us as well seeing that we don't want to be overstocked and we need to move the food from supplier to consumer as soon as possible to avoid running into expiry date problems.
13.3. Good Foods
14. Group 208
14.1. Primary Activity
14.1.1. Inbound logistics
14.1.1.1. Need constant supply of inventory since we do not produce our own food
14.1.1.2. Since food is perishable, we need to time deliveries correctly to ensure food is fresh!
14.1.1.3. Higher costs associated with inventory management, and high storage costs in the city.
14.1.1.4. Need to ensure materials are of high quality, otherwise will reflect poorly on the business.
14.1.1.5. Costs of supplies including transport costs must be minimized to be competitive.
14.1.2. we want to help people live a healthy lifestyle by providing fresh, organic foods
15. Group 209
15.1. Primary Activity For the City Workforce: Inbound Logistics
15.1.1. We believe this is the primary activity in our business because it is crucial to know what what skill sets our workers have in order to match them with the correct companies.
15.1.1.1. The IT tools we would implement to streamline this primary activity would be an HRM system, which would be used to track the skillets of the temporary workers under contract with the company. In addition to the basic HRM system, we would develop comprehensive scheduling software that would allow us to adequately manage the schedule of workers
15.2. Support Activity For the City Workforce: Procurement of Resources
15.2.1. In our company, we defined procurement of resources as identifying and attracting temporary labourers to pursue labour contracts with the company.
15.2.1.1. We would engage in the use of a contract management system in order to manage the job applications sent to our companies. We would also design a website that would allow prospective workers to apply online to work with the company
16. Group 210
16.1. Good Foods Canada
16.1.1. (Most Important) Primary Activity: Inbound Logistics
16.1.1.1. Good, long-term and stable relationship with specific suppliers to ensure constant supply of inventory
16.1.1.1.1. Must maintain this in order to supply our customers with lowest possible prices and fresh produce regularly
16.1.1.2. Need to develop efficient means of delivery for receiving goods from suppliers (local farmers)
16.1.1.3. Good IT (RFID) inventory control system to keep track of inflows and outflows of inventory
16.1.1.4. Require a system to deal with the storage of inventory, especially for perishable goods
16.1.2. Primary Activity: Outbound Logistics
16.1.2.1. Need to develop efficient means of delivering goods from GF to Customers in a timely manner
16.1.2.2. Find ways to minimize transportation costs
16.1.2.3. Ensure good quality products and services to maintain a healthy relationship with customers
16.1.2.4. IT systems incorporated to allow our customers to shop at ease through online shopping, bulk purchases, etc.
16.1.3. Support Activity: HRM
16.1.3.1. Recruiting, training, and promoting employees to ensure good service to our customers
16.1.3.2. Reward systems to provide intrinsic motivation for our employees
16.1.3.3. Maintain a positive and joyful work environment, which in turn encourages good service.
17. Group 204
17.1. Primary Activity: Marketing and Sales
17.1.1. Marketing and Sales focuses on identifying new opportunities and this parallels with City Workforce's need to explore a larger range of potential candidates.
17.1.2. Marketing and Sales also concentrates on understanding customer needs. City Workforce works to accurately respond to a company's demand and works to efficiently provide a company with a proper temporary worker.
17.1.2.1. Due to the current economic condition, most companies are down sizing, restructuring or attempting layoffs; therefore, making temporary workers less attractive.
17.1.2.1.1. Marketing and Sales needs to now focus on different prices, and different marketing strategies in order to make temporary workers still attractive to companies.
17.2. Support Activity: Human Resources Management
17.2.1. City Workforce has to ensure that there is a accurate and efficient system that organizes each employee's experiences and skill sets.
17.2.1.1. Once there is an efficient database within the company, it makes it easier for Human Resources Management to accurately set up an employee with the correct company.
17.2.2. City Workforce litigates between the employees and the requesting company in order to ensure positive results from both parties.
17.2.2.1. A proper database on past and current employees/clients must be kept in order to ensure a more productive and accurate Human Resources Management Team.
17.3. Value Proposition: City Workforce promotes
18. Group 203
18.1. Primary Activity: Marketing and Sales
18.1.1. We need to understand our customers needs in order to identify sales opportunities.
18.1.1.1. Market Research can help us identify the state of the economy. Our research has shown that during a slowdown of the economy, owners are more likely to seek assistance from real estate agents to help sell their houses.
18.1.1.1.1. Promotions and Advertising can help us capture a larger market share during the economic slowdown.
18.1.1.1.2. Our research can help us create more appealing advertisements towards specific target groups.
18.1.1.1.3. Our research can help us determine current market prices.
18.2. Support Activity: Firm Infrastructure
18.2.1. Coordination and integration of activities will help us keep track of property listings that are sold and those that are not sold.
18.2.1.1. We can gather information of the market prices and also we can keep track of timing of sales. This is useful when engaging in pricing strategies against competitors in the same urban area.
18.2.1.1.1. Firm infrastructure can help the company keep track of the number of clients each individual agent is currently servicing. This can prevent work overload and improve distribution of workload. We can also keep track of the characteristics and traits of agents so that we can match specific customers to the most suitable agent for servicing.
18.3. VanRealty, Value Proposition: We provide a competitive, qualified and dedicated sales force to assist you in your quest to sell your house or find the home of your dreams.
19. Group 202
19.1. Value Proposition
19.1.1. Our service matches employers with employees (applicants) in an efficient, immediate and satisfactory method. Both parties needs must be met in order to successfully mediate this relationship; we provide more satisfaction than our competitors by using our greater understanding (developed through our IT) of the needs of employers and potential employees
19.1.1.1. Most Important Value Chain Activitities
19.1.1.1.1. Operations/HRM
20. Group 215
20.1. Value Proposition: City WorkForce provides skilled human resources to companies that cannot foresee long-term commitment