Project Based Learning
da Jenelle Fernandez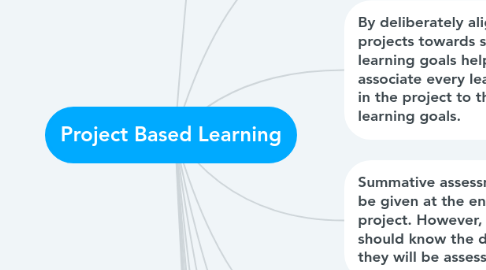 1. Classroom Culture
1.1. To build a classroom culture one should think about the following questions: 1. "What are the shared attitudes, values, goals, and practices in your classroom? "2. "What language is used?" & 3. What are the practices and routines?"
1.2. Beliefs & values, shared norms, physical environment, and protocols & routines are four strategies that build culture in the classroom.
1.3. beliefs and values: Be transparent about what you value by being an example. Remember the following sayings and put them into practice. "Practice what you preach" or "actions speak louder words"Shared Norms: allow students to have voice in creating classroom norms. Physical environment: should be flexible with seating arrangements, use of technology, and creative space. Project wall, sentence starters, and messy middle are evidence of a flexible culture in a classroom. Protocols & routines: are important for effective classroom management and student-centered learning/engagement.
2. Feedback, reflection, and revision are key components to planning, designing, and, improving your PBL unit/lesson.
3. To get started with PBL, it is ok to borrow and adapt an existing PBL. Remodeling a previously taught unit/lesson is another way to begin to plan and design a PBL Project or unit.
4. Listening to student interest, using local and national current events, popular culture, and your own passions are a great place to seek inspiration for PBL project ideas.
5. PBL projects challenge students to think critically, solve problems, collaborate, and manage their own learning to prepare them for challenges in college, careers, and citizenship.
6. Essential Project Design Elements: Challenging problem or question, sustained inquiry, authenticity,student voice and choice, reflection, critique and revision, and public product are the design elements that one should focus on planning your project.
7. Make sure PBL unit alligns with priority standards and learning outcomes.
8. By deliberately aligning PBL projects towards standards and learning goals helps students associate every learning activity in the project to the desired learning goals.
9. Project Management tools and routines help students stay organized and informed so that they can successfully take ownership of their own learning.
10. Formative assessments should be used regularly and frequently throughout the PBL process.
11. Summative assessments should be given at the end of the project. However, students should know the details of how they will be assessed.
12. Scaffolding supports all students so they can grow regardless of where they start.