Persuasion Jane Austen
par Linda T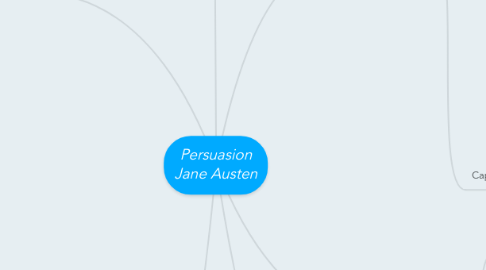 1. Characters
1.1. Anne Elliot
1.1.1. The Elliot family
1.1.1.1. Walter Elliot (father)
1.1.1.2. Elizabeth Elliot (sister)
1.1.1.3. Mary Elliot Musgrove (sister)
1.1.1.3.1. Charles Musgrove (husband)
1.1.1.3.2. Charles Hayter (cousin to the Musgroves)
1.1.1.3.3. Charles (son)
1.1.1.4. Mr. William Elliot (cousin)
1.1.2. Friends
1.1.2.1. Captain Benwick
1.1.2.2. Lady Russell
1.1.2.3. Admiral and Mrs. Croft
1.1.2.4. Mrs. Smith
1.1.2.5. Mr. Shepard
1.2. Captain Frederick Wentworth
1.2.1. Family
1.2.1.1. Mrs. Croft (sister)
1.2.1.2. Mr. Croft (brother-in-law)
1.2.2. Captain Harville and Mrs. Harville (friends)
1.2.3. Mr. and Mrs. Musgrove (friends)
2. Historical period
2.1. Right before the Victorian era Regency era
2.1.1. Ruled by Prince of Wales (Prince Regent) He became 'George IV' on the death of his father George III
2.1.2. 1811 - 1837 (Queen Victoria succeeded William IV)
3. Places
3.1. Kellynch Hall (Sometshire) : Elliot family's home
3.2. Bath
3.3. Exeter : Louisa's boarding school
3.4. Uppercross Cottage
3.5. Lyme
4. Events
4.1. Before the beginning of the narrative
4.1.1. Lady Russell persuades Anne not to marry Captain Wentworth eight years before the beginning of the story
4.1.2. Lady Elizabeth Elliot (Sir Walter's wife) has passed away fourteen years ago
4.1.3. Lady Russell has helped Sir Walter raise his daughters and has become a trusted family advisor
4.2. During the narrative
4.2.1. Volume I
4.2.1.1. Walter Elliot realizes he has to rent Kellynch Hall because of his overspending and Lady Russell, the family advisor, suggests to reduce the expenses and move to Bath
4.2.1.2. The Crofts rent the house, Walter Elliot - Mrs. Clay - Elizabeth move to Bath while Anne goes to Uppercross Cottage to live with Mary and her husband's family
4.2.1.3. Wentworth arrives in Kellynch. He becomes a good friend of the Musgroves and often comes to visit them, however he stays merely polite and detached towards Anne, who at that time thinks he will never love her again
4.2.1.4. They all go to Lyme to visit Wentworth's friends, the Harvilles. Anne meets her cousin, William. Louisa has a bad fall and has to stay in Lyme for a few months.
4.2.2. Volume II
4.2.2.1. Anne goes back to Uppercross Cottage to care for the Musgroves' younger children. After a few weeks, she leaves to stay with Lady Russell.
4.2.2.2. Lady Russell and Anne move to Bath, Anne is officially introduced to her cousin, who wants to marry her
4.2.2.3. Anne meets an old school friend, Mrs. Smith, who tells her that William only wants her to make sure he's the only heir to Kellynch (he's afraid that Walter would have a son with Mrs. Clay and that this son would become heir)
4.2.2.4. The Crofts arrive in Bathwith two news : - Henrietta will marry her cousin Charles Hayter - Louisa will marry Captain Benwick, a man she met in Lyme
4.2.2.5. Wentworth, who has a fortune now, arrives in Bath and is accepted by Sir Walter. The Captain tells Anne he still loves her and they get engaged with the approval of Lady Russell and Sir Walter. William leaves Bath with Mrs. Clay (they are rumored to be together)
5. Jane Austen
5.1. December 16, 1775 (Steventon) - July 18, 1817 (Winchester)
5.2. From 1811 until 1816 : Publication of her works. First success as a published writer. Began to write 'Sanditon' but died before finishing to write it. Moved to Bath in 1800. Moved to Southampton in 1806. Moved to Chawton in 1809.
5.3. Sense and Sensibility (1811) Pride and Prejudice (1813) Mansfield Park (1814) Emma (1815) Northanger Abbey (1818) Persuasion (1818)
6. The title
6.1. Persuasion : form of the verb 'persuade', often used in the novel
6.2. Persuade = 'to convince someone of something' and 'to believe something to be true'
6.3. Novel based on a major act of persuasion (ex: Lady Russell persuades Anne not to marry Captain Wentworth before the beginning of the story)