Massi Mark & Consulting Group llc. Holding
par Massi International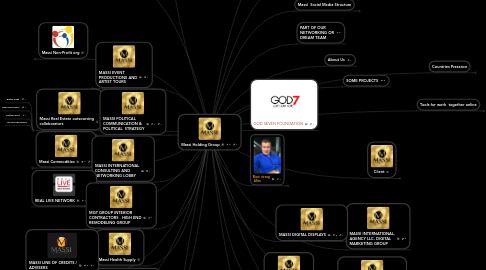 1. Massi Health Supply
1.1. Air Blue
1.2. Medic Supply AC
1.3. Kadmon Pharmaceutical
2. Our Founder & Ceo
2.1. Contact us: [email protected] M:+17863065677. Skype: Massigroup
2.2. Facebook
2.3. Twitter
2.4. Web
2.5. Instagram
2.6. Linkedin
2.7. Google +
2.8. Pinterest
2.9. Scribd
2.10. Klout
2.11. WEB SITES
2.11.1. MASSI INTERNATIONAL AGENCY. DIGITAL MARKETING GROUP
2.11.2. MASSI INTERNATIONAL VIP CONSULTING BOUTIQUE
2.11.3. MASSI CREDIT
3. Massi Real Estate outsourcing collaborators
3.1. Brights Creek
3.2. River Head Homes
3.3. Midtown Doral
3.4. THE ORANGE GROUP
4. Massi Commodities
4.1. Psi International
4.1.1. Food
4.2. Uniamerica
4.2.1. Food
4.3. Liotecnica
4.3.1. Food
4.4. Agroquimicos
4.4.1. Chemical
4.5. Steel mills
4.5.1. Iron
4.6. Steel Rebar
4.6.1. Iron
4.7. Thuslick
4.7.1. Oil Sector
4.8. Alliance Global Group Inc
4.8.1. Oil and other commodities
4.9. Massi logistic and Distribution
4.9.1. Searboard marine
4.9.2. Trafigura
5. Client
5.1. The Opportunity
5.1.1. Commodities
5.1.2. Real Estate
5.1.3. Financial
5.1.4. Advertising & Marketing
5.1.5. Remodeling
5.1.6. Franchise
5.1.7. New Business development
5.1.8. IT Solutions
5.1.9. Business Consulting
5.1.10. Transportation & Heavy Machinery
5.1.11. Health Industry
5.1.12. Non-Profit Org
5.1.13. Strategy, Management & Security Consulting
5.1.14. Security solutions
5.1.15. Special Events
5.1.16. Logistic
6. Massi Non-Profit org
6.1. Feed the Children
6.1.1. Personal web
6.1.2. Volunteer
6.2. 4Life Research
6.3. Accion contra el hambre
6.3.1. Collaborator web site
6.4. ISHR ( International Solidarity for Human Rights
6.5. Despierta Venezuela Inc
6.5.1. Facebook
6.5.2. Twitter
6.5.3. Web
6.5.4. Google +
6.5.5. Paper.li ( Digital news paper )
6.5.6. Sound Cloud
6.5.7. Vimeo
6.5.8. Instagram
6.5.9. Youtube
6.6. Global Village Champion Foundation
6.7. Campaign about Children hunger situation
6.7.1. #ONEMEALONELIFE- #UNACOMIDAUNAVIDA
7. Massi  Social Media Structure
7.1. Jonathan Massiani
7.2. Massi comoodities
7.3. Despierta Venezuela Inc
7.4. Iconikos
7.5. Alas del Mundo
7.6. Pratma Capital
7.7. Massi llc
7.8. MassiInt
7.9. Real Live Network
7.10. Massi Entertaiment
7.11. The Network Agency
8. Our Team
8.1. Jonathan Massiani ( Founder & Ceo of Massi Group )
8.2. Gustavo A Ghersy ( Ad & Marketing consultant )
8.3. Gustavo Ghersy ( Ad & Marketing consultant )
8.4. Luis Mago ( Consultant)
8.5. Bernardo Javalquinto ( GURU)
8.6. Max Chomiak ( IT manager )
8.7. Marisela Alvarado ( PR )
8.8. Carlos Croce ( Media )
8.9. Andreina Zambrano (PR)
8.10. Rodolfo Suarez ( Accountant )
8.11. Ergio Fernandez ( Attorney )
8.12. Maria Alejandra Lugo ( Pr Director- Host-Image and branding director )
8.13. Forrest Sygman P.A Attorney at law
8.14. Juan Felipe Buitrago
8.15. Andres Buitrago
8.16. Salvador Rivero
9. Countries Presence
9.1. EEUU
9.2. Brasil
9.3. Argentina
9.4. Costa Rica
9.5. Mexico
9.6. Suecia
9.7. Swiss
9.8. Italy
9.9. Colombia
10. Tools for work together online
10.1. PBworks!
10.2. Yammer
10.3. MindMeister
11. About Us
12. Collaborators & Friends
12.1. JJRendon
12.2. Luis j Mago
12.3. Gustavo A Ghersy
12.4. Gustavo Ghersy
12.5. Luis R Monch
12.6. Henry Georgt
12.7. Outsourcing Advicer
12.8. Jesus Alberto Aveledo
12.9. Gilberto Iragorri
12.10. Omar Botero
12.11. River Head Homes
12.12. Linked Miami. ( Andreina Zambrano )
12.13. Bernardo Javalquinto
12.14. Luis Giusti
13. External Partners
13.1. Massi consulting partners Network4leaders
13.1.1. Web
13.1.2. Strategy, Management & Security Consulting
13.1.3. Clients
13.1.4. VES Consulting services
13.1.4.1. VES Consulting Services
13.1.5. JJ Rendon
14. Massi Tv Chanel and communication platform alliance
14.1. Ahora Network
14.2. Noticiasve24.com
14.3. Opinologos.com
14.4. Despierta Venezuela
15. PART OF OUR NETWORKING OR DREAM TEAM
16. SOME PROJECTS
17. MASSI INTERNATIONAL. AGENCY LLC. DIGITAL MARKETING GROUP
18. MASSI EVENT PRODUCTIONS AND ARTIST TOURS
18.1. Do you want a tour in to the 5 most important Social Media companies in LA ?. We can arrange for you a very VIP  experience.
18.2. Massi Special Events
18.3. Massi Security solutions
18.3.1. Evenseg
18.3.2. Albro
18.4. MASSI ENTERTAIMENT
18.5. OUR OUTSOURCING COLLABORATORS
18.5.1. EVERLAST PRODUCTIONS
19. We are an Integrated Marketing & Strategy Group of Companies, each Specialized in Key Consumer / Shopper to Brand connections.
20. MASSI INTERNATIONAL CONSULTING AND NETWORKING LOBBY
20.1. Massi Financial Partners financieros en Miami y Chile
20.1.1. Partners Financieros
20.1.1.1. Grupo Javalquinto capital
20.2. MANY COLLABORATORS IN THIS AEA PLEASE CALL
21. MASSI POLITICAL COMMUNICATION & POLITICAL STRATEGY
21.1. JJ RENDON
21.2. Voluntad Popular
21.3. MIAMI DADE COUNTY
21.4. CITY OF DORAL
22. REAL LIVE NETWORK
23. MGT GROUP INTERIOR CONTRACTORS . HIGH END REMODELING GROUP
24. MASSI DIGITAL DISPLAYS
24.1. VIOSS®, an international group of companies headquartered in Miami, Florida, dedicated to continuously introducing new technologies that enriches the consumers' lifestyles in the U.S., Latin America & Spain. Since its beginning, VIOSS® has been a leader in technology providing high quality and state-of-the-art products and services relating to satellite tracking, security systems, residential and commercial monitoring, LED & LCD displays, outdoor digital signage and audiovisual/advertising content production. VIOSS® is integrated by five companies: VIOSS® ELECTRONICS VIOSS® GPS VIOSS® SECURITY VIOSS® VISION VIOSS® CÁMARA PRODUCTIONS Vioss® is a registered trademark of Vioss® Electronics, Inc.
24.2. VIOSS ELECTRONICS
24.2.1. VIOSS CAMARA
24.2.2. VIOSS ELECTRONICS
24.2.3. VIOSS VISSION
24.2.4. VIOSS GPS
24.2.5. VIOSS SECURITY
25. MASSI LOGISTIC ALLIANCE
25.1. Massi Logistic Consulting
25.1.1. Movex Logistic Consulting
25.1.2. CEO/ J Massiani
25.1.3. CFO / Juan Fleipe Buitrago
26. New Projects / Alliance
27. MASSI LINE OF CREDITS / ADVISERS
28. PROYECTOS 2019
29. MASSI FOOD CONSULTING
30. MASSI TECHNOLOGY