Science as a Human Endeavour
par Cathy Brooks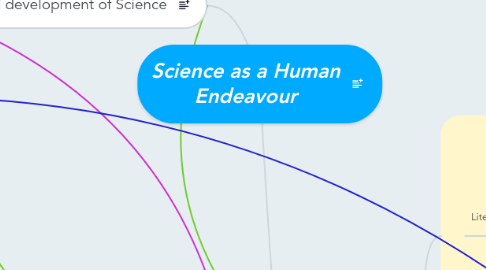 1. Scientific knowledge is gained through "interplay between students existing ideas and the knowledge or experiences they are exposed to in the classroom". (Dawson & Venville 2007, p. 28)
1.1. Use of inquiry based teaching strategies to increase student's interest in Science
1.1.1. Use of 5 E's model to aid in students constructing scientific understanding
1.1.1.1. Engage - captures student interest, provides them with opportunity to express what they currently know about science (Primary Connections 2014)
1.1.1.2. Explore- 'Students carry out hands-on activities in which they can explore the concept or skill. They grapple with the problem or phenomenon and describe it in their own words.' (Primary Connections 2014)
1.1.1.3. Explain - after the students have explored the concept the teacher provides them with the concepts and terms which explains the phenomenon they have experience. (Primary Connections 2014)
1.1.1.4. Elaborate - Students apply what they have learned to new situations to develop a deeper understanding of the concept (Primary Connections 2014)
1.1.1.5. Evaluate - 'The final phase provides an opportunity for students to review and reflect on their own learning and new understanding and skills.' (Primary Connections 2014)
2. Nature and development of Science
2.1. Questioning, data collection, analysis and justification (ACARA 2012, pg. 24)
2.1.1. Understanding the scientific process
2.1.2. Developing critical thinking
2.1.3. Developing higher order thinking skills
2.1.4. Becoming informed an informed citizen
2.2. Developing an appreciation Contributions to the advancement of science (ACARA 2012, pg. 24)
2.2.1. Advancements in technologies
2.2.1.1. Communication
2.2.1.2. Transportation
2.2.1.3. Medical
2.2.1.3.1. Advancement in medical sciences to prevent sickness and cure illnesses
2.3. Exploring and observing the world using the senses, foundation year (ACARA 2012, pg. 24)
2.3.1. Developing an appreciation of Gods creation
2.3.1.1. Building of Christian character
2.3.1.2. Encouraging stewardship of creation
2.3.1.2.1. Genesis 1:28 and 2:15 identifies that humans rule over creation however they are also instructed to tend to it.
3. Use and influence of science
3.1. Use of science in daily life
3.1.1. Caring for the environment and living things (ACARA 2012, pg. 24)
3.1.1.1. Building environmental awareness
3.1.1.2. Encouraging students to be proactive in caring for the environment
3.1.2. Scientific understandings, discoveries and inventions are used to solve problems that directly affect peoples lives (ACARA 2012, pg.24)
3.2. Science knowledge helps people to understand the effect of their actions (ACARA 2012, pg. 24)
3.2.1. Scientific knowledge is used to inform personal and community decisions (ACARA 2012, pg. 24)
3.2.1.1. Understanding the effects on environment due to new scientific discoveries
3.2.1.1.1. Teaching students to be informed citizens
3.2.1.1.2. Positive - Renewable energies
3.2.1.1.3. Negative - Invention of non-biodegradable plastic
3.2.2. Identification of positive and negative effects of human activity
3.2.2.1. How do we respond to this as Christians? How are we supposed to be effecting the world?
4. Underpinning ideas that guide rest of science curriculum and are aimed to teach students about the importance of science in their everyday lives
4.1. Aiding students to become scientifically literate
4.1.1. Building an interest in understanding the world around them (Dawson & Venville 2007, pg.110)
4.1.2. Make informed decisions about the environment and their own health and wellbeing (Dawson & Venville 2007, pg.110)
4.1.3. Identify and investigate questions and draw evidence-based conclusions (Dawson & Venville 2007, pg.110)
4.1.4. Engage in discussions of and about science matters (Dawson & Venville 2007, pg.110)
4.1.5. Become sceptical and questioning of claims made by others (Dawson & Venville 2007, pg.110)
5. Demands
5.1. Literate
5.1.1. Learn scientific terminology (e.g hypothesis, prediction etc.)
5.1.1.1. Increased personal understanding of scientific terms, being able to understand what is happening in the world around them
5.1.2. Communicate effectively within scientific contexts
5.1.3. Using appropriate language in questioning to ensure there is no bias or confusion
5.2. Numerate
5.2.1. data collection
5.2.1.1. making connections in data
5.2.1.2. using data to support a scientific conclusion
5.2.1.3. Presenting data in different meaningful forms
5.2.2. Data interpretation
5.2.2.1. Use data to prove or disprove different scientific ideas
5.3. Digital
5.3.1. Accessing digital resources such as Google to find information about scientific concepts
5.3.1.1. Using online presentation tools
5.3.2. Represent data in meaningful ways