Lesson Planning
par Belle Beast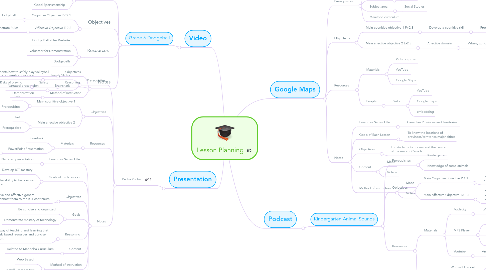 1. Video
1.1. Grade 6 Dodgeball
1.1.1. Prerequisites
1.1.1.1. Gym Class
1.1.1.2. Knowledge of Team work
1.1.1.3. Good Sportsmanship
1.1.2. Objectives
1.1.2.1. Cognitive Objective PR 2.1
1.1.2.1.1. Teach rules of dodgeball
1.1.2.2. Affective Objective E 2.2
1.1.2.2.1. Demonstrate Rules
1.1.3. Resources
1.1.3.1. Dodge Ball Rules Website
1.1.3.2. Volunteer for Demonstration
1.1.3.3. Dodgeballs
1.1.4. Notes
1.1.4.1. Objectives
1.1.4.1.1. Teach students how to safely play volleyball
1.1.4.2. Reasoning
1.1.4.2.1. Safety
1.1.4.3. Method of Instruction
1.1.4.3.1. Demonstration
2. Google Maps
2.1. Prerequisites
2.1.1. Regular lesson
2.1.2. Grade Level
2.1.2.1. Grade 4
2.1.3. Subject area
2.1.3.1. Social Studies
2.1.4. Manitoba curriculum
2.2. Objectives
2.2.1. Main cognitive objective 1 Pr-2.3
2.2.1.1. Develop a cognitive skill
2.2.1.1.1. Produce to show understanding
2.2.2. Main affective objective 2 E-2.3
2.2.2.1. Affective domain
2.2.2.1.1. Values, Ethics, Responsibility
2.3. Resources
2.3.1. Materials
2.3.1.1. Video capture
2.3.1.2. YouTube
2.3.1.3. Google Maps
2.3.2. People
2.3.2.1. Skills
2.3.2.1.1. YouTube
2.3.2.1.2. Google maps
2.3.2.1.3. embedding
2.4. Notes
2.4.1. Lesson or Series Title
2.4.1.1. Canadian Provinces and Territories
2.4.2. Goals of Each Lesson
2.4.2.1. To know the locations of provinces/territories major citites
2.4.3. Objectives
2.4.3.1. For students to understand the basics of the map of Canada
2.4.4. Content
2.4.4.1. Maps
2.4.4.2. Videos
2.4.5. Method of Instruction
2.4.5.1. Maps
2.4.5.2. Video
3. Podcast
3.1. Kindergarten Animal Sounds
3.1.1. Prerequisites
3.1.1.1. Kindergarten
3.1.1.2. Knowledge of some animals
3.1.2. Objectives
3.1.2.1. Main Cognitive objective P 1.1
3.1.2.1.1. recalls and/or records prior knowledge and asks topic-related questions
3.1.2.2. Main Affective Objective M 1.1
3.1.2.2.1. demonstrates confidence and self-motivation while doing ICT tasks alone and with others
3.1.3. Resources
3.1.3.1. Materials
3.1.3.1.1. Audacity
3.1.3.1.2. MP3 Player
3.1.3.1.3. Youtube
3.1.3.2. People
3.1.3.2.1. Who will I record
3.1.3.2.2. Do I have permission
4. Presentation
4.1. Pecha Kucha
4.1.1. Prerequisites
4.1.1.1. Twenty Slides
4.1.1.1.1. Twenty seconds of narration per slide
4.1.1.2. Brainshark
4.1.1.2.1. Narrated presentaion
4.1.2. Objectives
4.1.2.1. Main cognitive objective 1
4.1.2.1.1. Task
4.1.2.1.2. Prerequisites
4.1.2.2. Main affective objective 2
4.1.2.2.1. Task
4.1.2.2.2. Prerequisites
4.1.3. Resources
4.1.3.1. Materials
4.1.3.1.1. Brainshark
4.1.3.1.2. PowerPoint Presentation
4.1.4. Notes
4.1.4.1. Lesson or Series Title
4.1.4.1.1. Narrated presentation
4.1.4.2. Goals of Each Lesson
4.1.4.2.1. Develop ICT mastery
4.1.4.2.2. Develop the ability to be concise and targeted.
4.1.4.3. Objectives
4.1.4.3.1. Targeting cognitive and affective general objectives and connect them to the ICT continuum.
4.1.4.4. Goals
4.1.4.4.1. Be concise and organized
4.1.4.4.2. Demonstrate mastery of technology
4.1.4.5. Reasoning
4.1.4.5.1. Pecha Kucha is a fun way of teaching and learning that involves the use of web based resources and concise planning and execution.
4.1.4.6. Content
4.1.4.6.1. Related to Manitoba Curriculum
4.1.4.7. Method of Instruction
4.1.4.7.1. Web Based
4.1.4.7.2. Friendly competition
4.1.4.8. Method of Evaluation
4.1.4.8.1. Rubric