ENGLAND IN THE 17TH-18TH CENTURY
par Sofia Lazza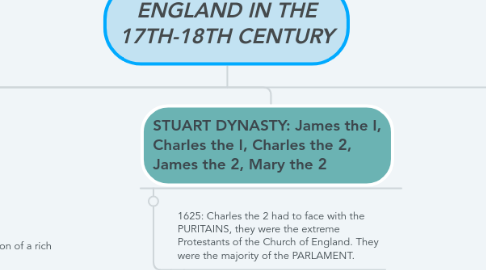 1. TUDOR DYNASTY: Henry the 7,Henry the 8,Mary and Elizabeth the I
2. STUART DYNASTY: James the I, Charles the I, Charles the 2, James the 2, Mary the 2
2.1. 1625: Charles the 2 had to face with the PURITAINS, they were the extreme Protestants of the Church of England. They were the majority of the PARLAMENT.
2.1.1. They wanted to balance the power between the Parlament and the king
2.1.1.1. The king denied and the civil war broke out
2.1.1.1.1. THE CIVIL WAR -royalists( supporters of the king) -roundheads( supporters of the parlament) led by Oliver Cromwell
3. HANOVER DYNASTY: Queen Anne, George the I, George the 2
3.1. Queen Anne went to the throne. SCOTLAND became united with England (1707)
3.1.1. 2 political parties: WHIGS (roundheads) and TORIES (royalists).
3.1.1.1. 1st Prime Minister: SIR ROBERT WALPOLE. He improved the finances keeping England out of foreign conflicts
3.1.1.1.1. King George the 2 gave him a residence in Westminster ( still today the prime minister's house)
4. A GOLDEN AGE
4.1. 18th century called "Augustan": stability,elegance and flourishing of the arts
4.1.1. Materialistic society, if you are son of a rich men you have power
4.1.1.1. Free and open age. The man has liberty of thought and he can decide for his own future
4.1.1.1.1. OPTIMISM and RELIGIOUS TOLLERANCE