STRENGTH, WEAKNESS, OPPORTUNITIES, THREATS, & TRENDS
par Venn Dingal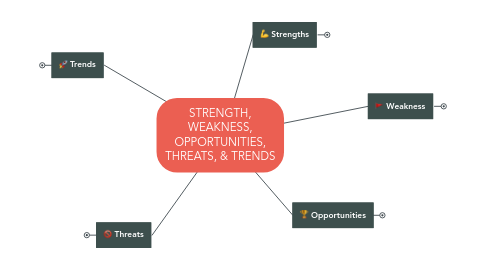 1. Strengths
1.1. BRAND
1.1.1. Strong heritage and equity; International license for expansion
1.1.2. A strong heritage brand with 100% awareness across all markets
1.1.3. New and innovative store designs. Continuous improvement in learning and development strategy
1.1.4. Belongs to the Top 3 Food Service brands in the Philippines acccording to Campaign Asia for several years now
1.1.5. Strong iconic products
1.1.6. Strong affinity with the Gen X market
1.1.7. 200+ stores, the widest store network in the Full-Service Industry, Pizza and non-pizza alike
1.1.8. Biggest brand share in the full-service industry at 26% according to Euromonitor 2017
1.1.9. Innovative brand
1.2. GUEST CENTRIC CULTURE
1.2.1. "Wowing" culture; Great Service; WeCare facility; New stores design huge dining spaces
1.2.2. Think Guest Mindset
1.2.3. We Care / Feedback Management
1.3. CULTURE
1.3.1. Entrepreneural management which gives it the agility of a start-up company
1.3.2. WOW culture, which can be seen in various aspects of the company
1.4. BUSINESS ACUMEN
1.4.1. Financial stability
1.4.2. With better profitability and margins than peers.
1.5. BUSINESS MODEL
1.5.1. Financially strong and healthy; Strong and stable management and ownership; Strong business partnership and synergies. IPO company
1.5.2. Strong, competent and supportive workforce
1.5.3. Different revenue stream
1.6. SHAREHOLDERS
1.6.1. Supportive and Empowering; Participative and democratic leadership style
1.7. EXPANSIONS
1.7.1. Aggressive Store Opening
1.7.2. High hit rate of NSO in terms of store count (not in DAS and Store Days).
1.7.3. Store Size advantage, huge parking spaces, with function rooms and bar area
1.8. SEGMENT CHANNELS
1.9. TOP MANAGEMENT
1.9.1. Supportive and open to new ideas
1.9.2. Strong Management
1.10. PRODUCTS/BUSINESS SEGMENTS
1.10.1. Iconic and high quality product; Innovative/Unique products e.g. SAS, Funzone, SOW;
1.11. STRONG CULTURE
1.12. STRONG BUSINESS PARTNERSHIP
1.13. FINANCIAL STABILITY
1.14. One number delivery system
1.15. International expansion
1.16. Investment on brand, people and stores
1.17. ON ORGANIZATIONAL STRUCTURE & CAPABILITY
1.17.1. Strong Top Management systems
1.17.2. Strong and efficient business development system allowing the brand to build more successful stores (results not evident yet)
1.18. GROWTH
1.18.1. Company is positioned and ready for growth: Domestic, Abroad, Other Brands
2. Weakness
2.1. STORE OPERATIONS
2.1.1. Inconsistent QSCH execution
2.1.2. Weak cash control
2.1.3. Compliance to CSO plans and programs
2.1.4. Compliance to systems and procedures
2.2. PEOPLE / PERFORMANCE MANAGEMENT - ALL AGREE
2.2.1. Slow and quality of people development
2.2.1.1. There's no implemented learning calendar for so many years
2.2.1.2. Promotion did not directly affect store QSCH / business results
2.2.1.3. No post performance evaluation after promotion
2.2.1.4. Learning programs must evolve to future needs of the org
2.2.2. Succession planning needs strong re-enforcement.
2.2.3. Slow sourcing of critical talent
2.2.4. Non-performers are not acted on with urgency
2.2.5. No refresher course on critical programs
2.3. PRODUCT/BUSINESS SEGMENTS
2.3.1. Maximizing full potential of Funzone, Delivery, Function, SuperCard, and Bar Concept
2.3.2. No team to focus on different market segments (Kids, Family, Millenials, Gen X, Gen Z, SME Accounts). -- Benchmark: PAL - Group traveler, single traveler, etc. Globe (Postpaid, Postpaid [Platinum], broadband), Jollibee, KFC
2.4. PROJECT MANAGEMENT & EXECUTION
2.4.1. Prioritization of projects; Inconsistencies in execution; Monitoring of WIGs/progress reports
2.5. IT INFRASTRUCTURE / PROJECT MANAGEMENT
2.5.1. Bottle necks due to lack of man-power, skill set available, and misalignment in priorities
2.5.2. Knowledge Management - Proper documentation of processes and systems to ensure business continuity and change management. No flexibility in skill set and new technologies.
2.5.3. Infancy of digital/ e-commerce business capability
2.5.4. Lack of focus and controls on management of IT development, QA, security and production (development team also doing QA and controls)
2.5.5. Vulnerability of In-house systems;
2.5.6. Slow IT servicing capability
2.5.7. Lack of strong and flexible promo controls across all sales generating systems
2.5.8. Weak infrastructure and framework to support organization's need for a data-driven culture
2.6. DATA MANAGEMENT
2.6.1. Need for Stronger Business Intelligence and Data Analytics
2.6.2. Database management, accuracy, and access.
2.6.3. Lax database access permissions
2.6.4. No dedicated team in handling data management and operations
2.6.5. Data-driven LSM
2.7. FRANCHISE POLICIES
2.7.1. lenient implementation of Dealer agreement; Policies, standards, changes etc.
2.7.2. No framework in screening of franchise applicants (background check, etc.)
2.8. BUSINESS DEVELOPMENT
2.8.1. Delayed and non-opening of planned stores
2.8.2. New stores not achieving sales target
2.8.3. Late post evaluation of new stores
2.8.4. Understated P&L line items
2.8.5. Weak presence in some provincial areas in the country
2.9. BEF
2.9.1. Slow resolution of maintenance issues
2.10. CONSTRUCTION
2.10.1. Increasing cost of construction
2.10.2. Decreasing quality of output
2.10.3. Completion of punch list or back jobs
2.11. GOVERNANCE
2.11.1. Inconsistencies in the implementation of policies and procedures
2.11.2. Poor communication of policies
2.11.3. No pre-alignment before implementing policies
2.12. BRAND
2.12.1. Product presentation not instagrammable enough for the younger generation
2.12.2. Weak presence in some provincial areas in the country
2.12.3. Lower ad spending vis a vis competition which leads to weaker recall of all marketing initiative
2.12.4. weaker (?) emotional affinity with the Gen Y and Z market
2.12.5. Inconsistent application of branding and merchandising guidelines (No updated brand book)
2.13. LOCAL STORE MARKETING
2.14. ON ORGANIZATIONAL STRUCTURE & CAPABILITY
2.14.1. Weak data mining analytics
2.14.2. Inconsistency of services and product quality
2.14.3. Infancy stage of the digital business/e-commerce capabilty
2.14.4. Weak people development programs vis a vis other Food Service Companies like MGI and JFC
2.14.5. Weak IT Infrastructure
2.15. EXPANSIONS
2.15.1. Delayed Store Openings
2.16. GUEST CENTRIC CULTURE
2.16.1. Internal (Diminishing)
2.16.2. – Internal guest servicing; WOW culture inconsistent; limited employee engagement activities
2.17. LOGISTICS / WAREHOUSING
3. Opportunities
3.1. EXPANSION & GROWTH
3.1.1. Local (Urbanization in provinces; Aggressive infrastructure plan of the new administration) and international (virgin territories) expansion; Merger and Acquisition; International - Impetus of Dubai Store performance
3.1.2. International Expansion
3.1.3. Development of Key provinces and cities for Tourism
3.2. OPTIMISTIC ECONOMIC FORECAST
3.2.1. Increased consumers' spending power; Emerging middle class
3.2.2. Strong Economic Growth in 2019
3.2.3. Strong and stable government's credit rating; Promising political and social stability; Increased consumers' spending power; Emerging middle class with disposable income; strong BPO industry and stable OFW remittances
3.3. GROWING/EMERGING MARKET SEGMENTS
3.3.1. Rising BPO and Tourism industry; Stable OFW Remittance; Fast Paced Lifestyle (and traffic) fueling continued growth of delivery segment and online shopping and ordering; New product offerings/co-branding opportunitites; Upsurge of shopping mall and business hubs , Shakey's is under-indexed vis-a- vis GDP growth rate in Visayas & MIndanao
3.3.2. Fast Paced Lifestyle (and traffic) fueling continued growth of OOH dining, delivery segment and online shopping and ordering; Loyalty offers; Upsurge of shopping mall and business hubs
3.3.3. Healthier options
3.4. DIGITAL
3.4.1. May change consumer trend.
3.5. DELIVERY BUSINESS OPPORTUNITIES
3.5.1. Converting tertiary areas and big secondary areas to 30 mins service time
3.6. New Product Development
3.7. Increase in OFW remittance
3.8. Changing life style
3.9. Innovation - Systems and Infrastructure
3.10. Rise of BPO's
3.11. Development of Key provinces and cities for Tourism
3.12. International expansion
3.13. Corporate social responsibility
3.14. Emerging market segments – stable OFW remittance; Fast paced lifestyle and traffic, fueling continued growth of delivery and online shopping and ordering
3.15. Food service industry's continued growth amid favorable economic condition
3.16. Positive consumer confidence despite political and social turmoil. Consumer in general employs a positive outlook in tems of job security and personal finances which in turn leads to higher propensity to spend.
3.17. Philippines young population - Filipino Millennials already comprise 1/3 of the country's population and they are known to be the biggest spenders.
3.18. Increased in spending for discretionary services such Eating Out
3.19. Incidence of eating is on the rise due to the changing consumer lifestyle
3.20. Country is getting more "urbanized"
3.21. Filipinos' higher purchasing power leads to more frequency of visits to full-service restaurants
3.22. Filipinos getting more confident in engaging commercially online which leads to the steady growth of the country's e-commerce industry
3.23. Worsening traffic conditions
4. Threats
4.1. FSR INDUSTRY
4.1.1. Increasing competition due to emerging local and international brands; Increasing food parks, convenience stores, supermarket RTE options; Price/Promo war among industry players; Aggressive store expansions of competitors; More and more brands will also develop a more advanced online ordering system with new features that will help them provide better service to their customers
4.1.2. how can we be one step ahead on a tighter competition
4.1.3. More assertive competitors looking to further improve their current delivery systems and channels (online, web, app, and delivery hotline)
4.1.4. International market players
4.1.5. Aggressive store expansions of competitors
4.1.6. Emerging of buffet and banchetto as a new players in the food category
4.2. GOVERNMENT REGULATIONS
4.2.1. Stricter government regulations (e g. contractualization, LLDA, DENR, Waste water Mgt); Poor government infrastructure;
4.3. ENVIRONMENTAL
4.3.1. Changing weather seasonality; Worsening Traffic Situation ; TRAIN 1 & 2
4.4. SUPPLY MANAGEMENT
4.4.1. Volatile Cost of raw materials
4.4.2. Volatile Cost of raw materials
4.5. ECONOMIC FORECAST
4.5.1. lower expected GDP resulting from inflation and peso depreciation. Showing signs of economic slowdown.
4.6. Political / International Crisis
4.7. Force Majeure
4.8. International Job openings and more employment options with better package
4.9. Merger and acquisition of companies
4.10. Increasing competition due to emerging local and international brands
4.11. Price war among industry players
4.12. Government infrastructure
4.13. Online ordering system of competitors
4.14. Train LAW. Increased in the excise tax on fuel leads to higher cost of basic goods. This may lead consumers to cut down on discretionary expenditures such as eating out moving forward
4.15. Peso devaluation
4.16. Proposed Charter Change
4.17. Intensified hypercompetition
4.18. Higher inflation rate
5. Trends
5.1. CONSUMERS
5.1.1. Growing middle class; High contribution from millenials; Social Responsibility drives millenials' craving for experiences; Family and group bonding and celebrations; Growing sophistication in food and taste among travel savy Filipinos; fast paced lifestyle driving convenience economy
5.1.2. Rising Middle Income Consumers
5.2. TECHNOLOGY
5.2.1. Increasing dependence on technology; Increased usage of internet, social media and mobile application; Increased demand for Online shopping and ordering
5.2.2. Smarter Kitchen: using state of the art equipment producing better quality of products in a shorter time
5.2.3. Digital Ordering– Using smart phones or gadgets to place and take orders.
5.3. FOOD
5.3.1. Growing number of health-conscious consumers will further Increase need for healthier options; fusion foods e.g. Pinoy food with a twist
5.3.2. Smaller portion, bigger variety – Combining popular dishes and offering them in bigger portions for group sharing
5.3.3. Freedom to choice/Create your own
5.4. EXPANSION
5.4.1. Penetrate Virgin Market / Saturate Pocket Areas in HUC.
5.5. Increasing dependence on technology (mobile app, on line shopping)
5.6. Transcendent retail - seamless online and offline experience. For example, paying thru your gadget while enjoying the product physically.
5.7. Extreme immersion dining or theme dining that provides an enriched dining experience.
5.8. Mood Food - food affecting moods, Ketogenic and other diet trends
5.9. Global Nomads - Millennials preferring to work anywhere
5.10. Interactive storytelling
5.11. Food Porn in going 3D as the restaurant industry explores AR to attract diners.
5.12. MARKETPLACE
5.12.1. Emergence of third party merchants like Lazada, Honestbee, Food Panda