SUMMARY: INTRODUCTION TO ENGLISH LINGUISTICS
par veronica annapa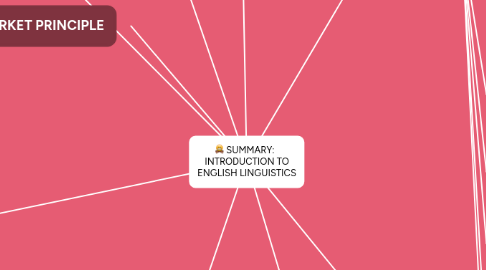 1. THE SMALL SUPEMARKET PRINCIPLE
1.1. If you can buy a compound product in a small supermarket, it is likely processed by the whole word route
2. • The mental lexicon contains information in a word's: o Sound, meaning, morphological combinatorics and syntactic combinatorics. l
3. • Can be modified with –ly to man 'in an Adj. way': smartly
4. If a sentence is ungrammatical, that means that there is no syntactic rule that could put it together in this way.
5. CONSTITUENTS
5.1. Some sequences of words in sentences 'belong together'
5.1.1. -Old men and women like sports cars -Old (men and women) like sports cars.
5.2. The hierarchical structure of a sentence is called its syntactic constituency.
5.3. Speakers unconsciously know syntactic rules.
6. MORPHOLOGICAL PRODUCTIVITY AND THE MENTAL LEXICON
6.1. • An affix is productive if occurs with many basses
6.2. Differences betwwen the mental lexicon and ordinary dictionary
6.2.1. if a corpus contains many hapax legomena, and if there are few restrictions on new formations as pragmatic, phonological, lexical, and semantic restrictions.
6.3. o The dual route mode
6.3.1. The understanding complex words, two processes are at work at the same time and complete: the whole word route and the decomposition route.
6.3.2. The parts of sentences are called constituents.
6.3.3. Each incoming complex word is processed simultaneously by these two routes and the fastest one 'wins the race'
6.3.3.1. Complex words that are more frequent than their components are processed by the whole word route:
6.3.3.1.1. Incomprehensible vs. comprehensible
6.3.4. Complex words that are less frequent than their components processed by the decomposition route
6.3.4.1. Illiberal vs liberal
7. SYNTAX
7.1. The different meanings of the sentences reflect different syntactic structures; the study of syntax refers to:
7.1.1. • Different word classes.
7.1.2. • The combination of words into phrases and sentences
7.1.3. • The internal structure of phrases and sentences.
7.2. WORD CLASSES
7.2.1. Words are the syntactic building blocks of sentences. Words have syntactic category:
7.2.1.1. • Something is an adjective if it occurs in the phrase
7.2.1.1.1. o Have you seen my something?
7.2.1.2. • Something is a noun if it can occur in the phrase
7.2.1.2.1. o Is this your something
7.3. WORD CLASSES – SYNTACTIC CATEGORIES
7.3.1. 1. Nouns
7.3.2. 2. Verbs
7.3.3. 3. Adjectives
7.3.4. 4. Adverbs
7.3.5. 5. Prepositions
7.3.6. 6. Determiners
7.3.7. 7. Pronouns
7.3.8. 8. Conjunctions
7.4. A noun typically
7.4.1. • Takes plural making: cats
7.4.2. • Occurs with determiners: the cat.
7.4.3. • Can be modified with an adjective: the fat cat
7.4.4. • Can be followed by a relative clause: the cat that ran away.
7.4.5. • Can be suffixed with –les to mean 'without x': catless
7.5. A verb basically:
7.5.1. • Takes tense making: washed
7.5.2. • Occurs with auxiliary verbs.
7.5.3. • Can be suffixed with –able to mean 'can be Vd': washable.
7.6. • Can be modified with and adverb: wash quickly
7.7. An adjective typically
7.7.1. • Takes comparative/ superlative making: smarter, smartest
7.7.2. • Modifies nouns: smart students
7.7.3. • Can be modified with an adver: extremely smart
7.8. A determiner typically
7.8.1. • Precedes a noun: my grandmother
7.8.2. • Precedes a modified noun: my old cd
7.8.3. • Cannot precede another determiner
7.8.4. • Does not take any morphology
7.9. Opiniones
8. CONSTIUENCY
8.1. Constituents are nested within each other. Syntax is not 'flat' but braching
9. Syntactic rules
9.1. Some sequences of words are possible sentences of English, other are no possible:
9.1.1. • The slithy toves the wave gimbled in
9.2. Syntactic rules operate on constituents:
9.2.1. Np + aux+vp
9.2.2. • The slithy toves gimbled in thwabe