Copy of Tourism in Costa Rica
par Tee Coleman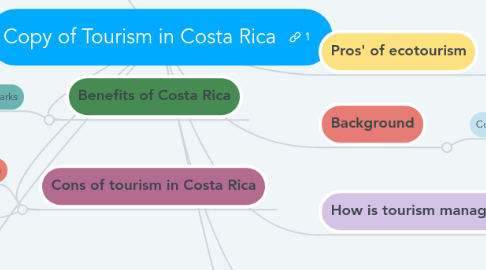 1. How is tourism managed?
1.1. Mostly ecotourism
1.1.1. Some mass tourism
1.2. Is it Sustainable?
1.2.1. ecotourism is a sustainable tourism activity in Costa Rica
1.2.1.1. Maintaining biodiversity and Involving local communities
2. Background
2.1. Costa Rica is a large part of the populations controlled environmental impact..located in the "Pacific Ring of Fire" 
2.1.1. Tropical climate, mountains volcanoes
2.1.1.1. Bird lovers and vegetation
2.1.1.1.1. Caribbean sea and Pacific Ocean
3. Positive effects
3.1. When natural resources are viewed as assets the community of those depending on tourism in the region are motivated to protecting and maintaining the environment.
3.1.1. Infrastructure, new roads and access to public services
3.1.2. New Topic
3.1.2.1. Costa Rica biggest asset
3.1.2.1.1. It's nature, flora and fauna
3.2. Infrastructure, new roads and access to public services
3.3. It's nature, flora and fauna is a large part of what makes the country special
3.3.1. Costa Rica biggest asset
3.4. New Topic
4. Negative effects in Costa Rica
4.1. Finding balance, achieving sustainable development in the tourism industry
4.1.1. Costa Rica depends on tourism
4.2. Cons of Costa Rica
4.2.1. Mass tourism which produces mass development
4.2.1.1. Danger to wildlife by feeding them inappropriately which kills them
4.2.1.1.1. Contradicts with presentation of nature (pollution and uncontrolled erosion)
5. Pros' of tourism in Costa Rica
5.1. Its more than half of the country's income, creates 13% of national employment and boost exportations
6. Benefits of Costa Rica
6.1. Costa Rica national parks
7. Cons of tourism in Costa Rica
7.1. Danger to wildlife by feeding them inappropriately which kills them
7.1.1. Mass tourism which produces mass development
7.1.1.1. Contradicts with presentation of nature (pollution,and uncontrolled erosion)
7.2. New Topic
7.2.1. New Topic
8. Pros' of ecotourism
8.1. Wildlife and nature protection and presentation
8.1.1. The locals are very nice, smart and pleasant people
8.1.1.1. Contribute to promote sustainable, green energies
8.1.1.1.1. Benefits research, science education and awareness
9. References
9.1. https://news.co.cr/positive-effects-tourism-costa-rica/61469/
9.2. https://www.tripping.com/explore/8-best-ecotourism-destinations-in-the-world