Google Drive
von Holden Hirsch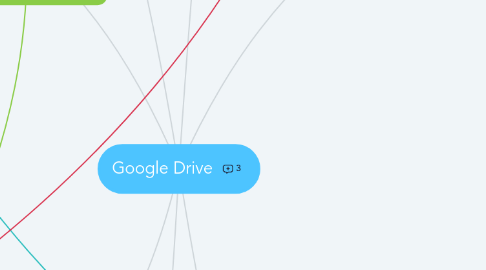 1. Personal School Work
1.1. Auto saves which helps eliminate technical problems if Microsoft or computer shuts down
1.2. Can be accessed from any computer, tablet, or even phone
1.3. Doesn't require you to download any additional programs
1.4. 24/7 access before, during, or after school
1.5. Allows users to upload work from other Microsoft programs into the drive to saved in the cloud or shared
2. Collaborative School Work
2.1. Easily able to share documents and projects student-to-student
2.2. Students can comment on, review, and edit each others work.
2.3. Students can all work on the same document at the same time from different devices
2.4. Students and teachers are able to easily see edits and changes in real time
2.5. Teaches students how to work together with others even if you can't communicate face-to-face
2.6. Chat feature allows students to communicate online while working together
2.7. Doesn't require everyone to have to same device or programs to work together
3. Learning Goals
3.1. Parents, students, and teacher could work together to create learning goals
3.2. Goals would be easy to access for students and parents
3.3. Students gain experience in working with others online, which is becoming more common with technology advancement
3.4. Missouri Secondary English Content Standards
3.4.1. W.8.1
3.4.2. W.8.2
3.4.3. W.8.4
3.4.4. W.8.5: With guidance and support from peers and adults, develop and strengthen writing as needed by planning, revising, editing, re-writing, or trying a new approach...
3.4.5. W.8.6: Use technology, including the internet, to produce, and publish writing and present the relationships between information and ideas efficiently as well as to interact and collaborate with others.
3.4.6. W.8.7: conduct short research projects to answer a question
3.4.7. W.8.8: Gather relevant information from multiple print and digital sources.
4. Learning Activities
4.1. Links to websites, videos, other online media could easily be inserted in assignment documents and shared among students for quick, convenient access.
4.2. Students can use a variety of formats to create something
4.2.1. Google Slides is a great presentation format that helps students share their work with their peers and make a comprehensive presentation of a research project.
4.2.2. Google Docs gives students a place to write essays, collect information, and type up things in an organized way.
4.2.3. Google sheets is helpful for students to learn to organize information in tables. While this can be used most notably for math, it can be helpful in all subject areas, like English and Language Arts
4.2.4. Google Forms can give students the opportunity to experiment with surveying and making questionnaires to share with peers.
4.3. Allows students the opportunity to work with multimedia. Videos, images, audio, widgets, and other web aspects can be used in Google Drive.
5. Teacher Roles
5.1. Student/teacher interactions
5.2. Teachers are able to monitor student work in progress and easily express helpful feed back in an online forum setting
5.3. Grading could become easy for the teacher
5.4. Parent/teacher interactions
6. Learning Assessment
6.1. Teachers can quickly comment directly on students assessments
6.2. Teachers have the ability to determine which students did which parts of a project
6.3. Assessment can be completed by individual student and then shared with others students or teacher later
6.4. The syllabus/ rubrics for assignments can be given to the students online so they also know what they are being assessed on and what is expected of them. Can also be edited if assessments change.
7. English Language Arts
7.1. Teachers are able to add comments and edits to student papers online in Google Docs
7.2. Students are able to translate papers (research, argumentative, narrative) into presentations via Google Slides