Subject Areas
von Tonya Conn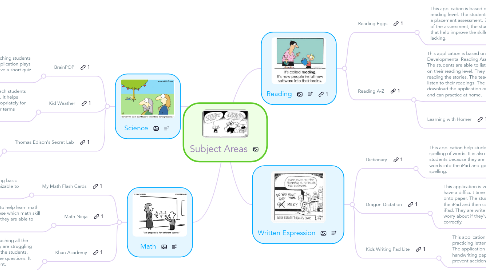 1. Science
1.1. BrainPOP
1.1.1. This application is useful for teaching students about different subjects. The application plays short information videos that have a short quiz afterwards.
1.2. Kid Weather
1.2.1. This application is used to help teach students about weather patterns and terms. It helps students to practice dressing appropriately for the weather and using the weather terms appropriately.
1.3. Thomas Edison's Secret Lab
1.3.1. This application is full of scientific material taught through music videos and interactive games. The game teaches the students about different scientist and different inventions.
2. Written Expression
2.1. Dictionary
2.1.1. This application help students with the correct spelling of words. It is also helpful for the students because they are able to say the words into the iPad and get the correct spelling.
2.2. Dragon Dictation
2.2.1. This application is very useful for students who have a difficult time writing their words down onto paper. The students say their story into the iPad and then copies their story from the iPad. They are write their own story, without worry about if they've spelled everything correctly.
2.3. Kids Writing Pad Lite
2.3.1. This application is useful for student who practicing letter and number formation. The application is in the form of handwriting paper. It has an option to prevent accidental touches.
3. Reading
3.1. Reading Eggs
3.1.1. This application is based on the students reading level. The students start out by taking a placement assessment. Based on the results of the assessment, the student plays games that help improve the skills the student is lacking.
3.2. Reading A-Z
3.2.1. This application is based on the Developmental Reading Assessment (DRA). The students are able to listen to stories based on their reading level. They record themselves reading the stories. The teachers are able to listen to their readings. The students can download the application on the home device and can practice at home.
3.2.2. Learning with Homer
3.2.2.1. This application is used most efficiently with students who needs early literacy. It uses drawings, voice recordings, stories and songs to help with reading skills.
4. Math
4.1. My Math Flash Cards
4.1.1. Tis application is useful for memorizing basic math facts. The application is customizable to reflect the needs of the student.
4.2. Math Ninja
4.2.1. This application uses action to help learn math facts. It allows students choose which math skill they need to work on. Then they are able to pick the difficulty level.
4.3. Khan Academy
4.3.1. This application is useful for teaching all the students mathematic skills they are struggling with comprehending. It shows the students, step-by-step, how to answer the questions. It explains the steps to the student.