MYERS MOBILE
von Josh Davis MGXII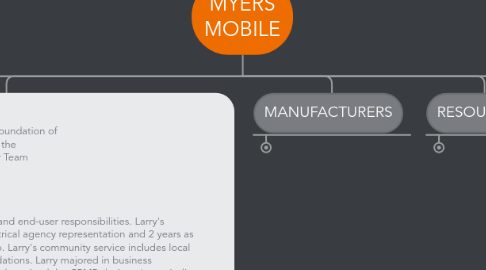 1. LOGO + FRONTPAGE
1.1. The Myers Difference Myers & Associates Electrical Sales Incorporated is a manufacturer's representative agency specializing in the wholesale electrical distribution channel. Founded in 1988 by Larry and Wanda Myers, we distribute in Arkansas and Oklahoma.
2. COMPANY INFORMATION
2.1. History Founded in 1988 by Larry and Wanda Myers, Myers & Associates met a need for qualified sales professionals in the Oklahoma wholesale electrical distribution vertical by serving select electrical manufacturers. We expanded into Arkansas in 1993 to serve a growing demand in that region, as well as manufacturers with presence in both states.
2.2. Territory Myer's & Associates opened for business in 1988, in Oklahoma and subsequently expanded into Arkansas in 1993, and serves the electrical industry in each respective market. We continue to serve Oklahoma & Arkansas because of the support we have received from our manufacturers and customers.
2.3. Career Information Thank you for your interest in joining Our Team. Click here to submit your resume to us for consideration for current or future Team opportunities. All inquiries are considered confidential.
2.4. Certifications CPMR, Certified Professional Manufacturers Representative CPMR or Certified Professional Manufacturers' Representative is a 3-year on-campus curriculum for manufacturers' representative firm managers operated by the Manufacturers' Representatives Educational Research Foundation through its Institute for Professional Advancement. Certification program instructors are knowledgeable in rep firm management, and include University faculty and Executives from commerce and industry. Maintaining this certification requires annual update courses. CSP, Certified Sales Professional Certification (CSP) or Certified Sales Professional program is operated by the Manufacturers' Representatives Educational Research Foundation through its Institute for Professional Advancement. To qualify for certification, candidates must have completed more than 40 hours of sales related education, attend IPA's Skills for Sales Success seminar, and pass an oral and written examination.
3. MANUFACTURERS
3.1. Manufacturers We represent some of the finest manufacturers in the electrical industry, and back those products with the "Myers Difference," which is synonymous with quality service. Arlington Industries, Inc. www.aifittings.com Proudly Made In the USA Zinc Die-Cast & Plastic Products • Liquid Tight Connectors • NM Cable Fittings & Supports Cord Grip Connectors • Flex, AC & MC Fittings • Grounding Products • Siding Mounting Blocks • Communications Products • Fan & Specialty Boxes Chalfant Manufacturing Company www.chalfantcabletray.com/ Aluminum & Steel Ladder Cable Tray, Aluminum & Steel Trough Cable Tray, EMI/RFI Shielded Cable Tray, Communications Cable Tray, & Wire Mesh Cable Tray Systems for Communications Cables. Cooper Power Systems www.cooperpower.com/ 1Ø & 3Ø Overhead & Pad-Mounted Transformers • Power Capacitors • Voltage Regulators Air-Break Disconnect Switches • Reclosers • Switches Fault Interrupters • Sectionalizers • Fuses • Arresters Cable Accessories • Fault Indicators • Protective Relays DSG-CANUSA www.dsgcanusa.com Cold & Heat Shrinkable Products for low and medium voltage (5 through 35kV) applications. Dura-Line www.duraline.com Cable in Conduit CU & AL 600V • Cable in Conduit Medium Voltage • 1", 1 ¼", 1 ½", 2" HDPE Smooth Wall Corrugated Standard Conduit on Reels or Coils • 1" thru 6" OD HDPE Smooth Out Ribbed In Conduit • ½" thru 6" Fiber Optic FuturePath™ Smoothwall HDPE Conduit Honeywell Cable www.honeywellcable.com Category Data Cables • CATV & CCTV Coax • Thermostat • Security/Electronic Low Voltage • Fire Alarm Multimedia • Access Control • Underground Lighting • Lutron®/Crestron® Cable • Bodacious Sound Cable® Theater Sound ILSCO Corporation www.ilsco.com Proudly Made In the USA Aluminum & Copper Compression Lugs, Split Bolts, Mechanical Lugs, Power Distribution Blocks, Nimbus Insulated Mechanical Connectors, Kup-L-Tap Connectors, Aluminum & Copper Overhead & Underground, Grounding Connectors, Heat Shrink, and Tools Leviton Manufacturing Company www.leviton.com Industrial, Commercial & Residential Wiring Devices, Home Automation, Lighting Controls, SPD Products, and Voice & Data Products. Magnus Industries, Inc. www.magbit.com MAG-BIT Wood & Auger Bits, Extension Paddle Bits, Step Drills, Hole Saws & Arbors, and Reciprocating & Hack Saw Blades. Olsun Electrics Corporation www.olsun.com 1Ø & 3Ø Standard & Custom Designed Dry Type Transformers - Ventilated, Cast-Coil & Encapsulated, K-Rated Drive-Isolation Type, Load Interrupter Switchgear, & Chokes and Reactors. Royal Pacific, Ltd. www.rplighting.com LED Lighting, Ceiling Fans & Light Kits, Track Lighting, Recessed Cans & Trims, Under Counter Lighting, & Exit Lights Southern Grounding Products www.southatlanticllc.com/grounding Hot Dipped Galvanized Ground Rods, Copperclad Ground Rods, Stainless Steel Rods, Threadless Couplings, Grounding Clamps, Ground Rod Couplings, & Drive Studs.
4. RESOURCES
4.1. The following are several industry resources for your reference. Clicking on a link will open a new browser window so that you may conveniently tab back to our site from your taskbar. Building Code Check is a resource site containing various Electric Code Links. Building Industry Consulting Services International BICSI is a not-for-profit telecommunications association, and a worldwide resource for technical publications, training, conferences, and registration programs for low-voltage cabling distribution design and installation. BICSI has over 20,000 members residing in 85 nations. Canadian Standards Association established in 1919 is considered a leader in the field of standards development and the application of these standards through product certification, management systems registration, and information products. Electrician.Com is an internet site for approved Online Continuing Education for Electricians, Electrical Administrators, and Master Electricians. Electricsmarts.com provides a comprehensive resource for manufacturers, distributors, contractors, and other electrical industry professionals. As an Internet Smart Site, Electricsmarts.com anticipates the information and services you need, and then organizes it into logical, easy-to-access sections. Electro-Federation Canada (EFC) is a broad-based association representing more than 200 members from the electrical, electronics, appliance, and telecommunications industry. Facilities Net is a website for professionals, who design, construct, manage, and maintain buildings. Independent Electrical Contractors Association (IEC) primary goal is to consider and deal by all lawful means with common problems of management, distribution, employment, and financial functions of the electrical construction industry. Insulated Cable Engineers Association (ICEA) is a professional organization dedicated to developing cable standards for the electric power, control, and telecommunications industries. The International Electrotechnical Commission is the international standards and conformity assessment body for all fields of electrotechnology. The Institute of Electrical and Electronics Engineers (IEEE) helps advance global prosperity by promoting the engineering process of creating, developing, integrating, sharing, and applying knowledge about electrical and information technologies and sciences for the benefit of humanity and the profession. The International Organization for Standardization (ISO) is a worldwide federation of national standards bodies from some 130 countries, one from each country. ETL Testing Laboratories, Inc. is recognized throughout the United States as an alternative to Underwriters Laboratories (UL). National Electrical Manufacturers Association (NEMA) has for more than 70-years developed standards for the electrical manufacturing industry and is today one of the leading standards development organizations in the world. Joe Tedesco's National Electrical Code and Electrical Inspection Information website provides information regarding violations and safety related issues. Mike Holt - National Electrical Code Internet Connection helps the electrical contractor improve the management of their business by offering business consulting, business management seminars, and computerized estimating and billing software. National Association of Electrical Distributors (NAED) is the electrical distributors' source for networking, education, and service. Electrical Contractors Association (NECA) was founded in 1901, and is a leading representative of a segment of the construction market comprised of over 70,000 electrical contracting firms. National Electrical Manufacturers Representatives Association (NEMRA) is a North American trade association dedicated to promoting the use of independent manufacturers' representatives as the most effective way to market products in the electrical industry. The National Fire Protection Association (NFPA) publishes the National Electrical Code. National Joint Apprenticeship and Training Committee (NJATC) mission is to develop and standardize training to educate the members of the International Brotherhood of Electrical Workers and the National Electrical Contractors Association. Power Quality magazine is a respected trade publication for buyers, users, and specifiers of power quality-related products and services for the electric power industry. Telecommunications Industry Association (TIA) is a national trade organization with more than 900-large and small companies that provides communications and information technology products and services. Underwriters Laboratories Inc. (UL) is an independent, not-for-profit product safety testing and certification organization. UL has tested products for public safety for more than a century. Each year, more than 16- billion UL Marks are applied to products worldwide. Click here to search for manufacturers by a UL File Number. Wiring Harness Manufacturers Association (WHMA) was founded in 1993, and represents the interests and concerns of over 100 US and Canadian manufacturers of Electronic Cable Assemblies, Cord Sets, and Wiring Harnesses and over 50 suppliers to the industry. Please contact our knowledgeable sales Team for additional information.
5. Team Integrity, honesty, and professionalism are the foundation of Myers & Associates. We are pleased to present the following individuals that consistently meet Our Team standards. Larry Myers CPMR, Principal Larry maintains specific key account, engineer, and end-user responsibilities. Larry's background includes an additional 7 years electrical agency representation and 2 years as General Manager of an electrical distributorship. Larry's community service includes local non-profit Boards of Directors, Trust, and Foundations. Larry majored in business administration at the University of Oklahoma and received the CPMR designation at Indiana University in 2000. Wanda Myers Principal Involved in every facet of customer and factory relations, Wanda's industry knowledge and resourcefulness adds value to all who choose to do business with Myers & Associates and the manufacturers they represent. Wanda's support of our Team is one of the significant contributing factors to the recognition we have received from our industry peers. Wanda attended Oklahoma Baptist University. She was a founding partner in 1988. Janette Ross Operations Manager Janette provides our team with the essential services of computer operations and information management. She brings a diverse knowledge of computer systems and an innovative approach to problem solving and management to our team. Having worked for over 15 years in the electrical distribution industry, Janette is also able to apply a wealth of industry-specific experience to her work with Myers & Associates. Janette joined Myers & Associates in 2003. Dewayne Bell Outside Sales From our office in Norman, Dewayne has responsibility for outside sales in Western Oklahoma, which includes electrical distributors, contractors, engineers, and end-users. Dewayne's background includes 5-years as Director of Purchasing for a major US based electrical distributor, and 1-year as an inside sales representative for an electrical agency. He majored in Finance at the Michael F. Price College of Business at the University of Oklahoma. He joined Myers & Associates in 2012. Laurie Fowler Inside Sales With over 25-years of customer care experience Laurie delivers excellent service to the customers we serve and the manufacturers we represent. Laurie focuses on quotations, and order entry. She began her career with Myers & Associates in 2012. Carrie Verrill CPMR, Inside Sales Carrie's focus is quotations for the various manufacturers we represent. Carrie attended the University of Oklahoma, majoring in marketing, and received the CPMR designation at Arizona State University in 2002. Prior to joining Myers & Associates Carrie worked in the retail industry. She joined Myers & Associates in 1993. What our Team Does Myers & Associates acts as a manufacturer's rep for a few select electrical manufacturers. Our primary territory is Arkansas and Oklahoma. The clients we typically serve include: Electrical Engineers Electrical Contractors Electrical Distributors End-Users It is our job to keep our customers informed about current and upcoming products. We present products, distribute literature, and provide application solutions. When a customer selects a product from one of our manufacturers, our Team provides product information and pricing to the Electrical Distributor and when that product is ordered, our Team processes the order and coordinates shipment.
6. CONTACT US
6.1. Myers & Associates Electrical Sales Inc. P.O. Box 5988 Norman, OK 73070-5988 Voice: (405) 364-0612 Fax: (405) 364-7899 Wats: 1-800-256-1364 Email: [email protected]
7. PLACE ORDER / ASK
7.1. Login into ILSCO to check price and availability, enter an order, track a shipment, request a quotation, request an RGA, view order history, or use a competitive cross reference. Login into Leviton to check stock, review pricing, place orders, track orders, browse an online product catalogue, and search for detail product information. Email [email protected] to check price and availability, enter an order, track a shipment, request a quotation, request an RGA, or have an associate contact you.
8. TRACK SHIPMENT BUTTON