Web 2.0 Mobile Tools
von Nicole Ray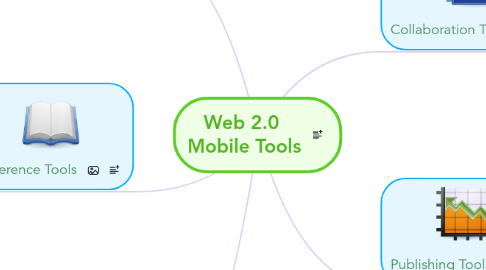 1. Collaboration Tools
1.1. CACOO
1.1.1. The app from the Google Chrome Store allows multiple editors in real time to collaboratively work on projects. This tool would be great for group projects.
1.2. GOOGLE DOCS
1.2.1. Docs can be shared between students which means that the peer editing process could be forever changed. Students wouldn't be able to change docs, but they would be able to provide helpful comments.
1.3. GOOGLE SLIDES
1.3.1. Students can work on presentation together via shared docs. Google Slides can be shared with a teacher as easily as Prezi technology, but Prezi offers more templates.
2. Publishing Tools
2.1. WE VIDEO
2.1.1. The app allows students to create video presentations using a storyboard or timeline. Students can upload video from their smartphones. The video can also be edited to highlight important segments.
2.2. GLOGSTER EDU
2.2.1. The app allows students to ditch the traditional poster presentations and move them into a digital age. The multimedia form allows text, images, videos, etc.
2.3. MIND MEISTER
2.3.1. The app is mind mapping technology. It is useful for organization, but formatting is limited. Pearltrees technology allows you to embed links to websites with more ease.
2.4. PREZI
2.4.1. The app technology would allow principals to share presentations with teachers during in-services without the hassle of variant versions. Prezi has many templates available and easily links websites or videos to the presentation.
3. Google Apps
3.1. GOOGLE SITES
3.1.1. The free app allows teachers to create websites that a geared toward individual classrooms The technology would allow teachers to provide an up-to-date links and schedules for students/parents
3.2. GOOGLE DOCS
3.2.1. The free app allows students to create, share, and edit multiple documents such as word processors, spreadsheets, presentations, etc. All are saved in Google Drive; therefore, there are no compatibility issues.
3.3. GOOGLE CALENDAR
3.3.1. The free app allows individual teachers to create calendars for students. Deadlines for students can be clearly noted using the calendar. The calendar may also be linked to your Google Site as well. The use of the share-able calendar would be helpful to administrators as well. A school calendar is necessary for gym schedules, bus travel times, school lunches, etc.
3.4. GMAIL
3.4.1. Gmail accounts can be set up for students and teachers. The email system can be used to alert students of assignments and due dates.
4. Reference Tools
4.1. DICTIONARY
4.1.1. The reference has website and app versions. Students can benefit from this app when they need to know definitions or pronunciations.
4.2. DESMOS GRAPHING CALCULATOR
4.2.1. The calculator can be used by teachers as a reference tool to walk students through a tutorial of a math problem that needs a graphing calculator. This app would cut costs in the classroom for administrators by eliminating the need to purchase the calculators that cost hundreds of dollars.
4.3. EVERSTUDENT
4.3.1. This app can be downloaded by Android. It is an online student planner. The planner also synchronizes with Evernote (note taking software). The app allows you to organize your planner multiple ways (by day, by duedate, by class, etc.).
5. Educational Tools
5.1. CLASS DOJO
5.1.1. An app that can be used by educators to manage behavior in their classrooms. This app would also be great for administrators who need to lose the paper trail.
5.2. WEEBLY
5.2.1. An app that allows you to create websites for your classroom. The site is offers more of a selection than Google Sites, but Google Sites is more easily compatible with the other Google Apps.
5.3. VOCABULARY SPELLING CITY
5.3.1. An app that helps student practice spelling. The spelling can help teach patterns and irregularities to students. This would be great for my Spelling Bee contenders.
5.4. POLL EVERYWHERE
5.4.1. This app for the iPad allows teachers or principals to create polls. Respondents can answer using standard text messaging.