Web-Based Tools for the Spanish Classroom
von Becky Reed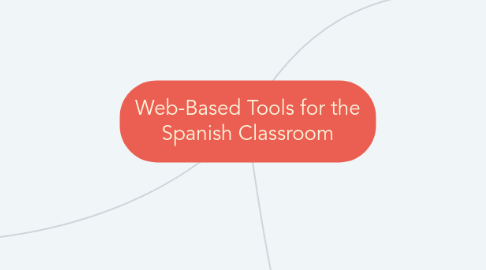 1. PLNs - Personal Learning Networks
1.1. Twitter
1.1.1. A social media resource which allows teachers to stay up to date and see what people are talking about right now in education. Follow hashtags and people relevant to a specific topic to find and share resources. Stay current on news and media to be informed. Embrace new ideas and get a fresh perspective from teachers and educators just like you who continue to find new ways and ideas to help inspire us and our students.
1.1.1.1. Application: Follow and tweet your own educational ideas. Check daily to see what is #trending. Use in your daily lessons to enhance what you're already teaching.
1.2. Facebook
1.2.1. A social media resource which allows educators to create groups, pages, and events to further connect ideals and resources.
1.2.1.1. Application: Follow your school's sport and extra curricular activity pages. Create fundraising events and share with groups or friends.
1.3. Instagram
1.3.1. A social media resource with more of a focus on pictures, memes, and live stories. Follow your school's Instagram page and get updates on upcoming events, information, event pictures, etc. Watch the Instagram story to see live streaming video or pictures from a school event. Also follow other educators or positive quotes for personal use and funny memes to get you through your day.
1.3.1.1. Application: Follow @teachermisery for hysterical teacher memes to get you through your day. Follow @goodquotes to get that motivational quote to feel and share positive vibes. Follow your schools Instagram to stay in tune and up to date with sports and activities.
1.4. Teaching Channel
1.4.1. Teachers can watch, share and learn new techniques to help their students grow. Able to watch videos, search for specific topics and connect with other teachers. Can search for topics by subject and grade level.
1.4.1.1. Application: Customize the search options to view videos and topics related to your subject area. Check out and follow the blogs and student profiles.
2. Organizing and Sharing Content
2.1. ThingLink
2.1.1. A web and app based tool that allows users to add content inside of an image. The content can be an image, website, video, article, etc. Extremely helpful for bringing a still image to life.
2.1.1.1. Application: Cultural Immersion: A common picture seen to celebrate el dia de los muertos is of an "ofrenda" or a table filled with offerings for loved ones who have died. Choose a picture of an authentic ofrenda and add icons on the picture to pictures, definitions, videos, and articles explaining what each item is on the ofrenda.
2.2. Book Creator
2.2.1. A digital storytelling website and app that allows users to individually or collaboratively write and tell a story. A teacher can have up to 40 active working books in his/her library so teachers can actively monitor student work. Users create pages of the book by inserting text, pictures and voice recordings.
2.2.1.1. Application: Have students create digital storytelling books of famous Spanish and Latino celebrities who have died but who have left a positive imprint on today's culture and society. Share these stories while celebrating el dia de los muertos.
2.3. Padlet
2.3.1. An online bulletin board which can be completed individually or collaboratively. Able to include text, images, links, videos and more. Digital sticky notes!
2.3.1.1. Application: Using the map bulletin board, add text, images, links and videos to the three indigenous groups of Latin America: the Aztec, Mayan, and Inca, exactly where they were located on the map.
2.4. Quick Voice
2.4.1. The name speaks for itself. A quick way to voice record a response and share with others. This is strictly for voice recording, not video recording. Easy to use and share however, it has to be used through the app.
2.4.1.1. Application: Have students once a unit send the teacher a voice recording incorporating answers to questions from the unit to develop their communication and pronunciation skills.
2.5. Mindmeister
2.5.1. A web tool which allows users to organize and share information through graphic charts. Allows for color coding, links, and files to be inserted into a graphic organizer
2.5.1.1. Application: Create a graphic organizer for each unit. Students will have three categories: vocabulario, gramatica, cultura. Students will add the specific vocabulary words, grammar concepts and culture to each chart.
3. Collaboration Inside and Outside the Classroom
3.1. Office 365
3.1.1. An online platform software solution to collaborate online using Microsoft applications such as: Word, Excel, PowerPoint and Microsoft Teams.
3.1.1.1. Application: Use OneDrive to exhange information (files, presentations) with students. Eliminates the need to email.
3.2. G Suites for Education
3.2.1. An online platform which allows students and teachers to easily collaborate using Google apps. Exchanging information is very streamlined with clear communication between teachers and students.
3.2.1.1. Application: Use Google Docs to collaborate on papers and projects. Students can modify and edit without the need to email a revised copy. Automatic saving allows for continued collaboration. Teachers can also provide comments.
3.3. Google Hangouts
3.3.1. A communication software developed by Google to enhance collaboration between teachers and students. Allows conversation between two or more users.
3.3.1.1. Application: Go on a virtual field trip to a Spanish-speaking country or museum. Use "mystery" hangouts for students to guess which country students living abroad live in using geographic and cultural clues.
3.4. Skype and WhatsApp
3.4.1. Skype and WhatsApp are communication tools which work great for long distance domestic and international video conferencing. Skype is more video chat while WhatsApp is more text based, but video chat can be used too. Skype is best used for professional settings because conference calls can be recorded and presentations can be shared during the call. WhatsApp is great for students to connect with other students.
3.4.1.1. Application: Invite a guest speaker on a relative topic to skype in during class. The guest speaker can speak in the target language of Spanish for higher level classes. The guest speaker can also share pictures and presentations during the skype call. The call can also be recorded for future use.