Aarika Begay Operating Systems
von Aarika Begay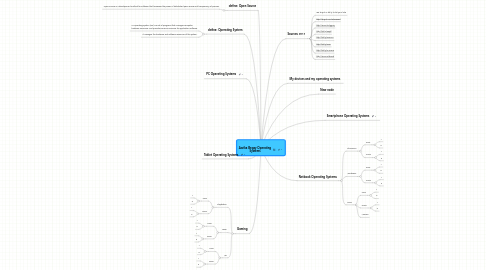 1. Sources 2011
1.1. use tinyurl or bit.ly to list your links
1.2. http://tinyurl.com/3bmo86d
1.3. http://amzn.to/qjg75j
1.4. http://bit.ly/Z9qkl
1.5. http://bit.ly/oK3SoX
1.6. http://bit.ly/ax5Y
1.7. http://bit.ly/oM5E79
1.8. http://anse.rs/ibcFwf
2. Smartphone Operating Systems
3. define: Operating System
3.1. An operating system (OS) is a set of programs that manages computer hardware resources, and provides common services for application software.
3.2. It manages the hardware and software resources of the system.
4. PC Operating Systems
5. define: Open Source
5.1. Open source is a development method for software that harnesses the power of distributed peer review and transparency of process.
6. Tablet Operating Systems
7. Netbook Operating Systems
7.1. Chromium
7.1.1. Pros:
7.1.1.1. 1
7.1.1.2. 2
7.1.2. Cons:
7.1.2.1. 1
7.1.2.2. 2
7.2. Windows7
7.2.1. Pros:
7.2.1.1. 1
7.2.1.2. 2
7.2.2. Cons:
7.2.2.1. 1
7.2.2.2. 2
7.3. Linux
7.3.1. Pros:
7.3.1.1. 1
7.3.1.2. 2
7.3.2. Cons:
7.3.2.1. 1
7.3.2.2. 2
7.3.3. MeeGo
8. My devices and my operating systems
9. Gaming
9.1. Playstation
9.1.1. Pros:
9.1.1.1. 1
9.1.1.2. 2
9.1.2. Cons:
9.1.2.1. 1
9.1.2.2. 2
9.2. XBox
9.2.1. Pros:
9.2.1.1. 1
9.2.1.2. 2
9.2.2. Cons:
9.2.2.1. 1
9.2.2.2. 2
9.3. Wii
9.3.1. Pros:
9.3.1.1. 1
9.3.1.2. 2
9.3.2. Cons:
9.3.2.1. 1
9.3.2.2. 2
10. New node