ch. 8 Health Care in the U.S.
af Claire Ryno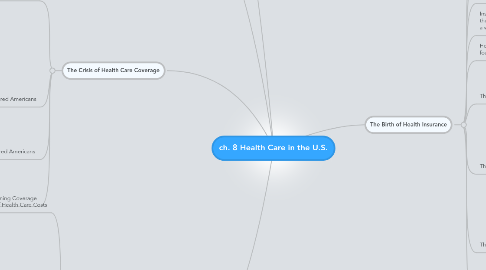 1. The Birth of Health Insurance
1.1. During the Great Depression, the AHA and AMA founded the nations first insurance programs, Blue Cross & Blue Shield.
1.2. Free-for-service insurance: Patients are billed a fee for each office visit, test or other service received.
1.3. Community rating: each individual pays a "group rate"
1.4. Insurance premium (or yearly fee): is based on the average risk level of his/her community as a whole
1.5. Health Maintenance Organizations (HMOs): founded to provide affordable health care.
1.6. The Government Steps In
1.6.1. In the 60's it became clear that many Americans could not afford insurance.
1.6.2. Medicaid: insures poor Americans.
1.6.3. Medicare: insures Americans with permanent disabilities or over age 65.
1.7. The Rise of Commercial Insurance
1.7.1. Commercial Insurance Companies: Organized on a for-profit basis and so must focus on earning a profit for their investors.
1.7.2. Actuarial Risk Rating: Insurers maximize their profits by charging people different premiums based on their predicted health risks and by refusing to insure those with high health risks.
1.8. The Managed Care Revolution
1.8.1. Managed Care: Refers to any system that controls costs through closely monitoring and controlling the decisions of health care provdiers.
1.8.2. Utilization Review: Doctors must obtain approval from the insurer before they can hospitalize a patient, perform surgery, order an expensive diagnostic test, or refer to a specialist outside the insurance plan.
1.9. The Backlash Against Managed Care
1.9.1. A central theme in American culture is an emphasis on individual autonomy and independence. Managed Care reduces individual choices for both consumers and health care providers.
2. The Crisis in Health Care Costs
2.1. The Myths of Health Care Costs
2.1.1. Americans receive more and better care than do citizens of other nations.
2.1.2. Our high health care costs are attributed to our unique propensity for filing malpractice suits.
2.1.3. Our rising health care costs are attributed to our aging population.
2.1.4. Health care costs are so high in the U.S. because of our advanced technologies.
2.2. Understanding Health Care Costs
2.2.1. Two underlying factors: A fragmented system that multiplies administrative costs and the fact that health care providers have greater power to set prices than do health care consumers.
2.2.2. Single- Payer System: Receive health care insurance from a single payer, the government.
2.2.3. U.S. heatlh care provieers have far more market power than do U.S. consumers.
2.2.4. Diagnosis-Related Groups (DRGs): Set an average length of hospital stay and cost of inpatient treatment for each possible diagnosis.
2.3. The Role of "Big Pharma"
2.3.1. Big Pharma Comes of Age
2.3.1.1. The pharmaceutical industry is an enormous and profitable enterprise.
2.3.1.2. Deductibles: Required minimum amounts individuals must pay out of pocket before their insurance coverage kicks in.
2.3.2. Developing New Drugs
2.3.2.1. New drugs are extensively tested to determine whether it works better than already available drugs.
2.3.3. Regulating Drugs
2.3.3.1. Food and Drug Administration (FDA)
2.3.3.2. As Pharmaceutical companies grew, the power of the FDA declined.
2.3.4. Marketing Drugs
2.3.4.1. Two major audiences: doctors and the public.
2.3.4.2. Marketing directly to consumers is important to these companies.
2.3.5. Marketing Diseases
2.3.5.1. Drug companies sell the disease as well, bringing the disease to the attention of doctors and the public.
3. The Crisis of Health Care Coverage
3.1. Uninsured Americans
3.1.1. In 2009, 50.7 million Americans were uninsured (22% of all americans under the age of 65)
3.1.2. Rise in uninsured Americans reflects the rise in unemployment.
3.1.3. Insurance coverage varies by income levels, poorer Americans are less likely to be insured.
3.1.4. Women and men are equally likely to be uninsured.
3.1.5. Insurance coverage varies by state.
3.1.6. Insurance coverage varies by health status. Insurance is hardest to get when an individual actually needs it.
3.2. Underinsured Americans
3.2.1. 25 million (20%) of Americans are underinsured
3.2.2. expensive premiums, deductibles and co-payments.
3.2.3. over half of underinsured Americans could not afford to seek needed medical care (2007).
3.3. Precariously Insured Americans
3.3.1. Liable to lose their insurance coverage at any time.
3.3.2. Can happen in any number of ways.
3.4. The Consequences of Declining Coverage
3.4.1. Directly affects health care services.
3.4.2. Depending on location, uninsured persons may have access to some health care, but it is substantially less.
4. The 2010 Patient Protection and Affordable Care Act
4.1. The central goal of the ACA was to increase access to health care through a variety of mechanisms that will be phased in between 2011 and 2018.
4.2. Individual Mandate: The requirement that each U.S. citizen and legal resident obtain health insurance or face fines.
4.3. Employer Mandate: a legal requirement that employers subsidize health insurance for their employees.
4.4. Establishes various new restrictions on insurance companies.
4.4.1. Prohibited from capping annual or lifetime benefits, refusing to cover those with preexisting health problems or charging higher premiums to such individuals.
5. Why the U.S. Lacks National Health Care
5.1. Early Reform Efforts
5.1.1. Stakeholder Mobilizatio: Organized political opposition by groups with vested interest in the outcome
5.1.2. Opposition to national health care comes from numerous sources.
5.2. From Medicare to "Health Care Security"
5.2.1. The HCSA represented a liberal approach to health care reform, the act would have broadened access to care without seriously threatening the basically entrepreneurial nature of the U.S. health care system or the power of the "big players" in health care.
5.2.1.1. Opposition to this plan was fierce.
5.3. Passing the Affordable Care Act
5.3.1. Public opinion was deeply divided
5.3.2. Stakeholder mobilization against the ACA was also strong within the health care industry.
5.3.3. The Obama administration emphasized negotiation, compromise and working within the existing health care system.