Parent Partners/Outreach/Training Map
af Cindy Y Au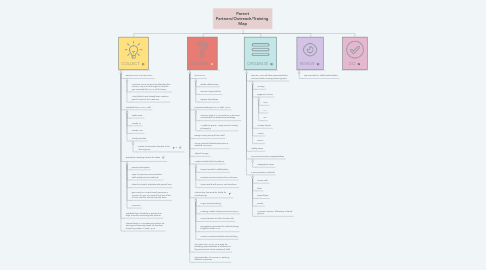 1. COLLECT
1.1. REFLECTION COLLECTION:
1.1.1. What are YOUR reasons for attending this church? Why is it meaningful or why are you connected to CCAC at this time?
1.1.2. What efforts have already been made in past to connect to PARENTS?
1.2. Feedback from CCAC Staff
1.2.1. Pastor Erick
1.2.2. Mandy Yu
1.2.3. Preston Lee
1.2.4. Clarify priorities
1.2.4.1. Preston chose seven families to be "focus group"
1.3. Brainstorm meeting Parents for ideas
1.3.1. parent participation
1.3.2. ways to improve communication, add/modify current methods
1.3.3. ideas for student activities with parent help
1.3.4. give input on current event issues are a concern for you as a parent that you'd like to hear how the church sees the issue.
1.3.5. Concerns
1.4. Feedback from students & sponsors on ways to build community with parents
1.5. Interest levels in Microlearning options for training and learning based on priorities shared by Preston in Sept. 2019
2. DO
3. ORGANIZE
3.1. Discuss WHO will take responsibility for communication among various groups
3.1.1. Nursery
3.1.2. Beginner Church
3.1.2.1. PreK
3.1.2.2. K-1
3.1.2.3. 2-5
3.1.3. Sunday School
3.1.4. Awana
3.1.5. BOMS
3.2. Safety issues
3.3. Key communication representatives
3.3.1. Geographic areas
3.4. Communication methods
3.4.1. Phone calls
3.4.2. texts
3.4.3. paper/flyers
3.4.4. emails
3.4.5. In person--service, fellowship, interest groups
4. REVIEW
4.1. Top Priorities for Staff/Pastors/Elders
5. PROCESS
5.1. Set GOALS
5.1.1. Better relationships
5.1.2. Revival of spiritual life
5.1.3. Deeper friendships
5.2. Proposal meeting w/CCAC staff, 10/15
5.2.1. How can work in KMT and BOMS be more coordinated for relationship building?
5.2.2. "Cradle to grave"--wrap around ministry philosophy
5.3. Design survey w/input from staff
5.4. Survey parents/students/sponsors re interests, concerns
5.5. Tally all surveys
5.6. Analyze results/look for patterns
5.6.1. Present results to staff/pastors
5.6.2. Prioritize concerns/issues from outcome
5.6.3. Share results with BOMS and PPartners
5.7. Choose top five areas to tackle for microtraining
5.7.1. Prayer and prioritizing
5.7.2. Leading a Bible Study and DISCUSSiON!
5.7.3. Current events and the Christian life
5.7.4. Evangelism connected to methods being taught to adults in SS
5.7.5. Social connections/relationship building
5.8. Plan year from Jan to June 2020 for releasing responsibilities to students as they are trained, show mastery of skills
5.9. Plan evaluation of success in reaching different audiences