Ready, Set, Play Children's Charity
af Rachel Yip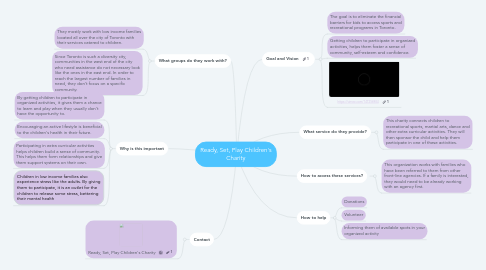 1. Goal and Vision
1.1. The goal is to eliminate the financial barriers for kids to access sports and recreational programs in Toronto.
1.2. Getting children to participate in organized activities, helps them foster a sense of community, self-esteem and confidence.
1.3. https://vimeo.com/147256984
2. What service do they provide?
2.1. This charity connects children to recreational sports, martial arts, dance and other extra curricular activities. They will then sponsor the child and help them participate in one of these activities.
3. What groups do they work with?
3.1. They mostly work with low income families located all over the city of Toronto with their services catered to children.
3.2. Since Toronto is such a diversity city, communities in the west end of the city who need assistance do not necessary look like the ones in the east end. In order to reach the largest number of families in need, they don't focus on a specific community.
4. How to access these services?
4.1. This organization works with families who have been referred to them from other front-line agencies. If a family is interested, they would need to be already working with an agency first.
5. Why is this important
5.1. By getting children to participate in organized activities, it gives them a chance to learn and play when they usually don't have the opportunity to.
5.2. Encouraging an active lifestyle is beneficial to the children's health in their future.
5.3. Participating in extra curricular activities helps children build a sense of community. This helps them form relationships and give them support systems on their own.
5.4. Children in low income families also experience stress like the adults. By giving them to participate, it is an outlet for the children to release some stress, bettering their mental health
6. How to help
6.1. Donations
6.2. Volunteer
6.3. Informing them of available spots in your organized activity
7. Contact
7.1. Ready, Set, Play Children's Charity