A 3 YEAR PLAN FOR JAMIE WEBB
by Jamie Webb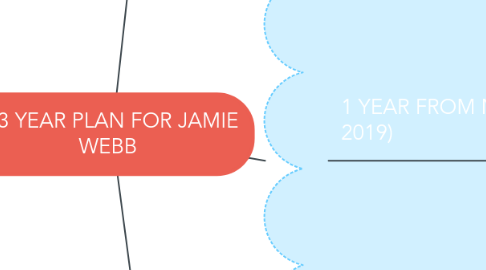 1. 1 MONTH FROM NOW (JANUARY 2018)
1.1. I WILL WORKOUT AT THE SDFC 3 TIMES A WEEK (SOCIAL, PHYSICAL)
1.2. I WILL VOLUNTEER AT A PHYSICAL THERAPY (OCCUPATIONAL, INTELLECTUAL, SOCIAL, PHYSICAL)
1.3. I WILL ATTEND ALL OF MY CHURCH MEETINGS (EMOTIONAL, SPIRITUAL, INTELLECTUAL)
2. 1 YEAR FROM NOW (JANUARY 2019)
2.1. I WILL SERVE AS A MISSIONARY OF THE CHURCH OF JESUS CHRIST OF LATTER-DAY SAINTS (ALL DIMENSIONS)
2.1.1. OCCUPATIONAL: STARTING IN THE SUMMER OF 2018 I BEGIN MY 2 YEAR SERVICE MISSION. THIS VOLUNTEER WORK WILL BE MY FULL TIME COMMITMENT DURNING THAT TIME
2.1.2. PHYSICAL: I WILL EXERCISE 30 MINUTES EACH MORNING 6 DAYS A WEEK AS WELL AS WALK/BIKE ALL SHORT TRAVEL DISTANCES.
2.1.3. SOCIAL: I WILL INTRODUCE MYSELF TO STRANGERS AND CARRY CONVERSATIONS. I WILL ALSO SERVE THOSE I MEET.
2.1.4. INTELLECTUAL: I WILL STUDY THE SCRIPTURES EACH DAY OF THE WEEK FOR AT LEAST 2-3 HOURS.
2.1.5. SPIRITUALLY:I WILL PRAY MULTIPLE TIMES DAILY AS WELL AS SETTING ASIDE TIME EACH DAY TO PONDER AND THINK TO MYSELF.
2.1.6. EMOTIONAL: I WILL SAY GOODBYE TO FRIENDS AND FAMILY FOR 2 YEARS AND RELY ON MY PURPOSE AND INTENTIONS AS A MISSIONARY TO KEEP ME FROM GETTING HOMESICK.
3. 3 YEARS FROM NOW (DECEMBER 2020- AUGUST 2021)
3.1. I WILL CONTINUE MY STUDIES HERE AT ASU. I SHOULD BE AT THE EITHER HALFWAY THROUGH MY SECOND YEAR OR STARTING MY THIRD YEAR. (INTELLECTUAL, SOCIAL, OCCUPATIONAL)
3.2. I WILL DATE WITH THE INTENTIONS TO MARRY. (EMOTIONAL, SOCIAL, OCCUPATIONAL)