My Foundations of Education Chapters 6-10
by Amanda Abernathy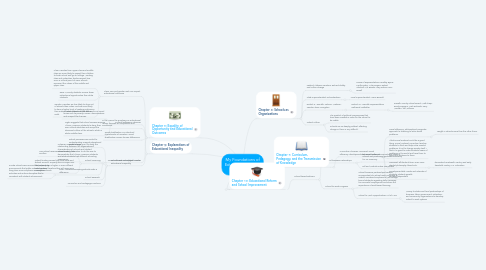 1. Chapter 6: Schools as Organizations
1.1. Federal Alabama Senators: Richard Shelby and Luther Strange
1.1.1. House of Representatives: Bradley Byrne, Martha Roby, Mike Rogers, Robert Aderholt, Mo Brooks, Gary Palmer, Terri Sewell
1.2. State Superintendent: Ed Richardson
1.2.1. Local Superintendent: Jason Barnett
1.3. District 8 - DeKalb, Jackson, Madison: Senator Steve Livingston
1.3.1. District 24 - DeKalb: Representative Nathaniel Ledbetter
1.3.1.1. DeKalb County School Board: Matt Sharp, Randy Peppers, Mark Richards, Terry Wooten, Jeff Williams
1.4. School culture
1.4.1. The product of political compromises that have been created in order for the school to be viable.
1.4.2. Schools are so deeply political, effecting change in them is very difficult.
2. Chapter 7: Curriculum, Pedagogy, and the Transmission of Knowledge
2.1. Curriculum Theories: Humanist, social efficiency, developmentalist, social meliorist
2.1.1. Social Efficiency: Philosophical pragmatic approach to teaching to solve social problems.
2.1.1.1. Taught in schools more than the other three.
2.1.2. I think social meliorist could be a good thing. Social Meliorist curriculum teaches students to think and help solve societal problems, if not to change society itself. I think it is good to make students aware of problems in the world and have them to figure out solutions to them.
2.1.3. Humanist: all students learn main core, idealist philosophy, liberal arts.
2.1.3.1. dominated nineteenth-century and early twentieth century U.S. education
2.1.4. Developmentalist: needs and interests of students, student-growth, private/independent
3. Chapter 8: Equality of Opportunity and Educational Outcomes
3.1. Class, race and gender each can impact educational outcomes
3.1.1. Class: Families from upper class and middle class are more likely to expect their children to finish school and go to college. Working class and underclass families expect less. From a cultural point of view, schools represent the values of the middle and upper class.
3.1.2. Race: Minority students receive fewer educational opportunities than white students.
3.1.3. Gender: Females are less likely to drop out of schools than males, and are more likely to have a higher level of reading proficiency than males. Males outperform females in math.
3.2. In the 1980's the emphasis on educational reform focused on competition and excellence.
3.3. Social stratification is a structural characteristic of societies. Social stratification causes human differences.
3.4. James Coleman -sociologist - 1960s
3.4.1. Coleman received a large grant to study the relationship between the organizational characteristics of schools and student achievement. Motivation to do this was to demonstrate that African American students and white students had different schooling experience.
3.4.2. 1982 - Differences among schools make a difference.
3.4.2.1. Private schools were more effective learning environments that public schools because they place more emphasis on academic activities and enforce discipline that is consistent with student achievement.
4. Chapter 9: Explanations of Educational Inequality
4.1. Cultural Difference Theories
4.1.1. Theorists blame cultural differences on social forces such as poverty, racism, discrimination, and unequal life chances.
4.1.2. Ogbu suggests that school success requires African American students to deny their own cultural identities and accept the dominant culture of the schools, which is white middle-class.
4.2. School centered explanations for educational inequality
4.2.1. School processes are central to understanding unequal educational performance.
4.2.2. School Financing
4.2.2.1. One school receives more funding than another.
4.2.2.2. School funding comes from local state and federal sources. Property tax is a major one. The property tax is higher in more affluent communities, therefore they will raise more money for schools.
4.2.3. School Research
4.2.4. Curriculum and Pedagogic Practices
5. Chapter 10: Educational Reform and School Improvement
5.1. School-based Reforms
5.1.1. School-business Partnerships
5.1.1.1. Business leaders concerned with nation's schools not producing graduates necessary for US economy
5.1.1.2. Bill and Melinda Gates Foundation
5.1.2. School-to-work Programs
5.1.2.1. School-business partnerships became incorporated into school-work programs to extend vocational emphasis to non-college bound students regarding skills necessary for successful employment and stress the importance of work-based learning.
5.1.2.2. School to Work Opportunities Act of 1994
5.1.2.2.1. Money to states and local partnerships of business, labor, government, education, and community organizations to develop school to work systems