Developing SAVA Qualifications (quals ideas)
by Hilary Grayson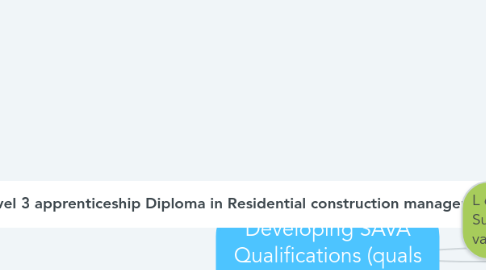 1. Quals in Energy Management
2. L 6 Diploma in Residential Surveying and valuation
2.1. Scottish Diploma in surveying and Valn.
2.2. Level 3 apprenticeship ( for levy firms)
2.3. Level 3 Apprenticeship ( non levy firms)
2.4. Standalone Valuation certificate for existing practitioners
2.4.1. Repackaging some existing content as stand alone CPD ( Wendy's study guide might help with this)
2.5. Standalone surveying certificate for existing practitioners
2.5.1. 2 levels of assessment?
2.5.1.1. Existing qualification - newbies
2.5.1.2. Revised assessment methodology - valuation surveyors who want to do homebuyers etc.
2.6. Assoc to MRICS conversion pathway (residential pathway)
2.7. Delivery partner - Bluebox
3. Level 3 Diploma in Technical Surveying for RSL ( Diploma in Building Surveying for RSLs ) levy paying apprenticeship
3.1. Level 6 Diploma in Residential Building Surveying
3.2. Level 3 Residential Building Surveying Diploma - apprenticeship for non levy/non RSL firms.
3.3. Assoc to MRICS conversion Building Surveying Pathway
3.3.1. Work with BCU to convert into a Degree?
3.3.2. Work with De Lever ( already offer Assoc to MRICS conversion courses)
3.4. Stand alone certificate/ Diploma in Fire Engineering ( Institute of Fire Safety Managers; Fire Industry Association; institution of Fire Engineers)
3.4.1. CIH qualifications?
3.5. Delivery Partner Bluebox - but they need to pull in additional skills ( eg. Richard Twine)
3.6. Review Lindsay's CV - possible candidate profile for this
4. Level 3 apprenticeship Diploma in Residential construction management/QS ? - Technical Surveying but for house builders?
4.1. New Delivery Partner (BB no 'construction' skills )
4.2. CIOB quals?