Web 2.0 Tools
by Belinda Denise Stratton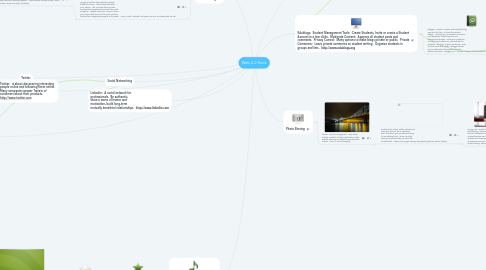 1. Social Networking
2. Twitter: is about discovering interesting people online and following them online. Many companies answer Tweets of customers about their products. http://www.twitter.com
3. Edublogs: Student Management Tools: Create Students, Invite or create a Student Account in a few clicks. Moderate Content: Approve all student posts and comments. Privacy Control: Many options to make blogs private or public. Private Comments: Leave private comments on student writing. Organize students in groups and lists. http://www.edublogs.org
3.1. Blogger: Create a unique and beautiful blog easy and for free. Choose the perfect design. Choose from a selection of easy to use templates, flexible layouts and background images. Know your audience: Find out which posts are a hit with built in analytics. Hang on to your memories: Save the moments that matter. Blogger allows you to safely store thousands of posts, photos and more. Blogger.com - Create a unique and beautiful blog. It's easy and free.
3.1.1. Word Press: They offer built-in plugins and free benefits including software updates and security. Choose from hundreds of beautiful designs and customize them. Reach a wide audience and find new readers by syncing your content to Facebook or Twitter. Excellent support with videos, help by email and live chat assistance. WordPress.com: Erstelle eine Website oder einen Blog
4. Blogs
5. Photo Sharing
5.1. Flicker: Photo management. Help make photos available to the people who matter. Enable new ways of organizing photos and videos. Flickr, a Yahoo company
5.1.1. Photobucket: Store- Safely upload and store your photos from anywhere. Edit- Transform your photos with easy to use editing tools. Share- Quickly share your photos with just one click. Photobucket - Photo and image hosting, free photo galleries, photo editing.
5.1.1.1. SmugMug: Simple layout, Editing, display and sharing , Themes and customization tools for slideshows and galleries. Comprehensive security features, privacy options and download protection. This is an expensive service. Photo Sharing. Stunning Photo Websites. | SmugMug
6. Video Sharing
6.1. Vimeo: Incredible Quality: Your videos will look their best across tons of devices in a gorgeous ad-free high definition player. Powerful Privacy: You choose who sees your videos. You can keep them private and password protected or share them with everyone. Upload videos to Vimeo to share your videos with some of the most creative, talented and supportive people on the web. Vimeo: Watch, upload, and share HD and 4K videos with no ads
6.1.1. Shutterfly: Upload up to ten videos in almost any format. Post your videos directly to your personalized share site. Upgrade to the Premium Video Plan for Unlimited Video Storage, video downloads and high definition quality playback. Photo Books, Holiday Cards, Photo Cards, Birth Announcements, Photo Printing | Shutterfly
6.1.1.1. YouTube Google built the top, most comprehensive site to post videos. YouTube is the top video site in the world. More than one billion users uploading to the site every minute. YouTube
7. Podcasting: podcasts in the classroom strengthens skills in research, writing and collaboration.
7.1. Purchase a USB microphone to pick up your voice clearly without unwanted sounds of your chosen recording area. Podcasts have two or three hosts and one guest. Practice your podcast so that it sounds professional.
7.1.1. SoundCloud: Create an account, it is free. Upload an episode and submit your feed. http://www.soundcloud.com
7.1.1.1. PodBean: Unlimited pod casting, unlimited bandwidth and storage for an incredible flat rate; Free Podcast Hosting, Best Podcast App | Podbean
7.1.1.1.1. Reliable Media Hosting: a smooth experience for your fans, no matter where and how they listen, secure connection and sharing tools make it easy to spread the word about your podcast. They have automatic iTunes publishing. Audience Engagement: Engage with podcast followers, get feedback and connect with peers.
8. Twitter
9. Linkedin: A social network for professionals. Be authentic, show a sense of humor and motivation, build long-term mutually beneficial relationships. http://www.linkedin.com
10. Facebook is a social networking site to connect with family, friends, work colleagues and to meet new people. You can also meet like minded people by seeing their interest showing wall updates, private messages and video chat. Facebook – Anmelden oder Registrieren