Hemingway's Adventure
by Rachael Ryder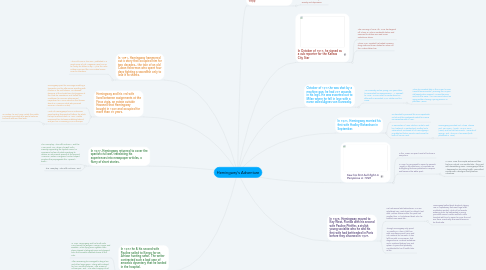 1. In 1937, Hemingway returned to cover the spanish civil war, translating his experiences into newspaper articles, a flurry of short stories.
1.1. The 1938 play, "The Fifth Column," and the 1940 novel "For Whom The Bell Tolls." Fiercely supporting the loyalist cause, he overcame his fear of public speaking to deliver an anti-Franco speech at the Second American Writers' Congress. he also helped produce the propaganda film "Spanish Earth".
1.2. The 1938 play, "The Fifth Column," and
2. Hemingway was born July 21st 1899
2.1. Died July, 2 1961, he killed himself with a shotgun due to anxiety and depression
3. Saw his first bull fight in Pamplona in 1923
3.1. In the 1920s, He spent most of his time in Pamplona.
3.2. In 1932, he journeyed to Spain to research "Death in the afternoon" a manifesto on bullfighting that was published in Esquire and became the Bible sport.
3.2.1. In June 1928, the couple welcomed their first son, Patrick. Six months later , they met with devastating news : Hemingway's father , depressed an din ailing health, committed suicide with a shotgun shortly before Christmas.
4. In October of 1917, he signed as a cub reporter for the Kansas City Star
4.1. The morning of June 7th, 1918, he stepped off a train ar Milan's Garabaldi station and assumed his duties as a Red Cross ambulance driver.
4.2. When WW1 erupted, he traded covering drug raids and union strikes for action on the Austro-Italian line.
5. In 1933 he & his second wife Pauline sailed to Kenya for an African hunting safari. The writer contracted such a bad case of amoebic dysentery that he landed in the hospital.
5.1. In 1954, Hemingway and his fourth wife Mary toured the Belgian, Congo, Kenya, and Rwanda. While flying over Uganda, their plane clipped a telegraph wire and plunged onto the crocodile-infested shores of the Nile.
5.2. After recovering he managed to bag a lion and other large game-- along with material for his 1933 short stories, "The Snows of Killmanjaro" and " The Short Happy Life of Francis Macomber" and his 1935 novel "The Green Hills of Africa."
6. October of 1917,he was shot by a machine gun; he had 227 wounds in his legs. He was escorted out to Milan where he fell in love with a nurse called Agnes von Kurowsky.
6.1. Von Kurowsky as too young. Ten years later, he recounted his experiences in " A Farewell to Arms" a 1929 novel he wrote about an affair with a wounded WW1 solider and his nurse.
6.1.1. When he revisited Italy in the 1940s, he was a world famous writer, pursuing the 18 year old beauty who inspired "Across the River and into the Trees," his 1950 novel about an aging soldier chasing a young woman in post-war Venice.
7. In 1921, Hemingway married his first wife Hadley Richardson in September.
7.1. He decided to proceed life as an expatriate a shot and the newlyweds sailed for France on December 8th of 1921.
7.2. In December of 1922, while in route to visit her husband, in Switzerland, Hadley lost a valise which contained all of Hemingway's unpublished fiction novels. Next came the birth of his son Jack.
7.2.1. Hemingway pounded out "Three Stories and Ten Poem" (1923), "In Our Time" (1925), and his first two novels: "Torrents of Spring" and "The Sun Also Rises"(both published in 1926).
8. In 1928, Hemingway moved to Key West, Florida with his second wife Pauline Pfeiffer, a stylish young socialite who he and his first wife had befriended in Paris before they divorced in 1927.
8.1. He had several wild adventures. In a rain splattered Key West street, he duked it out with Wallace Stevens after the poet had insulted him. In his beloved boat, Plar, he battled man-sized fish .
8.1.1. Hemingway belted back drinks at Sloppy Joe's, a speakeasy that went legal after Prohibition ended. While at his favorite watering hole, he befriended a young journalist named Martha Gellhorn, who traveled with him to Spain to cover the civil war there. Eventually, she would become his third wife.
8.2. Though Hemingway only spent 10 months in Africa, it left him with countless animal horns and rich material for his work. it also left him with a concussion, first degree burns, crushed vertebrae, and a ruptured kidney, liver and spleen. Injuries that probably contributed to his ill health later in life.
9. Hemingway and his 3rd wife lived between assignments at the Finca vigia, an estate outside Havanna that Hemingway bought in 1940 and occupied for more than 20 years.
9.1. Hemingway spent his mornings wrestling a typewriter and his afternoons wrestling with marlins in the Gulf stream. He downed daiquiris at the Florida bar, shot pigeons at the Club de Cazadores, and trolled the Caribbean for German submarines ( inspiration for 1970's Islands in the Stream, about an American artist who pursued German U-boats in Cuba).
9.2. Much of Hemingway's time in Cuba was spent writing thousands of letters, for which he kept a second desk. in 1944, Martha convinced him to leave scribbling behind and join her in covering WW2 in Europe.
9.2.1. In London, he met Mary Welsh, the petite Minnesota journalist who was to become his fourth wife and final wife.
10. In 1951, Hemingway hammered out a story that occupied him for two decades-- the tale of an old Cuban fisherman who spent four days fighting a swordfish only to lose it to sharks.
10.1. "The Old Man in The Sea," published in a single issue of Life Magazine, won him up to ninety fan letters a day --- plus the 1953 Pulitzer Prize and the 1954 Nobel Peace Prize for literature.