Scenario: Several people in your shared room are snoring while you are attempting to get to sleep at CWW
by Enriko Bean Datu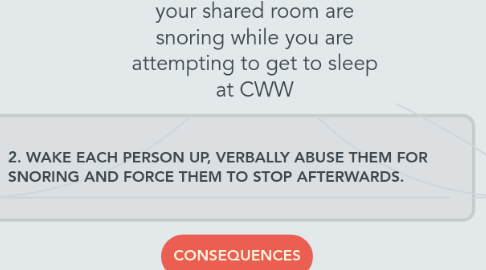 1. 2) Some people might wake up, and they are somehow able to stop snoring and bothering other people that are trying to sleep. Though this alternative is unlikely, it will not only make me able to get a goodnight's sleep, but it will not damage any friendships I have with my homebase, making this although unlikely situation a win-win!
2. 1) Potentially lose some friendships and have the others loathe me for the rest of their CWW, and possibly any other interaction with me in the future. Although they'll stop snoring, CWW is all about bonding with your homebase, and if I complain about their imminent snoring, those bonds can be shattered or loosened.
3. CONSEQUENCES
4. 1) TRY NOT TO MIND THEM, COVER YOUR EARS WITH PILLOWS AND TRY TO SLEEP.
5. 2) Have the others in the room undisturbed in their sleep, giving them a good, long sleep with no interruptions. Unlike me, they'll have a great morning, as they are well-rested, ready and full of energy. Though I'm the only one that's negatively affected, it impacts my roommates positively, giving them a chance to enjoy the rest of their CWW.
6. 3) TAP ON EACH OF THEM AND ASK THEM POLITELY TO STOP
7. 2. WAKE EACH PERSON UP, VERBALLY ABUSE THEM FOR SNORING AND FORCE THEM TO STOP AFTERWARDS.
8. CONSEQUENCES
9. 1) Not being able to have a goodnight's sleep, with the constant snoring being able to keep you up at night. This renders me tired next morning, making the whole experience of CWW be unenjoyable if I'm half-asleep and exhausted. Even if I'm able to sleep, I won't be getting the amount of sleep I need and still wake up with fatigue the next day.
10. 2) Get a goodnight's sleep after their snoring comes to a stop, enough for me to get some sleep. This will give me some badly-needed rest and energy in the morning, but won't make me enjoy the rest of my CWW. Though it'll make my 3-4 days at Telunas a little less harder, you need to spend time with your friends, and you can't do that if half of them hate you because you woke them up in the middle of the night for nothing.
11. CONSEQUENCES
12. 1) People might not wake up, or that they can't stop snoring. Though my attempts to foil their snoring have failed, they still got a good night's sleep, even with me interrupting them ever so slightly. It was worth a try, even though it was completely useless.
13. MY DECISION, AND WHY I'D DO IT
14. I'd go with option #3 because it's a mix between the two others. Two of my family and the SAS core values is respect and compassion, and that is what alternative #3 showcases the most. Even though #1 shows respect and compassion for others by trying not to mind, I still want to try and possibly get what I want from the scenario. Option #2 is just plainly avoiding those two values, so it's out of the way for that, even if it benefits me completely. #3 is my best bet, since I can respect that there's a chance of my roommates being unable to wake up or to stop snoring. I'd try putting myself in their shoes and wonder how annoying and inconvenient for someone to wake me up in the middle of the night just to stop snoring, and I'd imagine that would pretty much be bad for your friendship or bonds with other people, which is especially important during CWW, where the whole point is to make new friends and bond with your homebase.