CHAPTER 2: SOFTWARE
by NURHANIS AIZA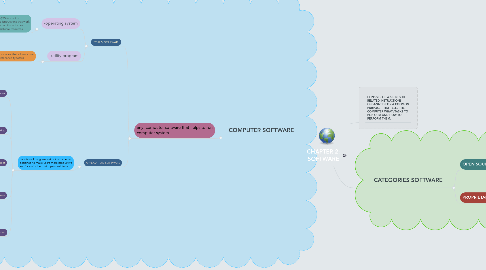 1. CONSISTS OF A SCENES OF RELATED INSTRUCTIONS, ORGANIZED FOR A COOMON PURPOSE, THAT TELLS THE COMPUTER WHATVTASKS TO PERFORM AND HOW TO PERFORM THEM.
2. COMPUTER SOFTWARE
2.1. any computer software that helps to run computer system.
2.1.1. SYSTEM SOFTWARE
2.1.1.1. -operating system
2.1.1.1.1. an operating system(OS) is a set of programs containing isntructions that work together to coordinat all the activities among computer hardware resources
2.1.1.2. -utility program
2.1.1.2.1. type of system software that allows a user to perform maintenance-typetask
2.1.2. APPLICATION SOFTWARE
2.1.2.1. consitsts of program (set of instructions) designed to make users more productive and/or assits them with personal tasks.
2.1.2.1.1. -web browser
2.1.2.1.2. -word processing
2.1.2.1.3. -spreadsheet
2.1.2.1.4. -database
2.1.2.1.5. -presentation
3. CATEGORIES SOFTWARE
3.1. OPEN SOURCE SOFTWARE
3.1.1. -created by unpaid volunteers, begin to gain wide acceptance among computers users.
3.1.2. -freely
3.1.3. e.g-google docs
3.2. PROPRIETARY SOFTWARE
3.2.1. -privately owned and limited to a specific vendor or computer model
3.2.2. -license/paid
3.2.3. e.g-microsoft word